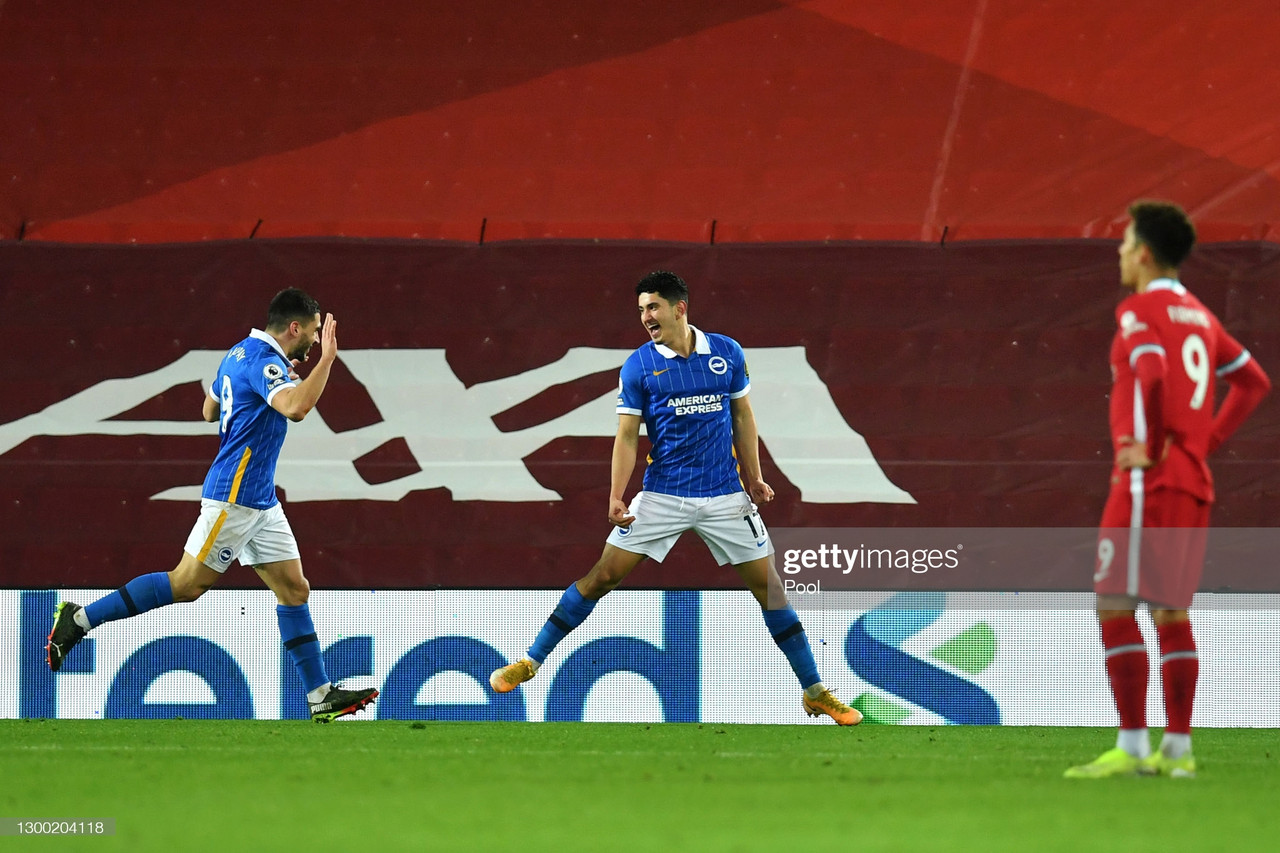 The stage was set. True enough, Liverpool had suffered defeat at Anfield to Burnley to end a 68-match unbeaten streak at the iconic stadium, but the prospect of the feat being emulated one game later would have been greeted with incredulous response.
But Brighton & Hove Albion did indeed enter and emerge as victors, complimenting an upturn in form and performance that steered the club away from the scrap of a relegation tussle and towards the upper end of the division.
The Seagulls return to face Liverpool for the first time since the memorable day and will need to call upon all their defensive acumen to prevent Jurgen Klopp's squad, particularly the rampant Mohamed Salah, from achieving victory.
Make no mistake, it will be tough.
Liverpool appear to be back to their best and will be galvanised by their bellowing home support, but Graham Potter has cultivated a mentality and implemented a playing style that can certainly compete with the Red's swift forward play.
Energy after the break offers hope
Albion were not up to the races against Manchester City last Saturday, at least for the first half.
A fluid and clinical wave of sustained pressure proved costly as Brighton uncharacteristically found themselves trailing 3-0 after just over half an hour of play, with defensive lapses rife.
Potter must have weaved his magic during the break; Brighton returned with vigour and looked the better team for the majority of the second half, and if energy levels can be replicated at Anfield then a positive result may just follow.
The current run of form is disappointing, and Brighton have now gone five matches without a win, but the performance against City demonstrated the sides capabilities and ability in the division.
Albion on top
Prior to last season, Brighton had lost nine successive meetings with Saturday's opposition, including all six encounters in the Premier League.
Fortunes changed last year with an unlikely stalemate at home roughly 11 months ago - the first time a Liverpool victory was prevented in the Premier League.
Pascal Gross' stoppage time penalty unleashed complete pandemonium as the club claimed their first points off their opponents since March 1983.
This nicely set up the victory at Anfield, where an abject Liverpool side hindered by defensive injuries slipped to successive defeats on home soil.
Steven Alzate was fortunate to score, but Jurgen Klopp could have no qualms over the final result as the Seagulls, disciplined and composed, glided to victory with little trouble.
An ominous foe
Sometimes, things just fall into place in football. Salah is currently basking in such fortunes: an incredible vein of form, 15 goals, five assists, and a presence unrivalled in the Premier League.
Stopping him will not be easy.
But, if Brighton can indeed channel the essence from their second half performance against City there may just be a pathway towards a result.
Resilience and cohesion have become regular phrases associated with Potter's team, and such factors will no doubt be paramount towards Albion's chances of foiling Salah and the rest of Jurgen Klopp's rampant men.
Ultimately, Brighton will need to utilise the defining elements behind the recent purple patch and maintain fluidity in both defence and attack.
So, Anfield awaits. Daunting? Yes.
But Steven Alzate did sweep home, only months ago, and Brighton prevailed against the odds and left the lions den as worthy victors; the talented side can repeat the feat.