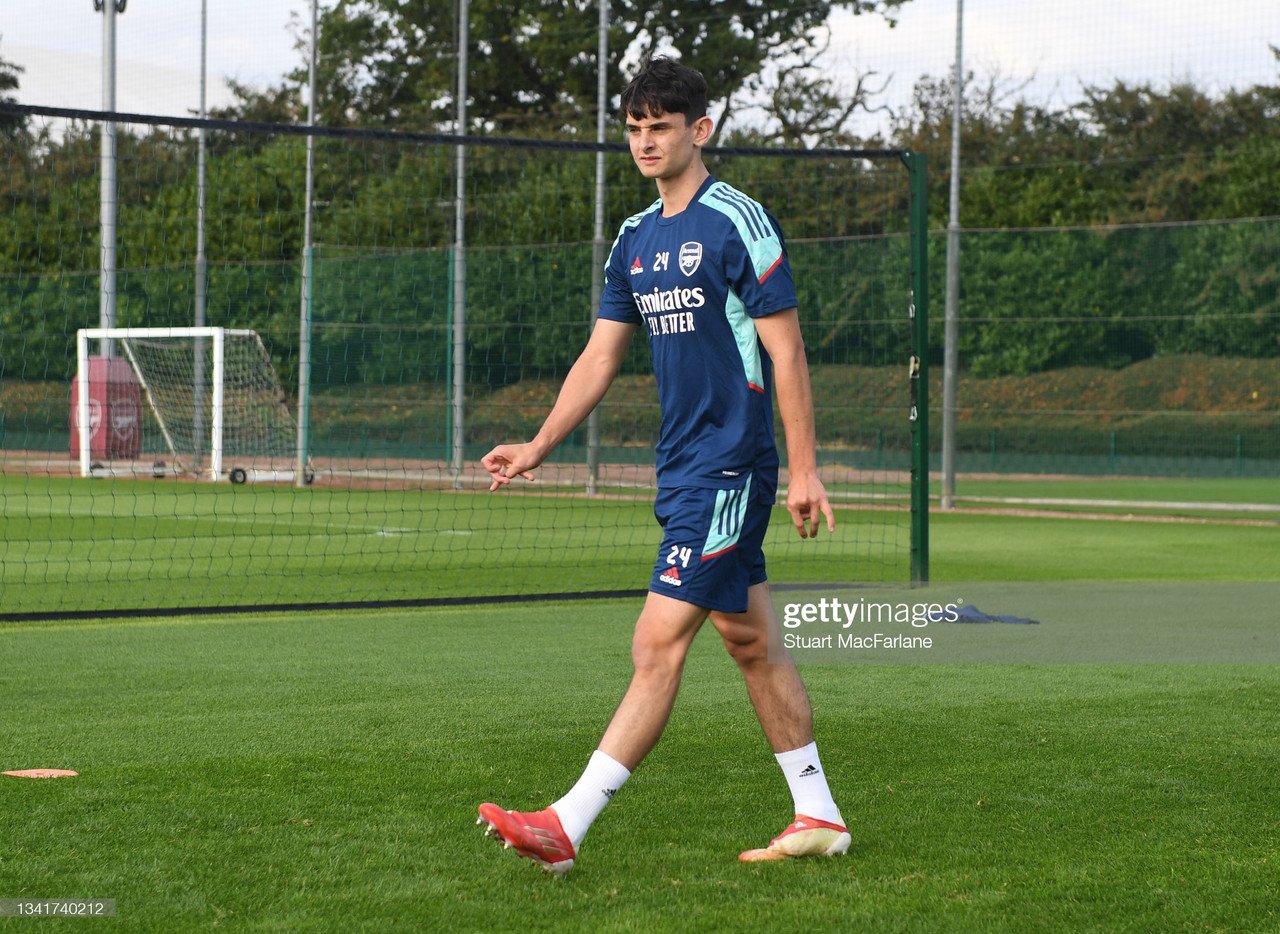 Labelled as the best kid he's ever seen by Arsenal scout Brian Stapleton, Charlie Patino joins a group of young Arsenal players currently waiting for their first senior appearance at the club. The 18-year-old is a central midfielder by trade and describes himself as a box-to-box playmaker.
The Watford born midfielder began his career at St Albans City before joining Luton Town Academy. Arsenal then won the race to sign Patino at just 11 years old, reportedly beating off competition from London rivals Chelsea and Tottenham as well as Manchester City for the starlet's signature.
After six years at the club however, what does Arsenal mean to Charlie Patino?
"It means a lot to me as the club have helped me get to where I am today and I hope it's just the beginning to more good things to come in the future for at Arsenal."
Arsenal's number 87 trained with the Gunners' first team for the first time back in January of 2020, taking to social media to describe it as an amazing experience but stating that the hard work and learning only continues.
Online, Patino was pictured with Arsenal superstars Alexandre Lacazette and Pierre-Emerick Aubameyang at London Colney in his first session just less than a month after current manager Mikel Arteta was appointed Head Coach.
"It's been a brilliant experience working alongside the first team coaches and players. You really see how good you have to be to earn a place in the squad. All of the players have been really supportive, and I've had regular chats with Laca, Ben, Pablo, Emile and Bukayo."
Great experience working with the 1st Team yesterday @Arsenal pic.twitter.com/uIfRd3FCyl

— Charlie Patino (@CharliePatino10) January 18, 2020
Arsenal fans across the globe are eager to see this young prodigy at work and handed his chance in the first team. Manager Arteta however insists that they must be patient and prior to the north London club's Carabao Cup clash with AFC Wimbledon, stating that: "He was very close but in the end we decided that some other players needed minutes. It will happen naturally with time."
At the age of just 18, having signed his first pro contract in October of 2020 and an exciting commercial deal with German sports manufacturing giants Adidas, the hype and noise around Patino is deafening.
People close to the player state that despite this noise and with the player yet to make his first-team debut, their confidence in Patino's ability is assured and believe that now is the right time to let his football do most of the talking.
Everyone's ambitions and hopes for Patino are filled with optimism, but where does he aim to see himself in five years' time?
"Five years is a long time in football, but I hope that I have developed into a player that can compete at the highest level and that my journey becomes an inspiration to other young players everywhere."
Fellow Hale End graduate Jack Wilshere has now been welcomed back to the Arsenal training ground to maintain fitness as he searches for a new club.
Patino has had the chance to meet the former Arsenal number ten as he returned on this training and coaching basis. Wilshere was one player who was bought up through the ranks after joining at just nine years old, winning two FA Cups and a Community Shield during his time in north London. But what has it been like to have the former player back in and around the club?
"I have spoken with Jack, it's great for everyone to have him around the academy. His personal experience of coming through at such an early age and what he learned from it is really useful to know about."
Patino's Father originates from Spain and his playing style and knowledge of the game is very much influenced by his background. When asked about his idols and who he watched play when he was younger, Santi Cazorla and Cesc Fabregas are two players he mentions.
"There are quite a few players that I loved watching at Arsenal but Santi Cazorla and Cesc Fabregas always stood out for me. My first great memory is when I signed for Arsenal from Luton, Mikel Arteta and Santi Cazorla were at Hale End and I had a picture taken with them."
Whilst so much excitement surrounds Patino, as reiterated by many around the club, fans must remain patient, and the young talent will make his debut with time. Until then, he can be seen playing in the Premier League Two alongside many other exciting young players via Arsenal.com, starting with Saturday's trip to Leicester City where the U23's take on the Foxes at Arsenal's Training Centre.