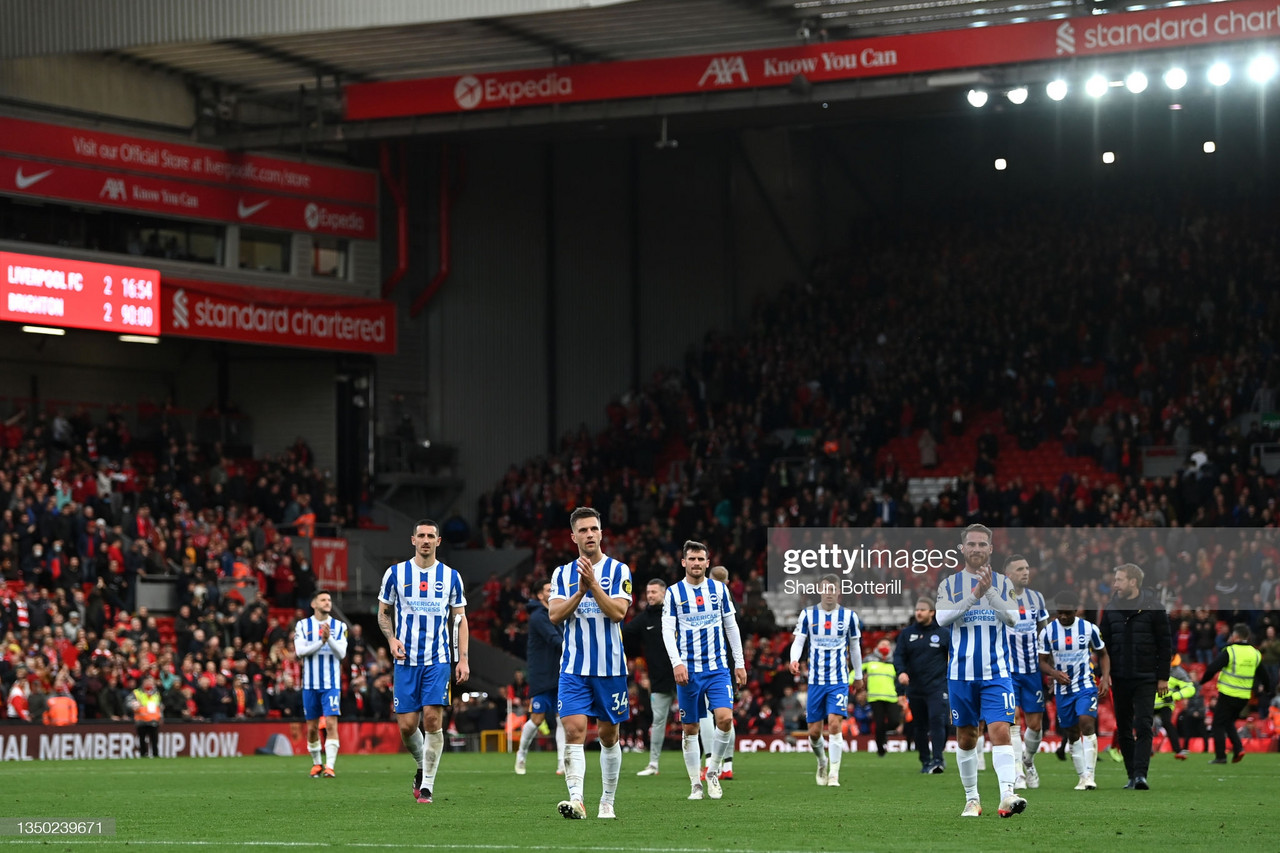 Facing Manchester City and Liverpool is no easy task in the Premier League, the respective sides have been phenomenal through recent years and have established themselves as leading forces in the global game.
Brighton & Hove Albion have emerged from their ominous task of taking on the teams in succession, losing to City on home soil before completing a resounding comeback draw away to rampant Liverpool.
The performances will have evoked much confidence after the tenacious turnaround versus City, where an abject first half was followed by a replenished performance that instilled optimism for the week ahead.
Well, a display of such resilience had certainly lingered in the minds of Graham Potter's men, who battled with grit and determination at Anfield to overcome a two goal deficit and leave undefeated for the second successive time.
And now Brighton are presented with a test of a different kind; Newcastle take the lengthy trip to the South Coast with a new manager in Eddie Howe, who will relish the chance to make a statement against a previously favoured opponent.
The return of Howe
Newcastle are in a rut. Granted, a long-awaited shift in ownership has granted the Toon affluence that most clubs could not begin to comprehend, but the issues on the pitch remain rife.
With Eddie Howe's appointment imminent, Brighton will be hopeful that they can capitalise on the sides woes before the former Bournemouth head coach has time to settle.
With only four draws and no victories to their name, Newcastle will be desperate to clinch that maiden victory that may kickstart their season, but the Seagulls will by no means make it easy.
Potter's side are unbeaten against the sides currently residing in the bottom half of the table and have managed to take control of such games by dictating possession with assured, composed play.
Howe boasts a commendable record against Brighton, winning nine of his 14 managerial bouts against the club, but the home side will be confident of earning a fifth victory of the campaign regardless.
Recent fixtures reaffirm Brighton's quality
After impressing against the Citizens and Liverpool, Potter will be galvanised his sides ability to compete with the best.
With a draw and a defeat, the club might now have gone five fixtures without a win but there is certainly no need to panic, the performances against two of the divisions best made sure of that.
Brighton simply need to continue doing their work, attacking with vigour and defending as a unit.
There will be blips, and there will be instances where victory seems to evade the club despite the energy and fluidity on show.
But against Newcastle, Brighton have a glorious opportunity to return to winning ways and continue a season that will stand tall and proud in the clubs extensive history.
Captain, leader, legend
Lewis Dunk may have been overlooked for England selection once again, but Potter had no qualms about expressing his adoration for his colossus at the back.
He said, "He's been a fantastic player for us, we love him here, we wouldn't swap him for anybody because he understands the club, understands what we're about."
Not only does Dunk have Brighton DNA coursing through his veins, he possesses the defensive aptitude and leadership abilities required to excel in the Premier League.
Brighton's four clean sheets in the league this season can be bettered only by Chelsea and Manchester City; a stable and resolute defence serves as the bedrock to a fluid and cohesive team.
If levels can be maintained, Brighton are indeed on course to surpass expectations this year and finish with aplomb.
Dunk will be remembered as a fantastic servant to a flourishing football club; captain, leader, legend.