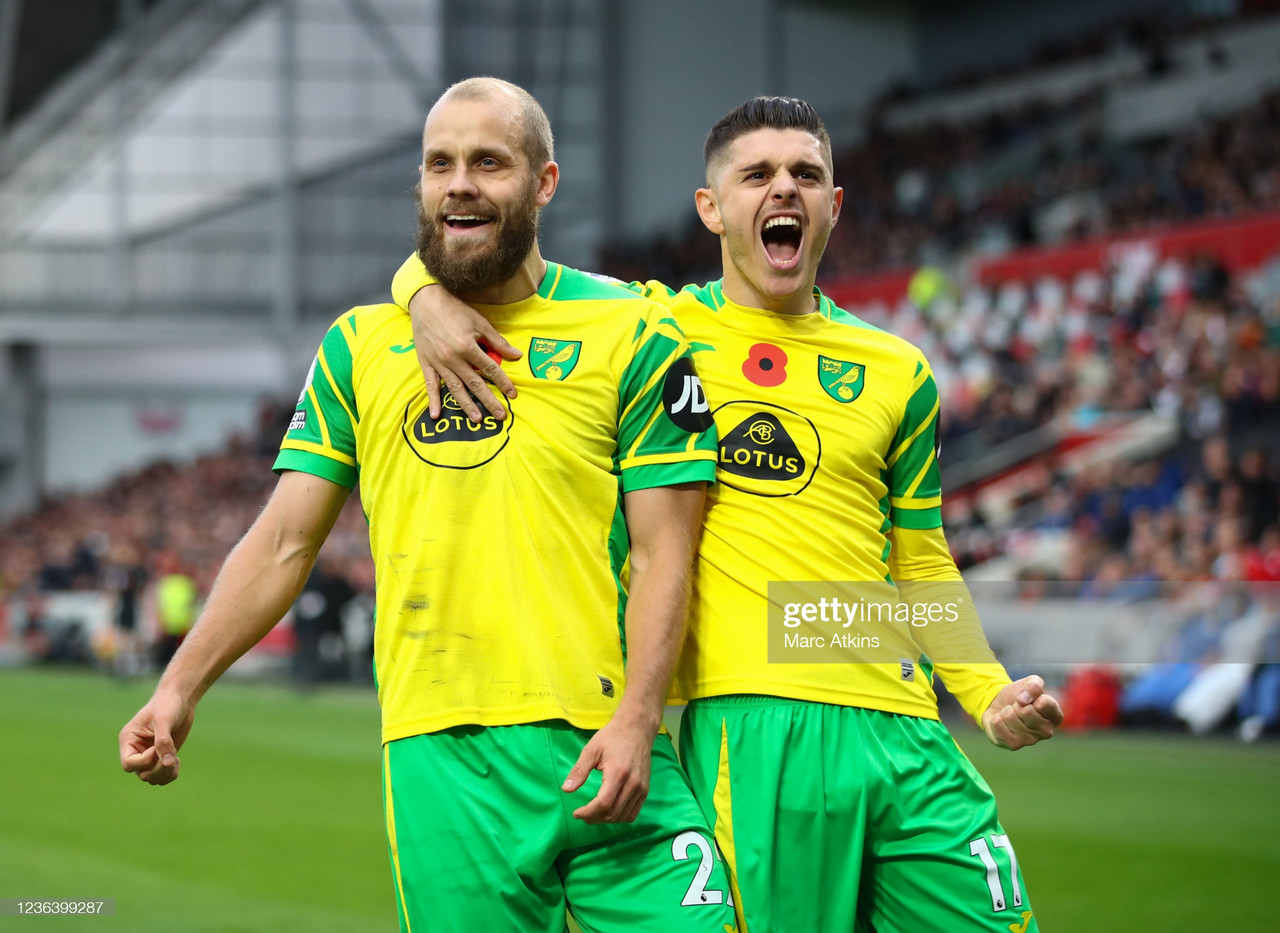 It took 10 games without a Premier League win but at the 11th try Norwich finally picked up their first vital 3 points to move them a step closer to safety.
Farke moved back to his tried and trusted 4-2-3-1 formation. After a damaging performance, last week against relegation rivals Leeds, with long balls and no game plan. Farke had to go back to what he knows best and he did exactly this at the Brentford Community Stadium.
Farke made 3 changes to the side that lost to Leeds 2-1. Piere Lees-Melou, Brandon Williams and Ben Gibson all came in for Grant Hanley, Ozan Kabak and Josh Sargent.
Here is how the match unfolded:
Norwich, for the first time this season scored the first goal and their first away goal in under 6 minutes. Mathias Normann with a storming, individual solo run with a well placed side-footed finish into the bottom right corner.
Throughout the whole game, Brentford was threatening Norwich's box with constant long throw-ins. Nørgaard almost levelled things up with a toe-poke at goal, only for Tim Krul to save with his feet.
Since December 2019, Norwich haven't scored more than 1 goal in a Premier League fixture - that all changed when Normann threaded an eye of the needle pass to an onrushing Teemu Pukki, he burst into the box and won a penalty which he tucked away to send his team 2 goals to the good.
Pukki could have and should have made it 3-0. Brandon Williams surged into the final 3rd and slotted in Pukki who took a touch but sliced it just wide.
Brentford had the ball in the net but it was ruled out for a clear offside goal from Mbuemo. The Bees did pull one back following some dubious defending from the Canaries - Rico Henry the man to narrow the deficit, surging a late run to the back post and with no one marking him, tucking the ball home.
Thankfully for Norwich, they managed to hold on and secure all 3 points for all those 750 travelling fans. Daniel Farke and all the players went to those fans to celebrate the victory, but it turned out to be a farewell to Farke as hours later it was announced that he was sacked.
Bitter Sweet
Daniel Farke was a genuine, humble and hard-working man let alone a manager. Everyone associated with Norwich City, including the fans will be forever grateful for what Farke has done for this football club - 2 Championship titles, free-flowing football and one of Norwich's best performances in their history beating Man City 3-2.
Was it unexpected? You would have to say yes given his track record: 49 Premier League games, 6 wins, lost 36 and conceded over 100 goals in the process. It was clear that Farke desperately wanted it to work out for all parties, but ultimately he just wasn't good enough at this level.
Sporting director, Stuart Webber had this to say about Daniel Farke's departure:
"In continuing to demand the very best for our football club, this decision was not an easy one.
"I know how determined Daniel and his staff were to succeed at this level, but we feel that now is the right time for a change to give ourselves the best opportunity of retaining our Premier League status.
One of, if not one of the most creative players in Norwich's squad. Cantwell has the ability to change a game on its own. This does beg the question, where is Cantwell? It seems as if Farke had fallen out with the player and potentially didn't see eye to eye with some other luxury players i.e. Billy Gilmour and Christos Tzolis to be precise.
It seems that Farke not using his luxury players to help his side pick up points might be one of the reasons why the club decided to part ways with the German and his backroom staff. Sticking with a 5-3-2 system never helped players like Canwell as it doesn't suit their game, and with such a talented player being valued at £40 million in the summer it did seem to be a strange decision to say the very least.
One thing's for sure if Cantwell does impress the new manager and finds himself back in the starting 11, he will have a great opportunity to show his undoubted quality and help his team stay in the top flight.
It's time. The second half against Brentford was concerning. Lack of control in the midfield left Norwich unable to calm things down and keep the ball away from the opposition. Norwich had to defend for their lives but if they had Gilmour on the pitch you would feel that they would be better in possession.
Kenny McLean was a favourite of Farke but needless to say he isn't a fan favourite, nor is he a starter for his national team. Unsurprisingly, Gilmour is the one who starts for Scotland ahead of McLean. It's no secret that if Gilmour doesn't play games for Norwich he will move back to London (Chelsea) and his loan will be wasted. Normann is irreplaceable at present, so the one to drop out must be McLean if Norwich wants to control games and not sit deep for most of the time.
With the bookies picking Frank Lampard as the potential new Norwich manager, it would definitely mean that Gilmour would play more minutes as he's coached him before at Chelsea.
Certainly interesting to see who Norwich do appoint as they believe whoever the mystery man is will keep Norwich in the Premier League and establish themselves as a Premier League club for years to come.