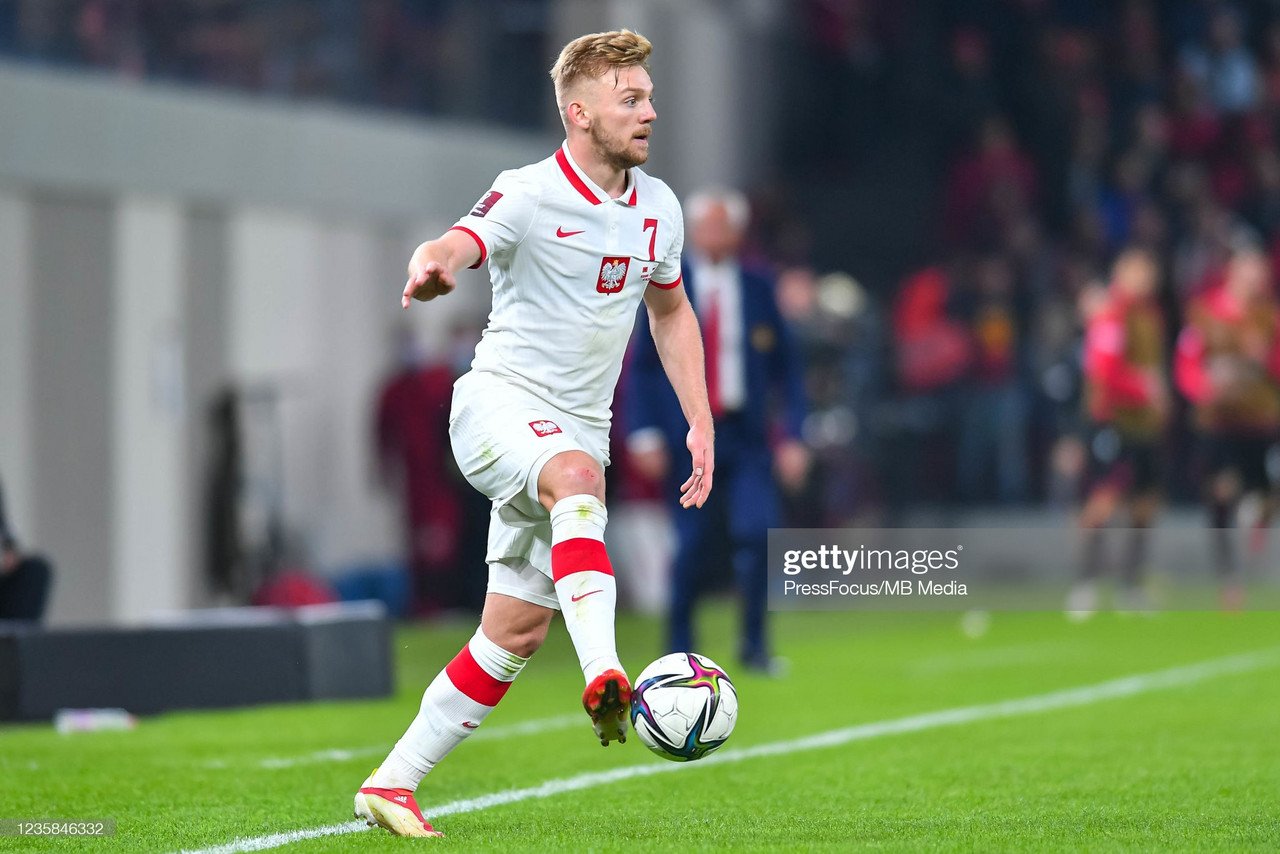 Kamil Jozwiak is a player who arrived at Derby County to great fanfare. The winger had shone at Lech Poznan in the Ekstraklasa, and had recently become a full Polish international.
The fit seemed perfect. Derby, without any out-and-out wide players following the departure of the underperforming Florian Jozefzoon, were crying out for someone with a little bit of magic.
However, as Derby fans will know, the impact that Jozwiak made was not as large as they'd have hoped.
All signs pointed to the top
Jozwiak has recorded just two assists and a single goal in a Derby shirt, with his solitary strike coming against Swansea City all the way back in December 2020.
Things actually got off to a flying start for the Pole, setting up Jack Marriott's goal just 52 minutes into his English football career. He was one of the better performers during Derby's abysmal start under Phillip Cocu, and stepped it up after Wayne Rooney was appointed in October.
Starring alongside his fellow international and best mate Krystian Bielik, Jozwiak shone between October and February. His goal against Swansea was special, but his cross to Jason Knight during Derby's 4-0 rout over Birmingham City two games later was even better.
Difficulties on and off the pitch
At the end of January, Bielik ruptured his anterior cruciate ligament for the second time in his Derby career. This injury, in the midst of a national lockdown, would prove to be a tough blow to Jozwiak, who hasn't recorded a goal or an assist since Bielik's injury.
However, losing Bielik to injury didn't just affect him off the pitch, it affeted the whole team on it.
Without Bielik's presence, influence and vision, Derby lost that transition between the defence and midfield, and it showed. The Rams failed to win 22 of their next 26 matches, losing 12 of those games.
Additionally, Derby went on to score more than a single goal just seven times in that period. Clearly the team relied on him more than they realised.
Since Bielik's injury, Jozwiak has started just 19 of a possible 43 games, rarely getting more than two starts in a row. Despite this, he's recorded two goals and four assists internationally in that period.
Superb international form
Eyebrows are raised among Derby's fanbase almost every time Jozwiak is selected to play for Poland. After all, how is a player that barely features for a club at the bottom of the EFL Championship playing alongside arguably one of the greatest goalscorers of our generation?
However, every international break, he performs. His recent goal and assist against Andorra cap off a truly brilliant past 12 months for Jozwiak, who even managed an assist for Robert Lewandowski at EURO 2020.
Jozwiak's role for Poland is very different to his role for Derby. He plays predominantly as a right sided wing back, and has license to get forward whenever possible.
Rather ironically, his starting position when Poland gain possession is actually similar to the deep position he's in when playing for Derby. The difference is, for Poland he's got several players in front of him. At Derby he has nobody.
Maybe home comforts play a part, with communication being much easier with his fellow countrymen, but the vast difference in style and role will definitely make a huge impact.
Getting the best out of him
It seems clear that Jozwiak's best attribute is his link up play, linking up with players around him to create gaps and exploit them. The best example of this in a Derby shirt is that assist against Birmingham, where he worked well with Nathan Byrne down the right hand side before picking out Knight.
At Derby, Jozwiak lacks both the players and the quality around him to really link up effectively. Usually deployed on the right hand side of midfield, he usually has one of Sam Baldock or Tom Lawrence to work with.
This isolated nature is far from what he had at Lech Poznan, with experienced forward Christian Gytkjaer and attacking midfielder Dani Ramirez often providing support for the marauding winger.
Notably, Jozwiak played on the left for Lech Poznan, netting eight goals and creating a further four in his final season. He usually operates on the right for Derby.
The way Jozwiak plays doesn't suit Derby's defensive style. With this current Derby team, its unlikely that the Polish midfielder will flourish. For him to succeed in the East Midlands it would require Wayne Rooney to set up his team in a more attacking manner.
However, Jozwiak should be able to adapt his game more to the current style of play. He proved in Derby's 1-0 away win at Hull City that he has the potential to do it, he just needs to deliver that sort of performance consistently.
Disappointingly, it does seem as if the talented wide player we see for Poland may never truly show his abilities at Derby, and with the club in its current situation it would not be a surprise to see him leave in January.
No matter what your thoughts are on Jozwiak as a player, it's clear that he's yet another talented attacker who's struggled to really make an impact at Derby.