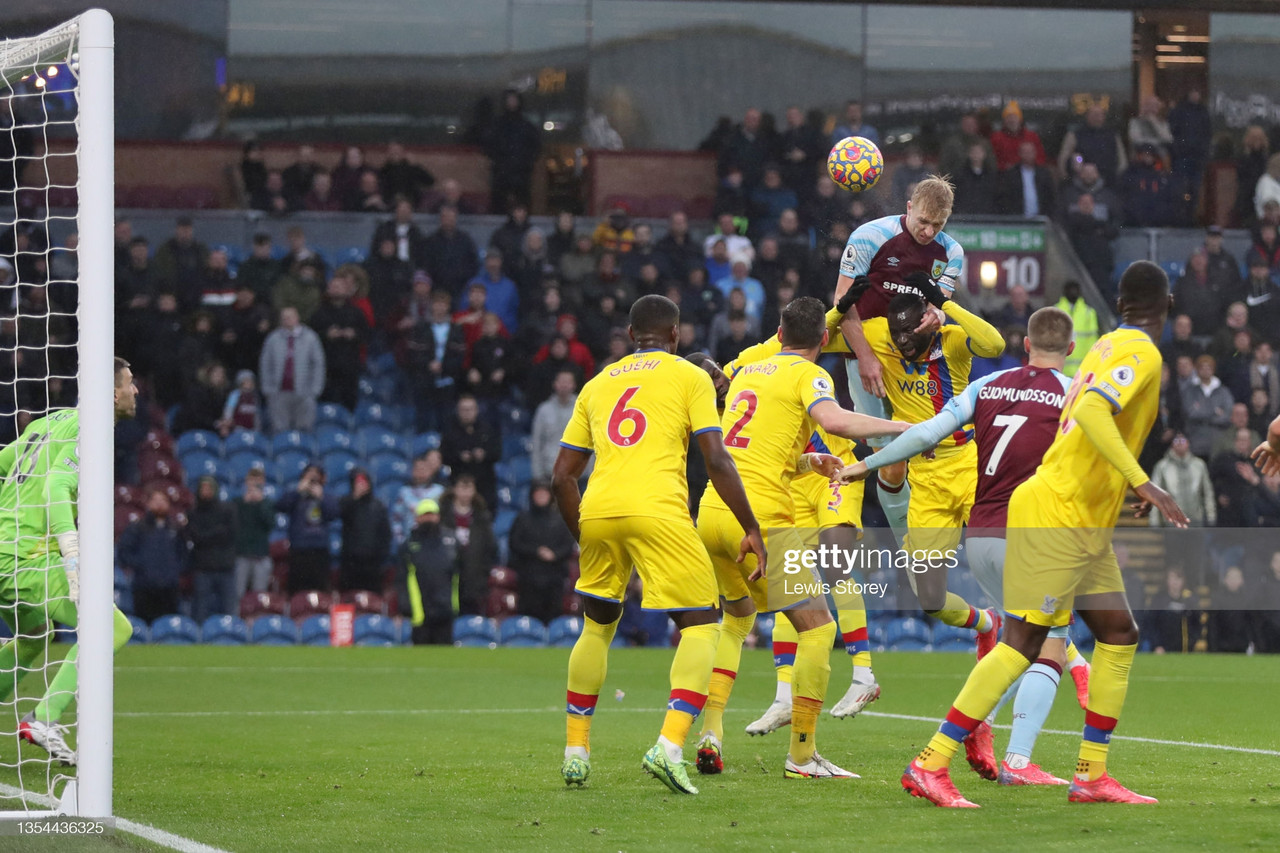 Burnley manager Sean Dyche was in buoyant mood after watching his team battle for a point in a six-goal thriller with Crystal Palace.
The Clarets are still in the bottom three but this could remain a big point in the long-term push for survival.
On the game
The game was so action-packed that it was difficult to recall the opening stages, but Dyche admitted that his team did not begin in the way that he had hoped. However, he was impressed with the emphatic way that his team bounced back on several moments in the match.
"First half, we didn't start well," Dyche said. "There was a bit of talk about them being a good side, which they are of course, but we were on the back-foot and not the front-foot.
"We corrected it during that half. I was pleased with some of that half and the second half is a different story. We went after them, we pressed them and went a lot higher up the pitch and were a lot braver with our performance so I was pleased with that.
"The mentality to come back [was pleasing]. You could be disappointed going in at half-time at 3-2 but we came out in the second half and scored a fantastic goal and had a couple of other good moments and Vyds [Matej Vydra] has a golden moment at the end but their keeper made a fine save to be fair."
On Palace's set-piece struggles
Burnley's first two goals were from set-pieces: the first, a standard header from a corner - and the second, a header from a second-ball. Palace have struggled to hold their resolve on dead-balls and it is something that the Clarets were aware of beforehand.
"We know, so far, they've got a poor record from set pieces, so we thought we could capitalise as we know we're strong from that," Dyche openly admitted.
"I think the quality of the ball in, Ben Mee's header is fantastic, Maxwel's [Cornet's] is a brilliant strike, and Woody nicks one as well, so we're pleased with that."
"We looked effective from it all game, there were chances in the second half, and obviously a brilliant finish from Maxwel, so pleased with that side of things."
On Cornet
It was another decisive goal from Cornet and many would argue that this one was his most impressive yet - nearly ripping a hole in the net with the power of his volley.
His manager was quick to praise the exuberance that he brought to the table, despite playing for the Ivory Coast during the international break.
"We enjoy what he is doing," Dyche noted, trying to keep comments on Cornet grounded. "He is getting towards true Premier League fitness I think and he has played football during the international break and he looked alive, especially second half.
"In the first half he was sitting on the deep-lying midfielder and he didn't need to. We told him to come off that position and to go and press, which he did in the second-half. He has brought energy but he brought quality as well and his finish was a fine strike."
On the referee and his decisions
Referee Simon Hooper took a mouthful from the Burnley supporters for decisions they perceived to be incorrect, and he didn't manage to escape the wrath of the Burnley manager.
"The referee had one of those games today, not to the level we would hope," lamented an angry Dyche.
"I thought the referee had a quite game today, he wasn't clear minded I didn't think, and on another day you get them but we didn't today."
Dyche also described how certain incidents with Cornet and James Tarkowski did not go how he had hoped; the latter received a harsh yellow card that will keep him out of next week's match with Tottenham Hotspur (five bookings).
"I think Maxwel [Cornet] has half a chance of a penalty when he pops it round the corner, I have seen that back, and the player pushed him in the chest.
"Zaha did that on the edge of our box and stumbled and went down before he has even let it go round the corner and he gets it so it is one of those things.
"The other one is James Tarkowski getting booked, it is nearly impossible, he is trying to stop trouble and he ends up getting booked.
"[Tarkowski] has been excellent and I can't see what the referee is looking at. He has got hold of Zaha and is trying to stop him going at Matt Lowton and I have no clue how that ends up with a booking."