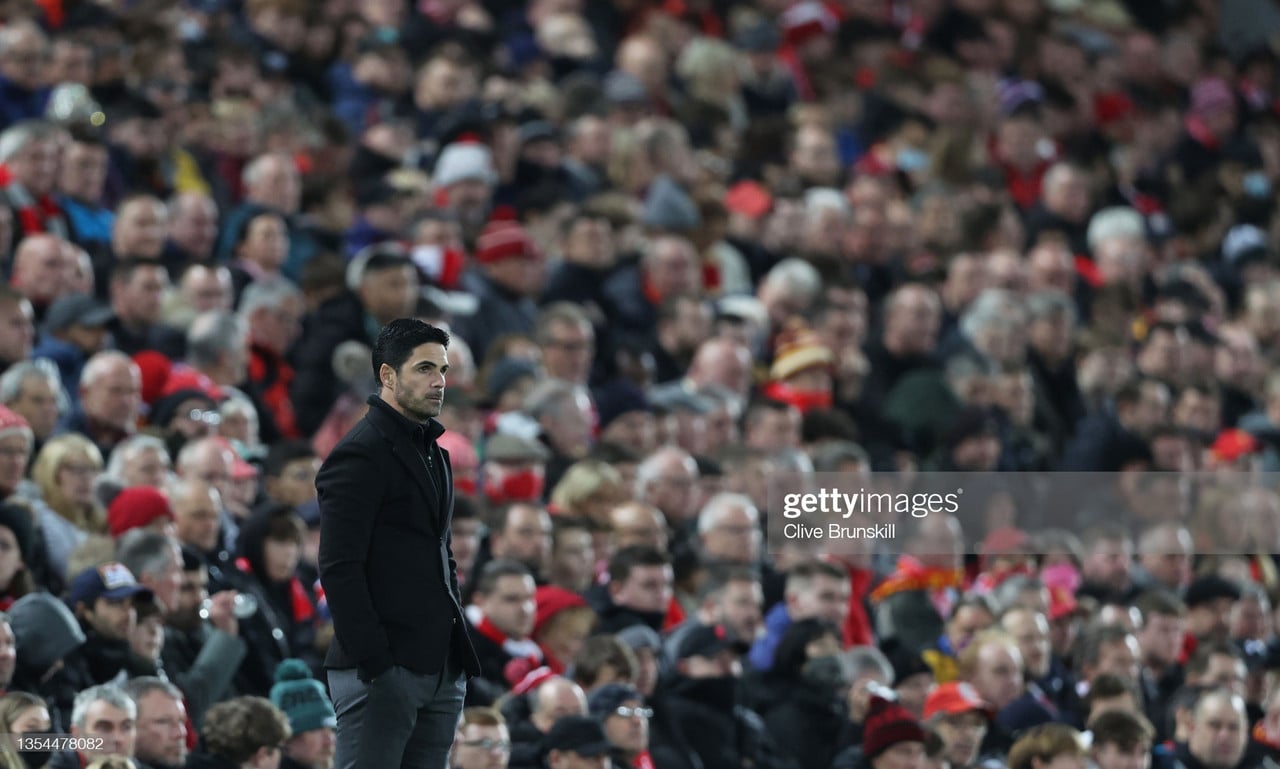 Since the 2017/18 season, Arsenal have conceded 19 goals in 5 trips at Anfield, conceding an average 3.8 goals per game during this time.
Torrid history at Anfield.
Arsenal have not beaten Liverpool at Anfield since the 2012/13 season, in a game where new signings, Lukas Podolski and Santi Cazorla, scored their first goals for the Gunners and a game where Abou Diaby dominated the midfield.
In the 9 years since that game, it is fair to say, Anfield has not been pleasant to the boys from North London.
Nevertheless, despite this appalling record and the manner of the defeat on Saturday night, this result really doesn't mean much.
Simply put, Arsenal are not in Liverpool's league at the moment. If we are being honest, they are nowhere near.
A learning curve for this young side.
When comparing the two clubs at the moment, Arsenal are a clearly a long-term project and Liverpool on the other hand are as close to the finished article as you will see in the Premier League.
They are a side that in Mikel Arteta, have a young manager that despite showing signs of a managerial identity in recent weeks, is still clearly finding his way in the game and still in the early beginnings of his managerial journey.
His counterpart in the opposition dugout, with whom he had fiery bust up in the first half which seemed to set the whole stadium and everyone in it alight, is the complete opposite.
Jurgen Klopp is a manager who has not only managed since 2001 overseeing almost 1,000 games during that time, has won multiple league titles and domestic trophies in different countries, won the German football manager of the year on three separate occasions, won the Premier League manager of the month award nine times, has been a Champions League runner up twice and an eventual winner in 2019.
What I am trying to say is that you just cannot compare the two at this current time.
In addition to the gulf in experience between the respective managers, the two teams also had majorly contrasting time to gel and grow together.
Strength in stability vs a new set up.
The Arsenal team that played on Saturday night, had six new summer signings feature, compared to a Liverpool team that, with the exception of Kostas Tsimikas and Diogo Jota, has had its core together for multiple years and gone to battle together numerous times.
Additionally, and the main argument of why the heavy loss on Saturday night should not be that taken too seriously is the age of the Arsenal side.
A low average age within the squad is key going forward.
We played against a better team today.

Onto the next one.

COYG.

— 1️⃣8️⃣ (@nnamdionye) November 20, 2021
When Arsenal lost…let me rephrase that.
When Arsenal were humiliated at The Etihad in August, Arsenal fielded a defensive minded back 5 which featured Bernd Leno, Cedric Soares, Calum Chambers, Rob Holding and Sead Kolasinac. These 5 players have an average age of 27.8.
If you compare that to the youthful quintet of Nuno Tavares, Gabriel, Ben White, Takehiro Tomiyasu and Albert Sambi Lokonga who started at Anfield on Saturday the average age of these players is 22.6.
(Martin Odegaard and Ainsley Maitland Niles who came on as substitutions also have an average age of 23 between them.)
Although the youthful inexperience of some Arsenal players showed on multiple occasions during the game; Lokonga and Tomiyasu being sloppy on the ball at times and Tavares's misplaced pass which Jota finished off brilliantly, it still comes down to this.
I would much, much rather have young players who make these mistakes and learn from them than older players with limited potential and room to grow like the team at the Etihad.
Fine margins followed by capitulation.
To many people's surprise the Gunners had a solid first half, and if it wasn't for a pin-point cross from one of the undisputed best creators and crossers of a ball in world football, Trent Alexander Arnold, they most likely would have gone into the second half still at 0-0 and we may have seen a completely different game.
Inexperience showed, heads unfortunately dropped, and mistakes quickly followed, which Liverpool ruthlessly and mercilessly capitalized on.
However, one thing we should not do when analysing this defeat is overreact.
No need to overreact!
We lost to one of the best teams in the world, let alone the Premier League. They aren't the measuring stick of where Arsenal are right now. Those games (West Ham, Everton and Manchester United) will follow and if Arsenal lose those games, then discussions about the Arteta project can be had.
The direction Arteta and Edu are trying to take Arsenal in is clear to see and his summer signings make this philosophy even more evident.
They believe that younger and hungrier players are going to take this club back to where it needs to be, and if the three-month unbeaten streak, the lightning duo of Bukayo Saka and Emile Smith-Rowe, the defensive solidity of Tomiyasu, White and Gabriel and the emergence of the very impressive Aaron Ramsdale are to be considered, it's working.