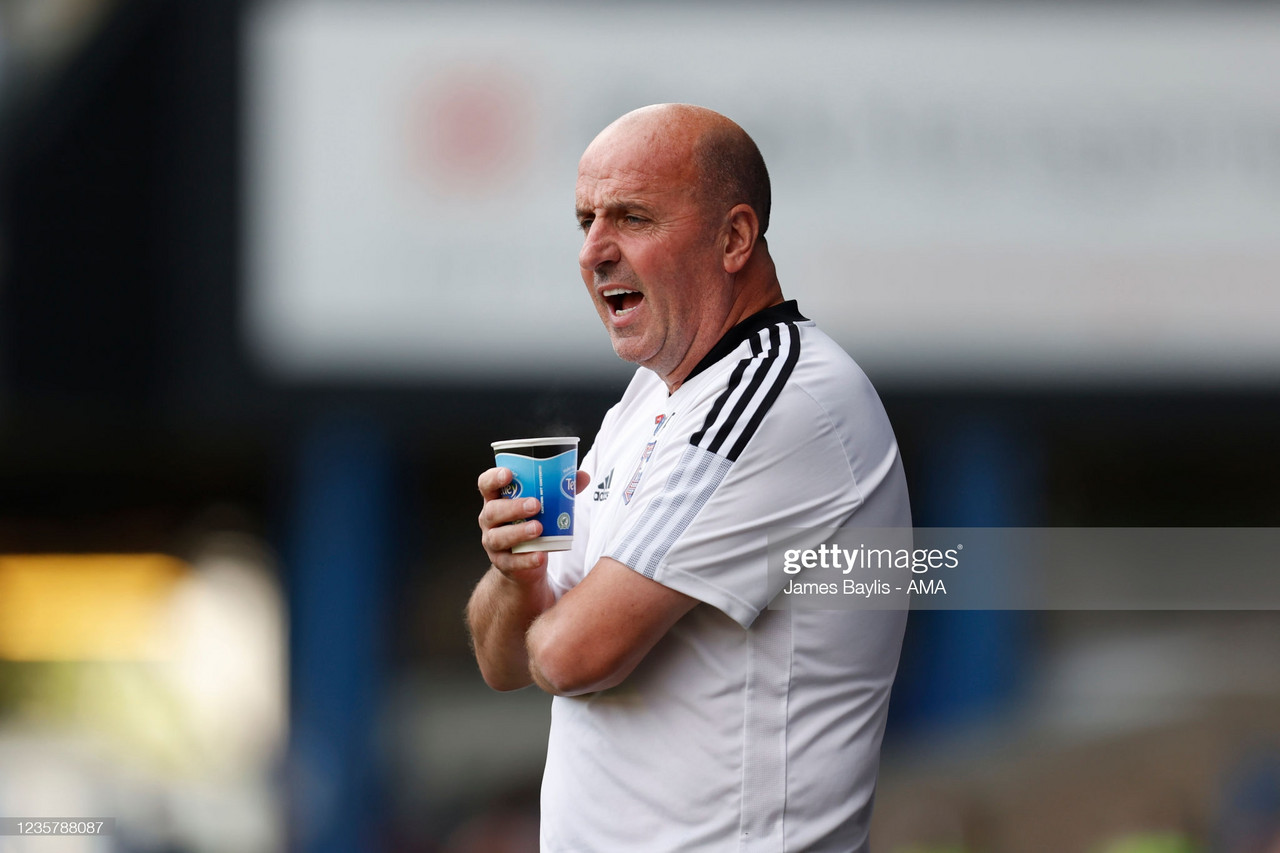 Paul Cook will be devastated after defeat to Arsenal U21s' that saw the visitors comeback from a two goal deficit and end up winning on penalties.
Ipswich Town went into half time with a two goal lead, but failed to keep their composure by allowing the visitors to get back into it in the space of five minutes.
The Blues went in front after 31 minutes through Kayden Jackson which he followed up with a second before half time to give Ipswich a two nil lead. However, Arsenal U21s got one back through a fortunate Kane Vincent-Young own goal that with less than five minutes later was doubled through Folarin Balogun levelling the cup tie up.
The game was decided on penalties and when Joe Pigott and Bersant Celina missed their respective penalties, it was down to Omari Hutchinson and Mika Biereth who calmly placed their penalties to win the tie.
"You'd be a fool to say you never saw that coming"
Ipswich manager Paul Cook didn't hold back in his post-match interview and admitted to seeing the capitulation from a mile off after recent form.
After the two goals in the first half left them looking in full control, the hosts let their lead slip to an eventual penalty shootout decider that saw them knocked out, which Cook was disappointed by. He said:
"I thought we worked hard in the game. Arsenal have got a lot of quality players, but we got ourselves in a fantastic position. And yet we end up losing a game that you can't lose."
However, the two goal deficit did not phase the away team and it showed when they were able to level it up against Cook's men.
"Clubs that want to be successful have to win games. It's disappointing that we go on penalties, but that was a game we should never have lost. Unfortunately for us and our fans that's where we're at at the minute."
Despite a dissapointing end to the night for Ipswich, Kayden Jackson was a bright spark at Portman Road in Ipswich's latest defeat to Arsenal U21s'.
When asked about the individual performance of Kayden Jackson, who scored both of Ipswich's goals tonight, Cook said:
"I said to the players before the game make sure you give me a selection headache for Saturday'.
You can't speak highly enough of Kayden. He is certainly the big shining light from tonight, he should rightly get the plaudits."
After the managers' comments tonight , we could be seeing Jackson get his chance in the FA Cup second round game this on Saturday against League Two club Barrow.
"We haven't got a magic wand for sure"
Ipswich fans on social media have had their say on their teams' cup exit on Wednesday evening and manager Paul Cook recognised the frustration of the clubs' fans since they threw away their two goal advantage and ultimately lost on penalties.
"We are a work in progress," he said.
"I get the disgruntlement, 100%. I feel it. Everyone wants to finish a race quickly but it's not just like that. Sometimes it does take time. Within that you've got to manage disappointment."
After recognising the anger from fans, Cook was ready to put some of the blame onto his players as he said:
"Look I will always carry that for the team. Sorry, I'm only being a little bit jovial, if I be truthful, because when you want to be good you've got to carry a steeliness and an edge. Unfortunately at the moment we don't.
"Unfortunately the goals we gave away were just, listen, they just beggar belief. But that's football."