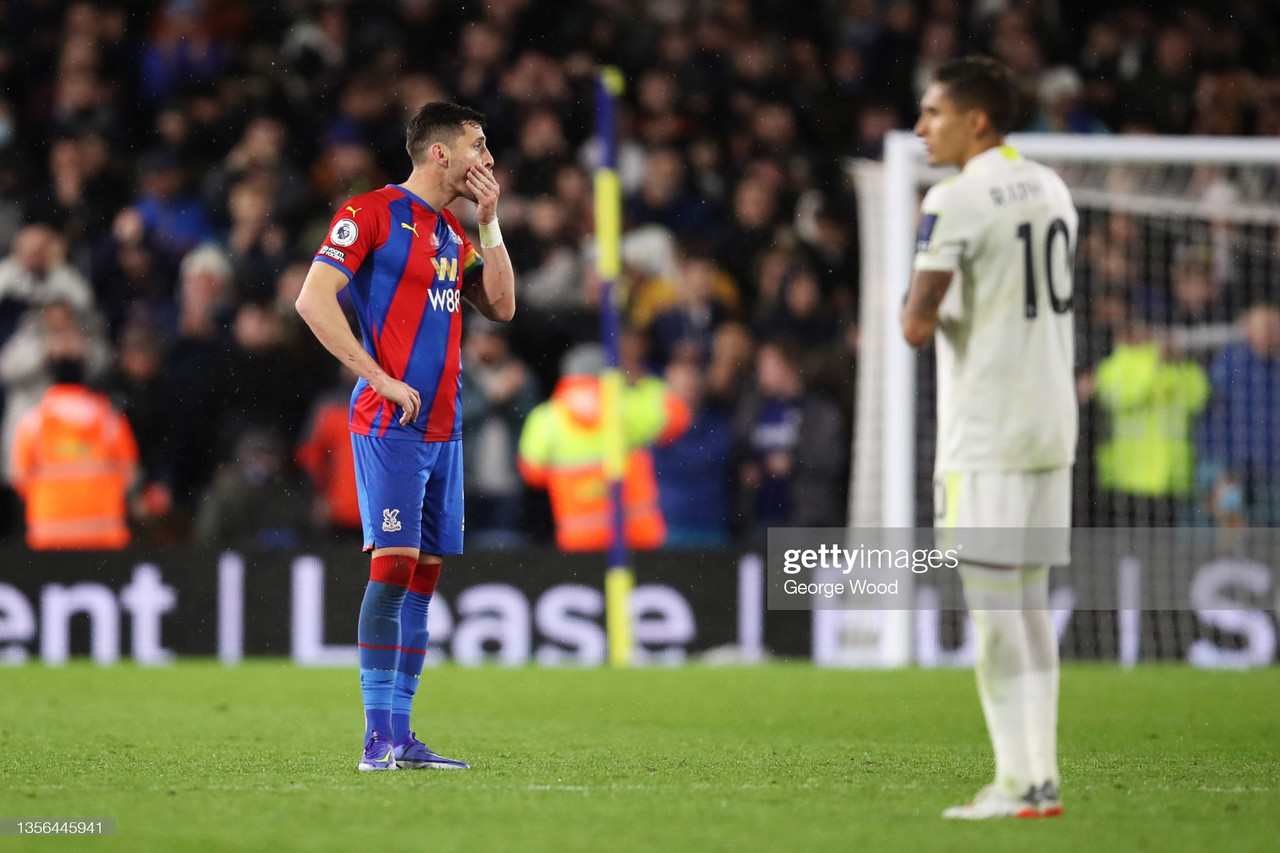 Upon the sound of the final whistle at Elland Road on Tuesday night, Patrick Vieira could be distinguished from the rest of the stadium by the unmitigated shock he personified on the touchline.
With arms raised above his head, and a look of bewilderment smeared across his face, the Frenchman had knowingly hit the first roadblock of his Crystal Palace tenure.
Crystal Palace travelled to Leeds United with one goal in mind; to chalk off their worst performance of the season against Aston Villa with a victory in the north.
But for the most part, Palace struggled to create any clear openings to conjure a response to the weekend. Christian Benteke came closest with a headed effort he should have scored, and things could have been starkly different if the referee had given a penalty to Jordan Ayew for an apparent shove by Pascal Strujik.
But he didn't, and Palace suffered from the consequences.
Instead, it was Leeds United's persistence that was the telling trait in the outcome on Tuesday night. Although kept silent all night by the courageous defending of Tyrick Mitchell, a stoppage-time penalty from Raphinha provided the dagger to Crystal Palace.
It was a defeat for Palace that highlighted a change in momentum for Patrick Vieira. Since the injuries to James McArthur and Joachim Andersen, questions were raised over how Palace would cope.
And after two games without the duo, the answers are glaring.
Patrick Vieira's Crystal Palace era has hit its first major complication of the season, suffering consecutive defeats against opposition that started the day below the South Londoners.
While absenteeism has abruptly halted the Eagles' progress, questions over how they would handle the change have now switched to queries over Patrick Vieira's plan B.
Needless to say, it has been some of the Frenchman's midgame changes that have brought about good results for the Eagles, but without two key men, this Palace side is a far cry from their former selves.
All of a sudden, what was hailed as seven unbeaten games just a week ago, is now being disdained as three wins from 14.
A relatively positive performance?
Despite Vieira's comments during his post-match press conference, with which he noted "the performance tonight was more positive" - it is difficult to concur after watching it from the stands.
He continued: "The outcome wasn't something we wanted but the performance was what I wanted." Had he focussed his praise towards the defensive block, his comments may have been better validated.
After all, Tyrick Mitchell played an instrumental role in keeping Raphinha quiet for 90 minutes, while Marc Guehi and James Tomkins looked better established alongside each other.
Leeds were kept at bay for the most part, and it was only Rodrigo's opportunity, gifted to him by Dan James, which posed any sort of danger from open play.
But much like the home side, the visitor's were unable to present many clear-cut opportunities themselves - they had one attempt on target out of nine, with few of them being anything but a snapshot.
Palace struggled most profoundly from similar headaches they ensued against Villa - they failed to press the opposition, they showed an inability to transition the ball from defence to attack effectively, and they suffered from a void of chances.
James Tomkins was much improved in defence, and the Eagles defended their corners better, but Patrick Vieira's lack of a second gameplan and squad could have been the overriding factor to defeat against Villa and Leeds.
Once again, the gap in transition that James McArthur and Joachim Andersen left was felt. The duo is crucial to the way Palace play, so it is perhaps something the recruitment staff will look to bolster in the January window.
Andersen and Guehi's ability to play almost the same role as a quarterback is valuable for Palace to get the ball from one end of the pitch to the other smoothly, and it is the ball progressing traits that this two offer that can't be replicated in their backup options.
Looking back to summer, the signing of Ozan Kabak, who showed impressive ball carrying traits at Schalke, may have been a decent option, but he was overlooked because of the need for strengthened depth elsewhere.
As for McArthur's position, both Jeffrey Schlupp and Will Hughes are more than worthy deputies to his role, the latter of which still on standby for his first start in red and blue.
Certainly, McArthur's industrious hard work and tenacity have been embedded into the roots of Palace's early successes under Patrick Vieira, but other options that have struggled to find a place this season can replicate his enigma.
It is clearly an area of the problem which is more pressing for the Eagles, and a replacement for the Scotsman is needed quickly. Whether that is a player signed in January or one that is given a chance from the current squad, Vieira has explained that he expects rotation during the busy winter schedule.
When asked about giving players chances over December, Vieira said: "We have a squad of 25 players. So, obviously, if I'm waiting just at that period to get some of the players ready, it will be really difficult."
"This is something that we have planned since the first game of the season; we always say that everybody will have an important part to play.
"Those games will give the opportunity to some of those players to play games, and to show their quality, and this is what I will expect from those players because they've been training really well.
"And the only thing that they are expecting is to play games. This is what players want. So they will have the opportunity to play, and they will have to take that chance as well."
The honeymoon period in the Patrick Vieira era is seemingly over.
It's been a wonderful start to a season of transition for Crystal Palace, but two defeats against teams lower down in the division have given the Eagles a reality check.
For the management of the club, the target in the next few weeks will be to find the perfect formula for reinvigorating Palace, finding ways of playing their style without the necessity of Joachim Andersen and James McArthur.
Last season, Roy Hodgson was criticised for his over-reliance on Wilfried Zaha's goals, so Patrick Vieira will want to turn around his misfortune this week quickly.
Old Trafford awaits the Eagles next, as they become the first side to face Ralf Rangnick. There are no easy games in the topflight, but none much harder than a trip to Manchester United.
Crystal Palace have all that it takes to get back on track to success, but December poses Patrick Vieira's toughest test since his arrival.
Will the Eagles dare to dream again?