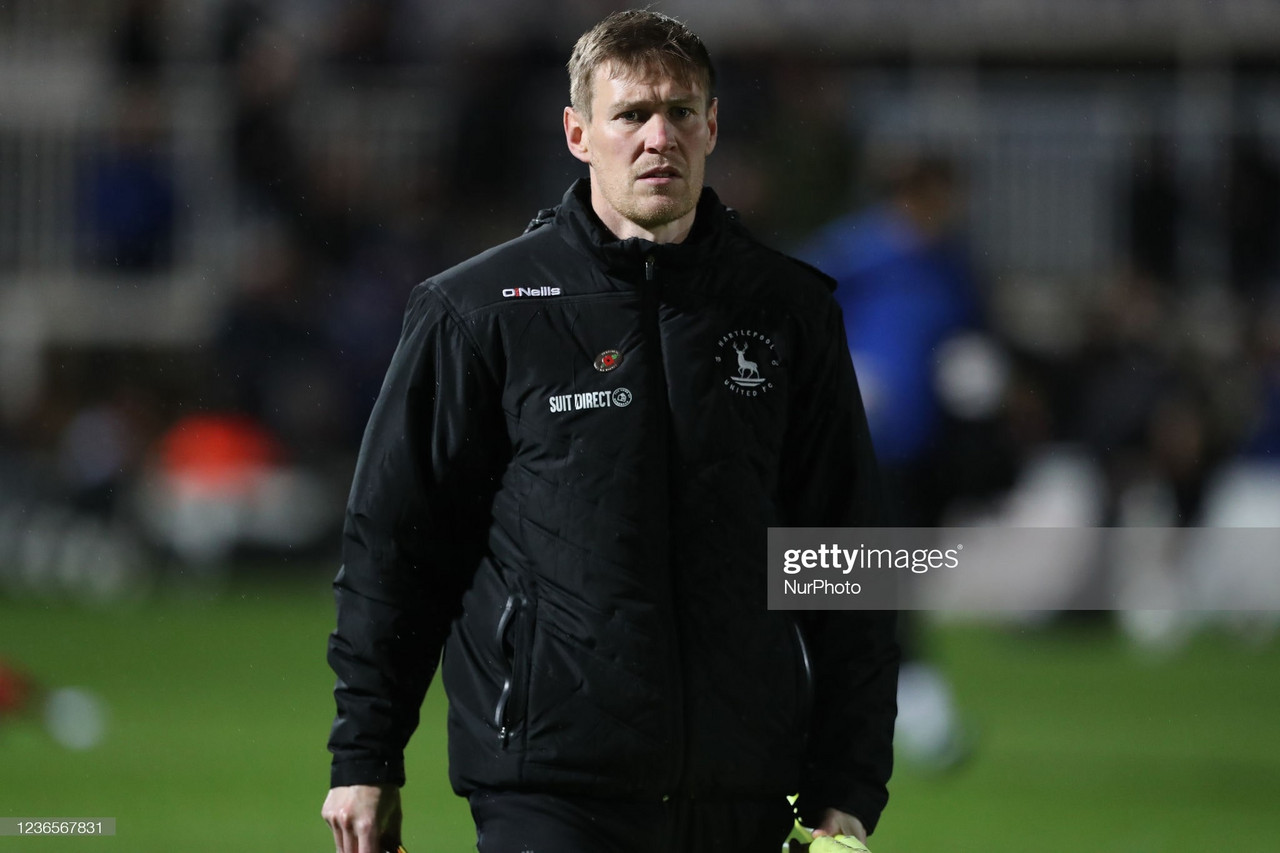 Anthony Sweeney believes that he is passing the club into good hands after ending his period in interim charge of Hartlepool United with a 3-0 victory over Sheffield Wednesday in the Papa John's Trophy.
Sweeney took charge of the Pools following Dave Challinor's switch to National League side Stockport County and has overseen eight fixtures; losing all four league games but enjoying success in the cup competitions.
However, on the morning of their EFL Trophy tie, they announced Graeme Lee as their new manager, with Michael Nelson coming in as his assistant.
And Sweeney had high praise for the duo coming into Victoria Park.
He said: "I know them both personally as friends and both professionally as an Under-23s coach at Middlesbrough and a manager at Blyth [Spartans], so I know what they're like as characters.
https://twitter.com/Official_HUFC/status/1465977710363217923?s=20
"They are diligent and there is no recipe for success, so we have to back them and the fans must back them and I am sure they will.
"I am pleased for them both as people because they are good people and sometimes in football good things don't always happen to good people.
"They are two really good fellas and are proper North East lads – both fair and honest – and both have been captains at clubs so they are leaders as well.
"Living in the town and knowing a lot of people from there, I want the football club to do well for loads of different reasons and loads of people."

After being associated with the club for two decades, Sweeney was pleased to have left on a high, he said:
"I have been associated with this football club for 20 years, so I know the pressure of trying to get results.
"The football club have been great to me, but I would like to think that I have contributed when I could as a player and stepping up now.
"It is always nice to finish off with a win, but it is not just me by the way, I have had massive amounts of help from people like Ian McLoughlin, who works with the youth team, who has stepped up and has shared responsibilities over the two teams.
"For us to be able to pass it on with a little bit of momentum and a feelgood factor after a difficult run then I think we have to be happy with that."
Sweeney on the performance
Pools made several changes going into their fixture at Hillsborough Stadium, giving squad players some much-deserved minutes.
"I am delighted for the players," said Sweeney. "There were a fair few changes to the side, so I am delighted with those players, who have been chomping at the bit to try and get an opportunity, that has come and taken that.
"I had to be true to my word and I had said to the players over the last four-five weeks that you will be given an opportunity.
"Just because we have come to what is a monumental football club in Sheff Wed – a League One side with aspirations of getting back into the Championship – it would have been quite easy knowing someone else is picking up the pieces tomorrow and pick a stronger side then I could have done. But it wouldn't have been doing the players justice because there are several players who haven't played in the league but have got us this far in the competition – they deserved the opportunity to impress two new eyes.
"Actions speak louder than words for me and you have every right to knock on a manager's door and ask about what you need to do to get into the side or retain your place and things like that, so you might have certain gripes but the best way to play is proving that you should play when you get minutes.
"Today we game managed well; we kept possession and frustrated at times. We were busy with our shape and when we got in at times, we took it."
Sweeney on building momentum
This victory was a badly needed boost in confidence ahead of former Owl Lee's arrival.
When asked if the managerial appointment was the boost the Monkey Hangers had to cruise through to the next round, Sweeney admitted: "I think it is just clarity.
"Players want to know what their future holds: who is making the decisions on the team? Who is making the decision with their contracts? Who is discussing their futures?
"They're all on social media so they will all see the bookies' odds about so-and-so is getting the job and they'll ring their mates who have played under that certain manager and try and get that information.
"The lads will know what to expect and whether that caused a bounce in confidence today then I think it was a mix between that and getting that goal.
"Sheffield Wednesday were not at their best, but we made them look poor at times and our press and shape frustrated them and their fans got on their backs a bit which is what you need as the away side."