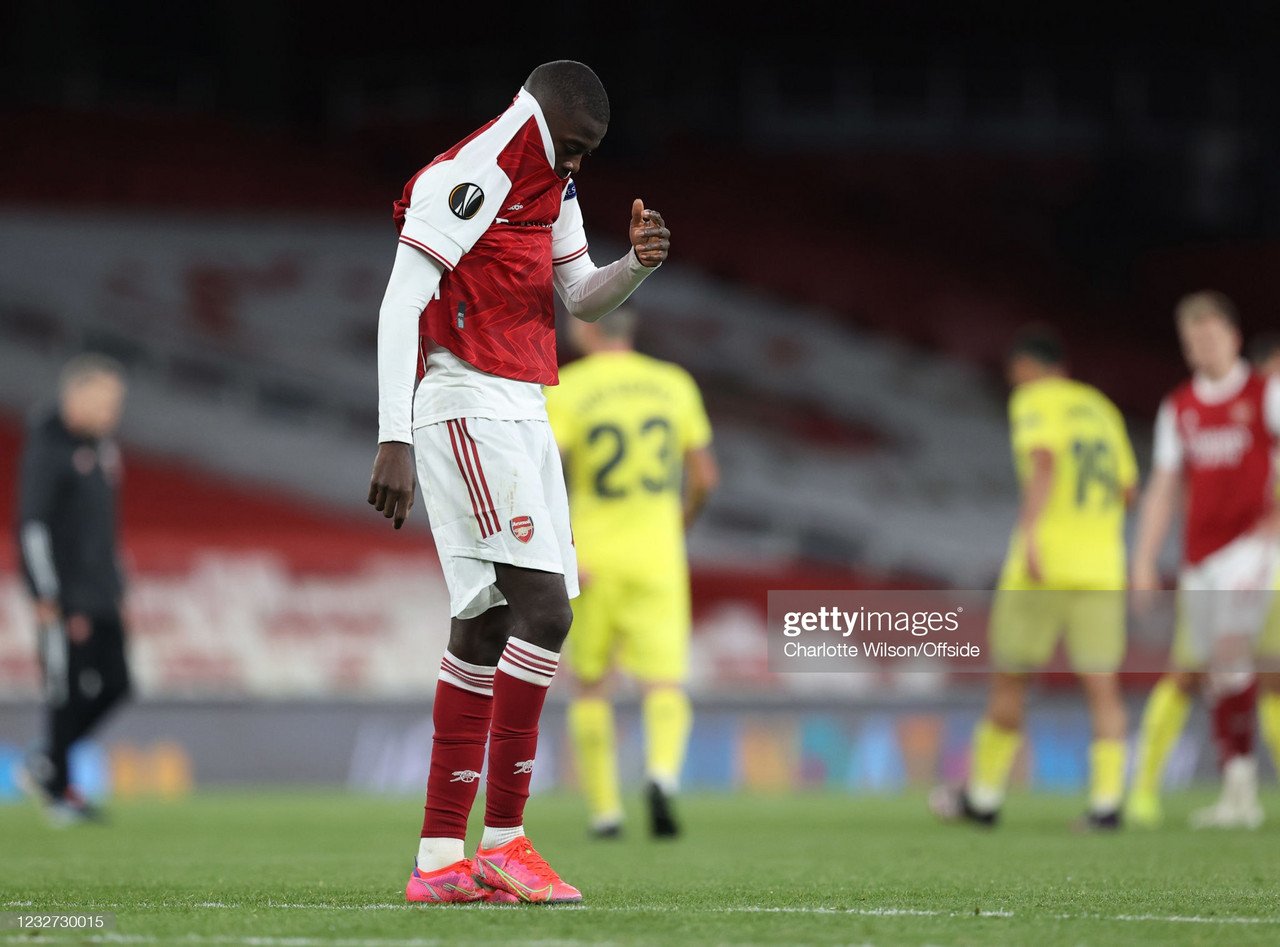 First things first, what do the fans think?
In preparation for this piece, I asked my Twitter followers to rate Nicolas Pepe's Arsenal career to date. With nearly two thousand responses, the majority of fans (60%) rated him a 4/10 and an even larger majority made the argument to sell him in January. Frankly, the results did not surprise me. The 26-year-old has divided opinion ever since he moved to North London, and his moments of magic have only made his moments of madness more frustrating.
What did surprise me was Mikel Arteta's decision to turn to Gabriel Martinelli and Eddie Nketiah ahead of him in our last two Premier League games (against Newcastle United and Manchester United respectively). Nketiah hasn't started a single league game this season, and the news that he rejected another contract extension less than a day earlier raised eyebrows on social media.
Having started only one of Arsenal's last nine league games, Pepe finds himself on the fringes once again. Just like with Unai Emery before him, Mikel Arteta has not been afraid to leave the former Lille OSC superstar on the bench. After all, he pushed to sign Willian less than a month after Pepe's impressive finish to the 2019-20 FA Cup winning season, which meant he only started only two of Arsenal's first fourteen games in the following league campaign (against Manchester City and Liverpool…).
He has done it before...
Looking ahead, Arsenal fans will hope Pepe can replicate the stunning form which brought him back into the side last season. Despite the early hiccup, the tricky winger racked up over twenty goal contributions in all competitions last season (16 goals and 5 assists) – more than any other Arsenal player. He finished the season in fashion too, scoring five goals in three league games. Even Arteta sang his praises after his performance in the first leg of the Europa League semi-final against Villarreal CF in April 2021.
"I think he's come a long way in the last few months. His work ethic has been phenomenal, he's deciding many more games and doing what he can do in the final third in a much more consistent way."
Maybe even more impressive is that he overcame this adversity during a season in which Arsenal struggled to create chances, Bukayo Saka cemented his place in his position, and Cédric Soares, Hector Bellerin and Calum Chambers all failed to contribute going forward on a consistent basis.
While it is not impossible for Nicolas Pepe to turn things around again, his involvement in the 2021 Africa Cup of Nations for the Ivory Coast next month will not do him any favours when it comes to building momentum. Best-case scenario (player fitness and COVID-19 travel rules permitting), he will miss the North London Derby in the Premier League, the FA Cup third round and both legs of the Carabao Cup semi-finals should Arsenal beat Sunderland A.F.C at the Emirates on December 15. Needless to say, the busy winter period is a big opportunity for the fringe players to not only get more minutes but stake a place in the team longer term. Arsenal captain, Pierre-Emerick Aubameyang and midfield duo, Thomas Partey and Mohamed Elneny will also be unavailable for the club as they represent their respective countries.
With Nicolas Pepe's contract expiring in June 2024, and the futures of Pierre-Emerick Aubameyang and Alexandre Lacazette still in doubt, 2022 will be the year we finally get a clear answer to the question, Nicolas Pepe – keep or sell?
Comment below if you think the £72million winger can turn things around at Arsenal.