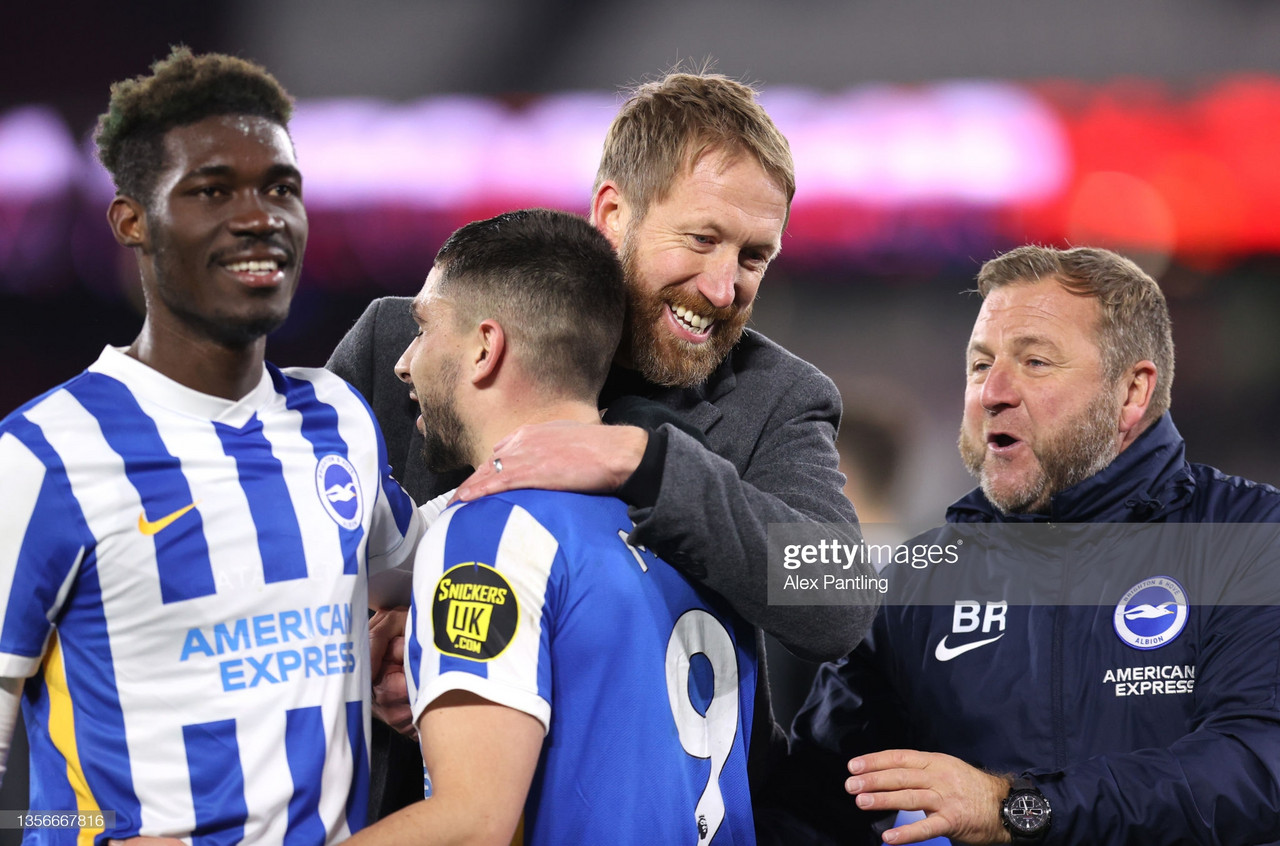 It's no mysterious secret that Brighton & Hove Albion do things a little different. On the delicately preserved turf and indeed away from it, innovative methods have been implemented in the hope of gaining a significant advantage within a desperately imbalanced league. More specifically, it's their unique use of the loan market that attracts a smattering of watchful eyes.
The Seagulls have drawn eight of their previous ten, are without a victory in the league since September yet find themselves comfortable in 11th position. Flirting with Europe in the fledgling stages of this season, their striking performances unsurprisingly raised a substantial amount of nationwide attention. Stood proud with an infectious smile slapped across his face, Graham Potter earned a healthy wealth of the plaudits — and rightfully so — but this prosperity derives from another body: one that observes from afar, and one that goes by the name of Dan Ashworth.
Upon embarking on his switch from the FA offices in Wembley to the fresher air of the south coast in Spring 2019, Ashworth has instilled a strict policy when it comes to acquiring and releasing players, wiping out the possibility of brining in loan signings completely. There was one exception: the graceful yet ageing Aaron Mooy, but Brighton's repulsion for dipping into the loan market does not rule out them utilising it at all.
They have sixteen such players obtaining playing time away from the AMEX Stadium, all sent to their various destinations in a scrupulous but practical manner. Of those representing the flapping white seagull, nine remain within the English border, and have an average age of little under 22. It is procedure for these players, most notably Leo Ostigard and Ryan Longman, to slowly work their way up the English Football League, in the familiar fashion of Ben White.
White joined Arsenal in late July of this year for a fee of £50 million, having had just one full season within Brighton's first team. Prior to this, the central defender had played his football with Newport County of League Two, Peterborough United when they were in League One and Leeds United, then of the Championship. This is the Ashworth dream: players consistently improving through the divisions, impressing in the top-flight for a short period, then sold for a healthy profit.
There's method in the madness
Brighton choose to refrain from signing loans because they simply do not need to. Of the eleven players who strode out onto the St. Mary's turf ten days ago, nine of them have donned the blue and white stripes for at least two years, with the exception of Marc Cucurella and Enoch Mwepu, who they purchased for a combined fee of around €41 million.
But it doesn't always work out. It was reported by the Evening Standard in July 2020 that Ainsley Maitland-Niles was linked with a loan transfer to the Sussex shores, whilst in January of that same year football.london revealed the Seagulls' interest in then Chelsea youngester, Conor Gallagher. Both would have flourished in Potter's fluid 3-4-3 system, but the impact on the rest of the team is something that can only be left up to interpretation.
Preferring to develop their own talents rather than borrowing from another side, Crystal Palace, for example, prohibits themselves from maturing a rival club's players. Sure, a certain few would make an impact but in the long-term it only aids those that Brighton wish to surpass.
Brighton are a well-run club. They are superbly managed, have a strong financial base and have one of the most forward-minded technical directors in world sport. Besides the ongoing striker saga that plagues their offensive output, The Seagulls have established themselves as a consistent top-flight outfit.
What we're left with then is a laudable squad playing within a progressive and sustainable football club. Stressful were the years that followed their promotion to the celestial world of the Premier League, there appears a renewed sense of balance in the air with a strong hint to future success. Of course, the sole thought on the minds of all those who congregate to Falmer on a consistent basis is understandably 'when are we next going to win a game'. It will come, but as Potter's reign continues to shimmer with surprise, this constantly evolving, ever-defying club can justly aspire to a brighter future.