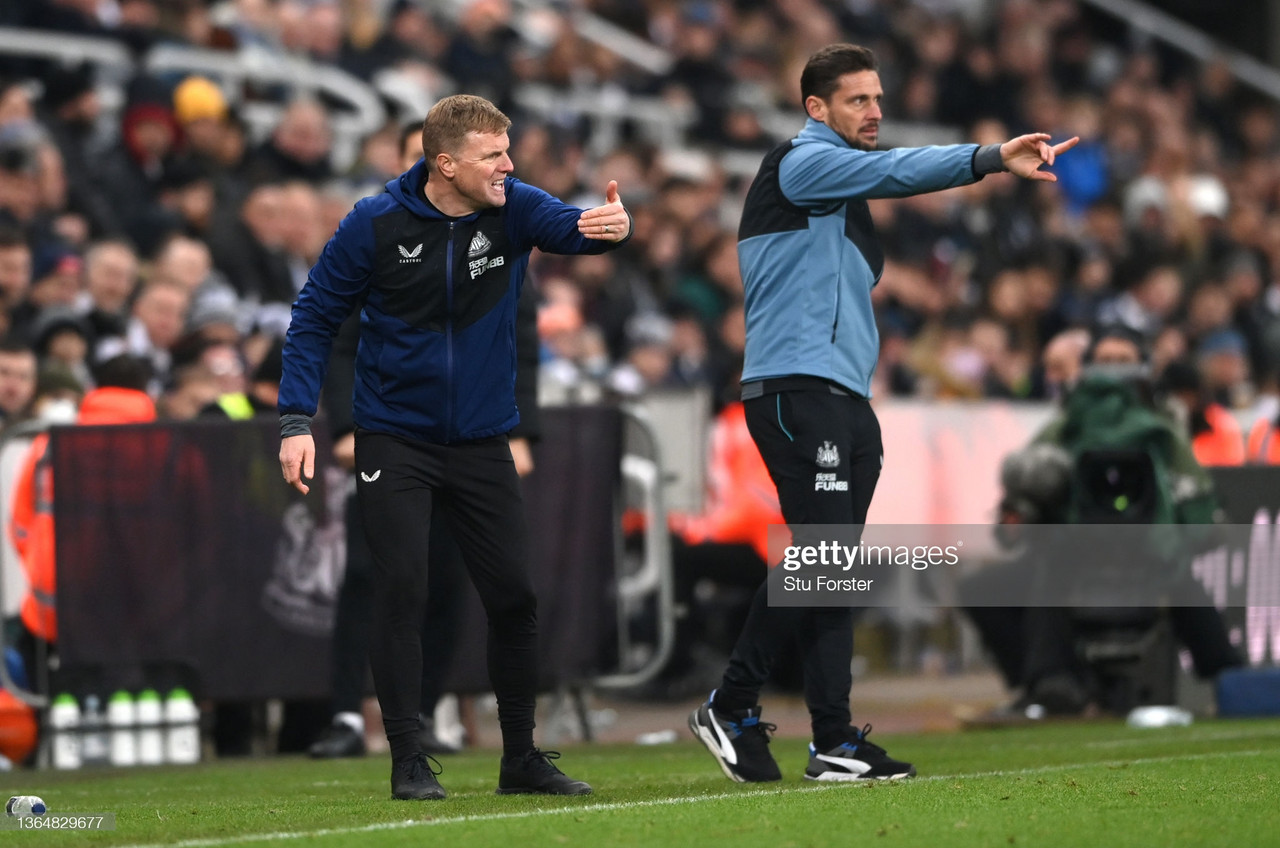 Newcastle United boss Eddie Howe believes his players went into 'protection mode' and 'didn't want to take too many risks' after going a goal-up against Watford, in a match where they conceded a fatal equaliser two minutes from time.
The Magpies broke the deadlock four minutes after the interval courtesy of some individual brilliance from Allan Saint-Maximin,, but Joao Pedro jumped highest in the dying embers to rescue Claudio Ranieri's men a point.
The spoils being shared mean that Newcastle remain 19th in the Premier League table, while Watford keep themselves above the dreaded drop zone in 17th place.
Howe's side were minutes away from victory, and you could sense that from his tone in the post-match press conference.
"It's disappointing because we were so close," he said.
"I thought we dominated the first half.
"The start of the second half we got the goal and then were probably content – not intentionally – of seeing the game out.
"I think the players were so desperate to win that they went into a little bit of protection mode and didn't want to take too many risks."
The Magpies sat deeper and deeper as they looked to see the game out, but they conceded again, meaning they have now dropped 21 points from winning positions so far this season.
"That brings the opposition into the game and Watford had their best period," said Howe.
"We were within touching distance of a really important win which we obviously didn't get."
A huge opportunity missed
If Newcastle saw the game out successfully, they would have leapfrogged their opponents this afternoon out of the bottom three.
Howe's frustrations were there for all to see, when he said: "We saw Watford as a huge opportunity and that's why it hurts so much.
"We were really pleased with what we saw up until half-time, so that gave us even more optimism that we could go on and win this match."
The Toon boss was not happy that his side decide to try and defend the one-goal lead, instead of going for the jugular, and looking to add to their tally.
"One-nil for me is not the time to go into our shells it's to go on and make it 2-0," he said.
"For me, that's the time to put the game to bed, that's the best way to handle that situation.
"But we have to understand the players' mentality at this moment in time, maybe not thinking the same way, so that's something we can change."
Newcastle's new owners splashed out £25 million for Burnley striker Chris Wood to solve their issues in front of goal, with Callum Wilson out for eight weeks.
But, his debut did not exactly go to plan, with the New Zealand international having a relatively quiet game.
Howe was pleased with what he saw from his new signing, however.
"Chris Wood did well," he said.
"He competed and gave us a different dynamic.
"I thought he was a little bit isolated towards the end of the game so we need to look at that.
"We can't be satisfied but that's what we have got.
Looking ahead to Leeds
The Magpies have a week to prepare for another huge game, this time against fellow strugglers, 16th placed Leeds United.
Howe said on the upcoming clash at Elland Road: "We need to get ready for another massive game next week.
"We saw it is a big opportunity before the game.
"Conceding goals late and dropping points has been a common theme this season so it's definitely something we need to work on."