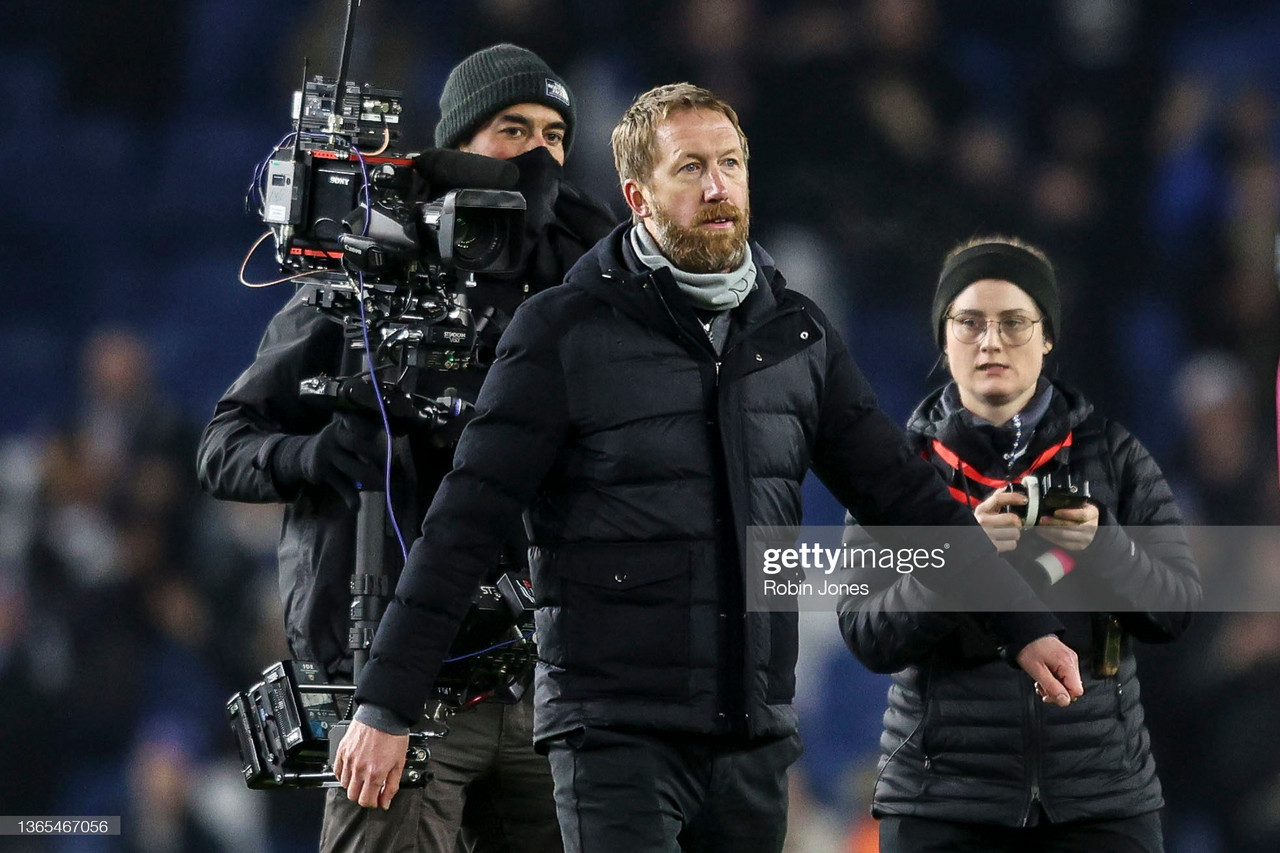 Graham Potter spoke like a proud father when detailing his side's resilient approach to last night's deserved Premier League draw against Chelsea.
Brighton & Hove Albion welcomed the European champions to the South Coast and more than earned their point as the away side, for large parts, struggled to match the intensity and fluidity on show.
Both contests between the two sides this term have now ended level, with Chelsea arguably fortunate not to have slipped to defeat on each occasion.
Undoubtedly, Chelsea have superiority in depth, quality, and resources, but Brighton have shown that they are indeed no pushover - Manchester City are the only side in the top seven to have defeated them this season.
Granted, Thomas Tuchel's side are beset with a host of injuries and Covid-19 cases, but the lack of offensive drive and intensity throughout the pitch will certainly be cause for concern.
Potter's delight at response on the pitch
Graham Potter has a vision. A clear identity that he want's his team to adopt, and a way of playing football that he confidently believes will aid them in pursuit of achieving great things in the Premier League.
It is working to some effect, Brighton have escaped the annual fight against relegation and set their sights on the pursuit of a top-half finish - and maybe even more.
"I thought it was a good game. Both teams contested it, played with courage, quality and personality."
Brighton haven't just prevented Chelsea's victory once again, but they have matched them in ability and performance.
Potter couldn't not contain his pride in the squad. Despite maintaining his cool demeanour, he was evidently delighted at the level of commitment on show, and the ability to understand and absorb the tactical instructions given.
He said, "I'm so proud of the players. It was a fantastic performance. All I can say is thank you to the players. They gave themselves a chance to win, but it wasn't to be. The supporters appreciated the way they played. We take the point and move forward.
"They were brilliant and have been all season. Great atmosphere. The fans appreciated the game. We didn't sit back, we had to be positive. Chelsea are a fantastic side. We were up against it but I'm happy with what we have done.
"We have a nice squad, good togetherness and we are happy. The back four was sensational. They defended with great courage. It's an art to defend the way they have done."
Webster proves his worth
Adam Webster has gone under the radar somewhat when discussing English centre-backs worthy of consideration for that coveted international call-up, but his importance and ability to Albion cannot be questioned.
His equalising header was assertive, powerful, precise; Chelsea goalkeeper Kepa haplessly watching the ball drive into the net.
"Adam is dangerous in those situations. He attacks the ball well. It was nice for him to get some game time."
Arguably more importantly, Webster was instrumental in efforts to rebuff Chelsea's advances, and excelled with his ball-playing abilities as Brighton exerted their authority throughout.
"When he is playing with confidence he is a fantastic player."