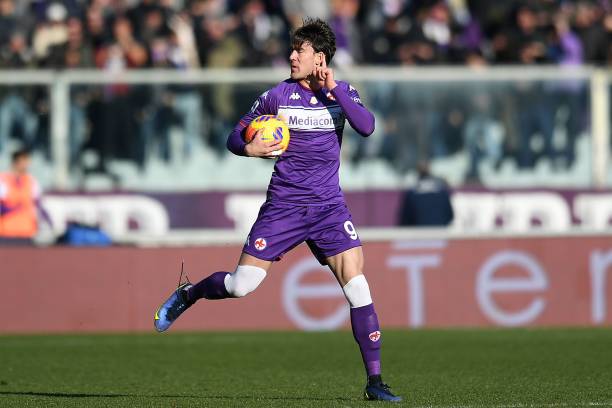 "He's the number 9 and the number 10. A real goalscorer and the big star," Per-Jarle Heggelund tells VAVEL.
The Norwegian TV commentator has followed Serie A closely for about 20 years. He's commentated on nearly 800 games of Italian top football.
He knows a star when he sees one, and Dusan Vlahovic he believes, who's been heavily linked for a move to Arsenal this month, is one of them.
"Only beaten by Haaland"
"I've always said he's on that top shelf of players, the 'Bayern shelf'," Heggelund says.
Asked if he can compare Vlahovic to any other striker out there, Heggelund looks to the top echelons of current goalscorers.
"My thoughts go to the only U23 player in Europe better than him at the moment, Erling Haaland. He's almost as good as Haaland, they're similar in a lot of ways."
There are a lot of similarities indeed.
They're both tall, strong and fast. They like to be involved in the build-up phase of the game, obsessed with scoring goals and their finishing is truly at the top level.
Vlahovic has scored 20 goals in 24 games so far this season for Fiorentina. Haaland has netted 22 times in 19 for Dortmund. They're both left-footed, important for their respective national teams and even born in the same year.
All this at 21 years of age.
"Vlahovic is better in certain areas and Haaland edges ahead in others. Haaland is faster and Vlahovic isn't that great aerially. But there aren't many big differences," Heggelund says, and concludes with some promising insight.
"At the end of the day, both will put up big goalscoring numbers each season.
"If Arsenal get Vlahovic, you can pop the champagne!"