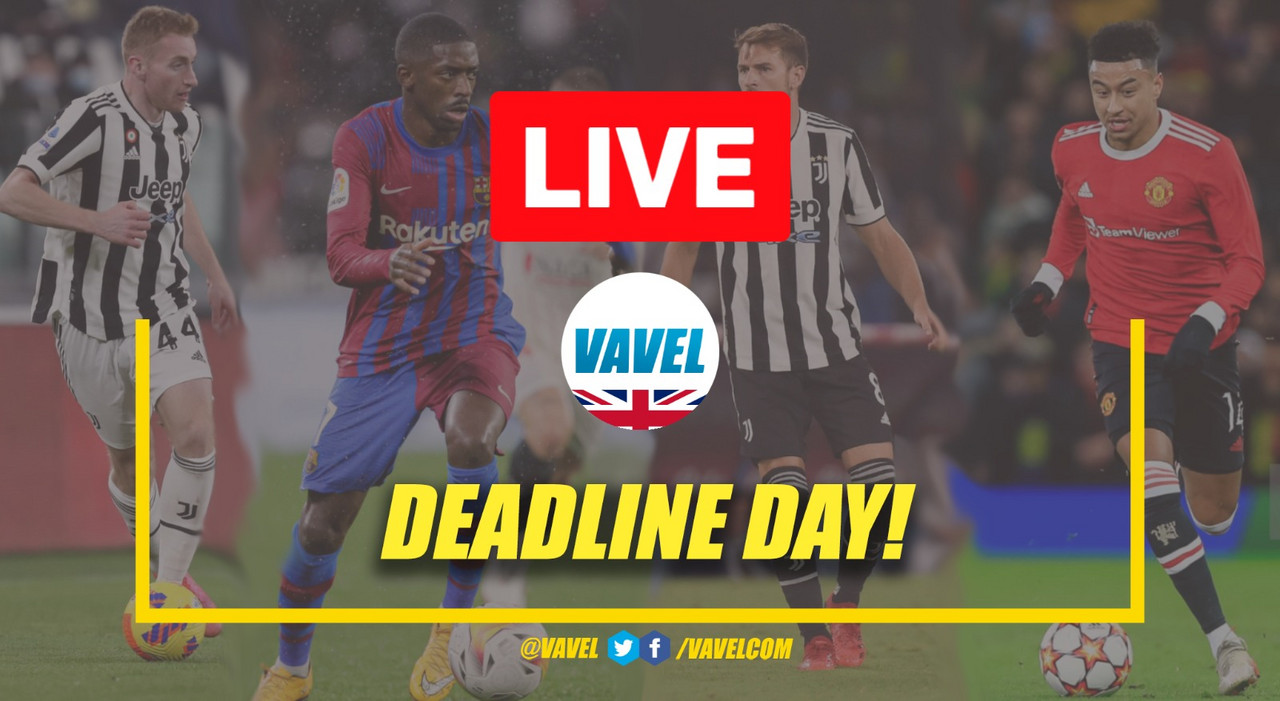 Thank you and goodnight!
Thank you for sticking with us!
Tick tock
A sign of Newcastle's depth right now
BREAKING: Dan Burn joins Newcastle
Final 15 minutes!
Still no Dele Alli confirmation!
BREAKING: Mason Burstow joins Chelsea
Long night for Longman: Hull City seal deal for Brighton man!
Top 5 Premier League clubs who "won" in January
Fabrizio confirms Liverpool's late push!
Jean-Phillipe Mateta joins Crystal Palace permanently
Final hour everybody!
...or will Liverpool make a big signing at the VERY last minute
Dele Alli NEARLY official
Ousmane Dembele stays
Burnley are done!
Ross Barkley to Burnley? It's unlikely!
The fans aren't happy!
Newcastle target Botman hints at future move
2 hours to go!
Liverpool running out of time for Fabio Carvalho
BREAKING: Moore moves to the South Coast as Cherries push for promotion
BREAKING: Arsenal complete transfer of MLS star Auston Trusty
Alli's Toffee arrival imminent
Opinion: Auba's bitter exit
Bergwijn's Netherlands move in total collapse
Lingard staying put..
Aubameyang on?
Dilly DAlli'ing?
BREAKING: Donny van de Beek joins Everton
BREAKING: Deniz Undav joins Brighton
Newcastle capture Targett
More on Jesse Lingard
Lingard staying at Manchester United
Five hours to go!
A busy day at Spurs
Luton sign Steer
Barcelona continue Aubameyang hunt
Newcastle or bust for Lingard?
Statement signings at Everton
Bryan Gil joins Valencia
Lingard saga draws on
Alli deal broken down
Everton closing in on Alli
The man of the last hour!
The man of the last hour!
Six hours to go!
A bit of quiet...
Rodrigo Bentancur just requires a work permit
Bournemouth have Zach's backing!
Money, money, money!
BREAKING: Dejan Kulusevski joins Tottenham Hotspur
Dejan Kulusevski to Spurs completed
To recap the last hour...
Tottenham Hotspur sign Bentancur
Nat Phillips joins Bournemouth on loan
No Newcastle deal for Hugo Ekitike
Forest agree deal for Surridge
More incomings at Bournemouth today
Ndombele returns to Lyon
Aubameyang to Barcelona is OFF
Aubameyang saga rumbles on
Dele Alli to join Everton
Lingard hot property in January once again
Aaron Ramsey on his way to Rangers!
Moussa Djenepo to stay at Southampton
Everton exploring permanent deal for Dele Alli
Barcelona not expecting Aubameyang
Tottenham have two offers rejected for Djed Spence
Hull complete permanent transfer of on-loan midfielder Ryan Longman
Woodman switches Magpies for Cherries in loan deal
BREAKING: Alvarez completes City move in the region of £18m
BREAKING: Huddersfield clinch Chelsea younster Anjorin in loan move
Leeds moves collapse!
Arsenal flagging in Dembele pursuit
Aaron Ramsey to Rangers done?
Liverpool's Fabio Carvalho pursuit still on
BREAKING: Lys Mousset leaves Sheffield United
BREAKING: Frank Lampard becomes new Everton manager
How much for Mr Ramsey?
Tanguy Ndombele to leave Tottenham Hotspur for Lyon
A bustling deadline day at Leeds?
A quiet end to a tumultuous period for Man United?
Magpies' Lingard hopes slipping..
Morata stays put!
Nunez staying put as West Ham circle?
Gunners changing the ammunition?
An inevitable departure at Brighton?
No Auba, No problem!
Nat Phillips to Bournemouth?
Newcastle on Targett!
What a Donny!
Ramsey fall from grace?
Inter Milan wishing the Chinese a Happy New Year
Aaron Ramsey set to join Rangers
Toon-ing over a new leaf!
Newcastle are opening up the floodgates but are they going to stay up? Danny Murphy isn't convinced!
Top, top player. Bweff of fwesh air!
Bentancur deal done, barring medical issues!
Is there an award for best announcement video? Asking for a friend!
OFFICIAL: Wout Weghorst completes £12m move to Burnley
Arsenal target Alexander Isak Gunner cost a lot!
Tariq Lamptey a wanted man
Weghorst to Burnley deal catching Pace!
Yves Bissouma on the market?
Fabio Carvalho still in the mix for Liverpool!
OFFICIAL: Wolfsburg sign Wind; Weghorst close to Burnley?
12 hours and 30 minutes remaining!
Two out but two in for Conte and Tottenham
Two departures from Spurs
Moore incomings at Bournemouth
A Goode deal for the Blades
Another twist in the Ramsey saga
More on the Donny van de Beek deal
Donny van de Beek having Everton medical
Wallace to Forest ... finally?
Newcastle looking to bolster their front line
Ramsey to Rangers, Burnley interest fading
OFFICIAL: Christian Eriksen to Brentford
Weghorst to Burnley!
Liverpool strike again in the Transfer Market!
Stay with us throughout 31 January 2022 for Transfer Deadline Day!
Chelsea got the transfer blues?
Man United sleeping?
Tottenham Hotspur double-deal
Busy Burnley?
A quiet day ahead for Manchester City
Donny van de Beek to join Lampard?
Frank Lampard to Everton
Newcastle's spending spree to continue?
Welcome!