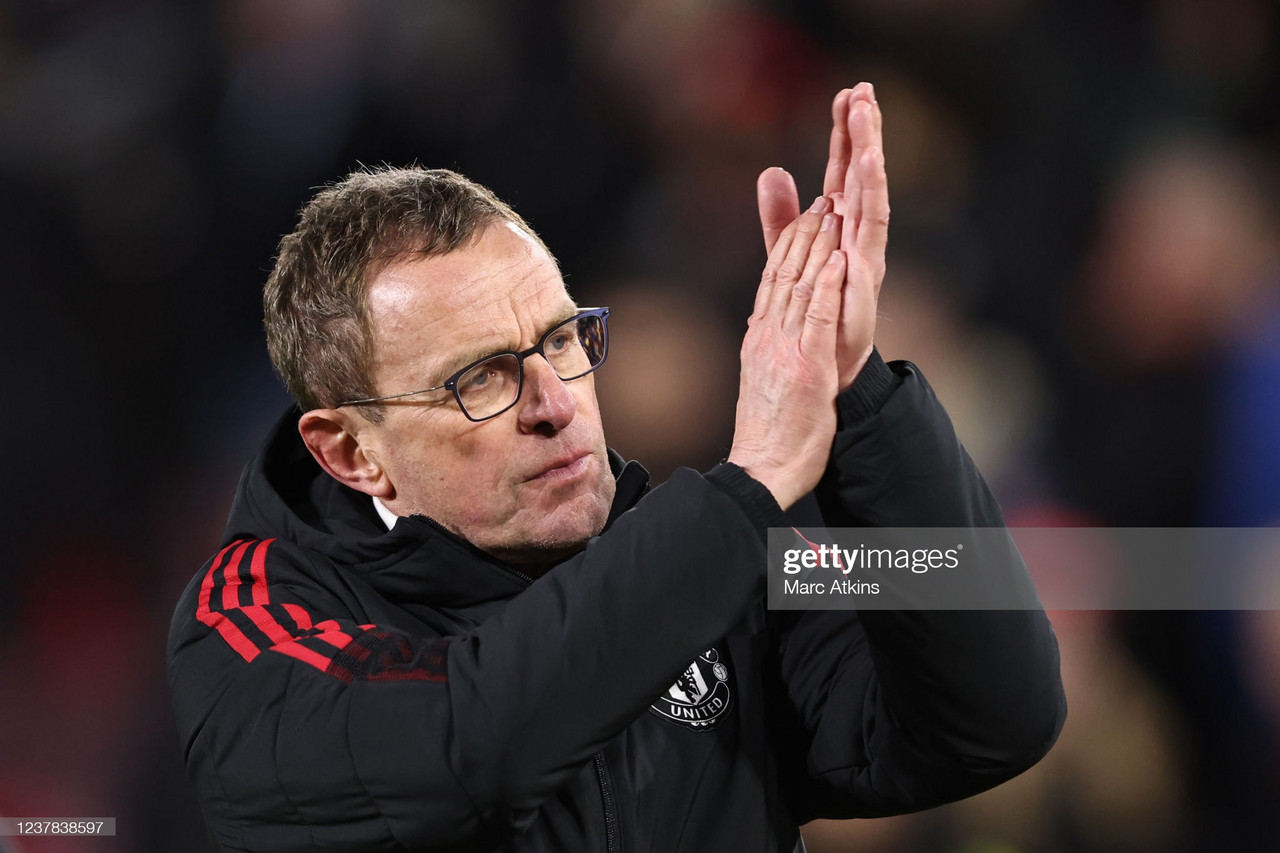 As Manchester United prepare to return to FA Cup action on Friday evening after the recent winter break, Ralf Rangnick spoke to the press ahead of his side's match against Middlesbrough.
Although Friday's opponents are currently playing in the second tier, The Boro's manager, Chris Wilder, was victorious in his last clash against United in January 2021 whilst in charge of Sheffield United.
So, despite The Red Devils being clear favourites to progress to the next round of the competition, there are several reasons why the game might prove to be difficult – after all, the FA Cup is infamous for its upsets.
Here's what the German had to say ahead of Friday's tie:
Back in November, Paul Pogba suffered a groin injury whilst on international duty with France and has not featured for The Reds since then.
Because of this, Ralf Rangnick has not been able to make use of the Frenchman's abilities since coming to the club, but after a few days of seeing him in training, it looks as if the 28-year-old will finally return to action on Friday evening:
"I think he's definitely ready for tomorrow and, since Fred only came back yesterday with jet-lag, as he played for Brazil, for me, it is quite logical to let Paul play. To see how he is doing and what kind of level he can play.
"What I've seen in training is promising and now it's up to him to show up on the big pitch, in the big competitions we're still in. Like everybody, I'm very excited by what he can give to the team and which kind of level he can play," Rangnick continued.
Middlesborough are a strong side
Since Chris Wilder took over the reigns at Bramall Lane, the Championship outfit have turned into a resolute side and their fortunes have changed for the better.
Rangnick has recognised that they play in a similar manor to some of the Premier League times and that Friday's clash will be no easy match:
"Since they changed manager, since Wilder is the new coach, they have been very successful, also in the Championship, winning a lot of games.
"They've only lost a couple of games since he arrived so I'm fully aware we'll take the game extremely seriously, like a Premier League game. But I am confident if we can play at the level we played against West Ham, we can win the game and progress into the next round," Rangnick said.
"We have to be dealing with them and watching a lot of video footage on Middlesbrough and the way they play. It's pretty similar to Brentford, a back five with two strikers and quite a few players up front, trying to press as often as possible.
"We showed against Brentford, especially in the second half, we were able to outplay teams like that and it's exactly what we need to do tomorrow," he continued.
February is an important month
United have seven games to play across February and will feature in three different competitions in the process.
However, after a positive result before the break and with players coming back and refreshed, Rangnick's side will be up for the challenge but also recognise how difficult it could be.
When asked on how big February could be, the German said:
"Important. Like the games in the past have been and, yes, with the last two wins, especially with the performance and last-second win against West Ham, I think it has raised the levels of confidence in everybody, the whole group.
"I still remember the scenes and atmosphere in the locker room 10 minutes after the game. It was an enormously important win for everybody, not only for the win but the performance we showed was, so far, the best we have played," he continued.
"Yes, we have to keep it going now and build upon that to be as successful as we can be. Hopefully, we'll progress into the next round of the FA Cup and the next important game is then coming up on Tuesday [at Burnley]."