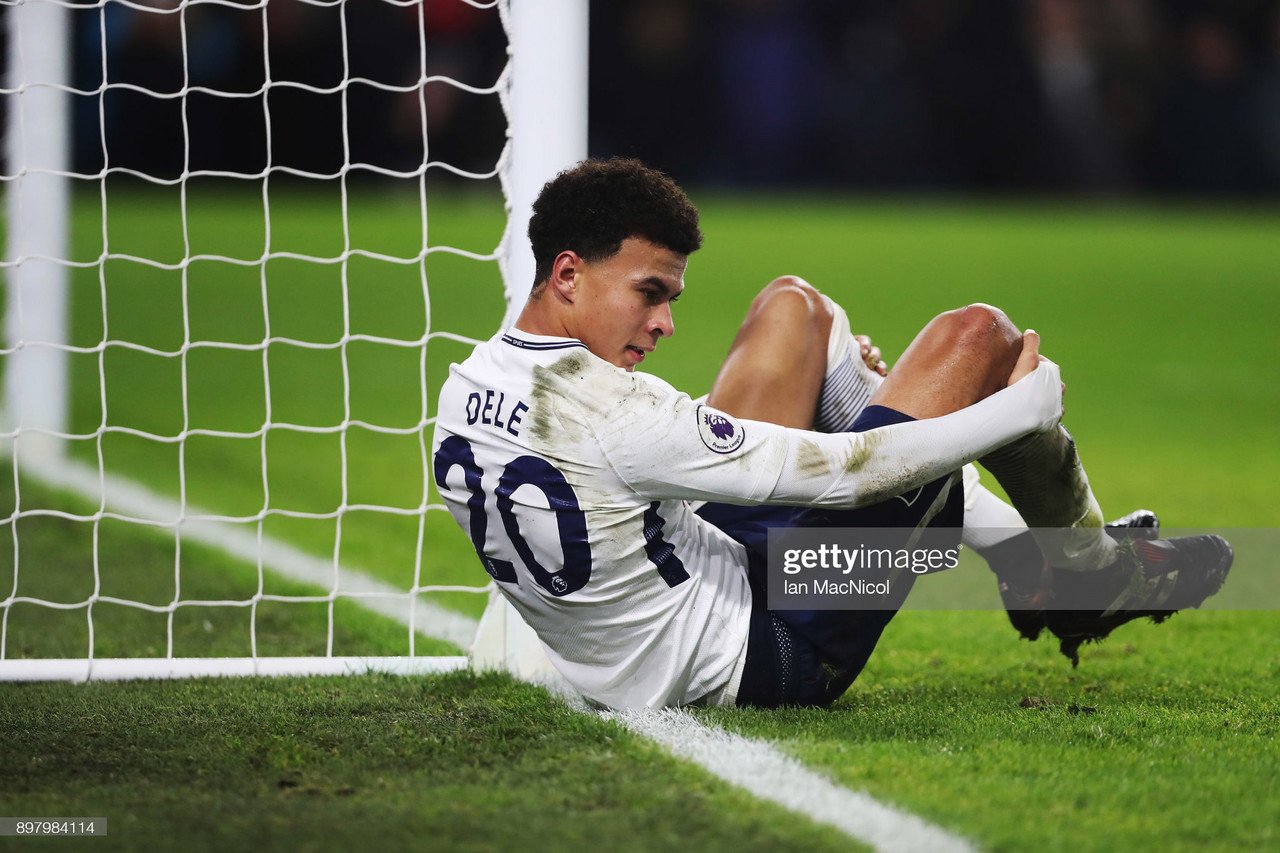 How did we get here?
Football tends to not follow a script; it prefers to improvise with its narratives constantly twisting and turning. Almost like a rollercoaster that makes you feel sick which makes you question why you paid to ride it.
Dele Alli's career, however, felt like a path where we all knew the ending. The story was gripping: a kid, who learned his trade on the streets, stood out like a diamond covered in mud for Milton Keynes Dons in League One at only 16-years-old.
In a division largely based around being psychically dominant and winning battles, Dele's technical ability was a breath of fresh air.
This continued as he made the leap into Premier League football under Mauricio Pochettino, where every hurdle that came his way, he flew over without trouble. Eyeballs were rapidly gaining in numbers, but he kept putting on a show.
Watching Dele play under Pochettino was one of those gratifying experiences which make you love little aspects of the game even more.
The combination of instinct and intricacy, the way in which attacking midfielder approached the big occasions. Dele created moments, memories that, through all the negativity, will forge a legacy which can't be forgotten.
His next stop was stardom, but Dele instead became the boy that flew too close to the sun, burning himself. Unfortunately, he has been free falling to the sea ever since.
So, how did we get here, to a state where Dele's career is now an investigation into what he has become?
It's the sad, cold truth of football: not every story has a happy ending but, if you look past the surface level of criticism, Dele's time at Spurs will be remembered with a smile. That is why you pay to ride the rollercoaster.
The 25-year-old now, at Everton, has the chance to regenerate some of the magic he blessed everyone with all those years ago.
• The Rise
Perhaps lost in the circle of negativity which now surrounds the 25-year-old, it's almost hard to remember just how good Dele was for several years.
Many held Harry Kane as the torchbearer for Pochettino's Spurs side, but Dele embodied everything the Argentine created.
Not perfect. But hard-working, eye-catching, and capable of producing moments that saw the connection between fans and players become like a family.
23rd January 2016. Spurs were being held to a 1-1 draw against Crystal Palace at Selhurst Park. In the 84th minute, desperate for a moment of inspiration, Dele decided to take the game by the scruff of the neck.
Christian Eriksen headed the ball in Dele's direction, but he wast forced to control it with his back to goal. Mile Jedinak rushed out to attend.
In one glorious motion, he flicked the ball up, put it over Jedinak's head - which made the midfielder look like a bad figure skater on ice - to then somehow volley the ball into the bottom left-hand corner. Genius.
4th January 2017. Spurs, now genuine title-challengers, faced off against Antonio Conte's Chelsea.
At the end of the first-half, Dele creeped in between Victor Moses and Ceaser Azpilicueta; Eriksen put in a sensational ball which landed on Dele's forehead, and then into the top corner.
White Hart Lane, packed in with flesh, erupted into a cauldron noise. Bodies flew around in a pit of a chaos.
Dele, now a fan favourite, jumped into the crowd and to join the manic celebrations. Family.
1st November 2017. Spurs beat the champions of the Europe, Real Madrid, at Wembley. Not just beat, but out-played with Dele at the centre of everything - scoring two goals.
With superstars everywhere you looked, including Cristiano Ronaldo, an alien would've said Dele was the true superstar and perhaps he was. World-class.
8th May 2019. Many pin the glorious, dream-like night in Amsterdam to Lucas Moura - which is obviously right - but Dele's flick around the corner to set up the third goal remains criminally underrated.
In that moment of the game, where losing the ball results in Tottenham crashing out of the Champions League, to even try that is outrageous - only Dele would attempt something like that. Audacious.
Dele's catalogue of moments forged an impressive CV, bar the obvious lack of a trophy.
He won the PFA young player of the year two years in a row. He had 64 goals and assists in his first 100 Premier League games (more than Eden Hazard had in his first 100).
He became the youngest English midfielder to score 50 Premier League goals — three years ahead of his closest competitor and now manager Frank Lampard.
David Beckham, Paul Scholes, and Steven Gerrard are the next names on the list.
No one can ever take this away from him.
• The Fall
Dele's fall is painful to write about. For a player that offered such joy and hope, his last couple of years were everything but.
The 25-year-old become the human embodiment of a question mark.
Where is his best position? Why isn't he the same player? Why doesn't Jose Mourinho like him?
Many pin the decline to Mourinho's arrival - and this is somewhat true - but the fact is that, as Poch's Spurs were going stale, so was Dele.
No one has ever denied his clear strengths, but he also has clear weaknesses which have now been exploited.
Essentially, his ability to score and assist consistently relied on being put into the most precise team patterns.
He must play as a No.10 running beyond a striker. He needs a striker ahead of him who understands his movements. He needs a player who can carry the ball, make space, and find his runs (Eriksen).
The lack of this around him began the decline and then, bang. Tottenham sacked Pochettino and appointed Mourinho.
The demanding, old-school, 'safety first' approach that he bought was never going to suit Dele: it always had the feel of being an uneasy marriage.
As much as Dele will have to look at himself for the fall from grace, sometimes you felt sorry for him. Often, he was making the runs but didn't have an Eriksen placing it to his foot.
His best performance of recent times was against Liverpool where Spurs did well in exploiting their high-line.
A few times Dele found himself with only Alisson Becker to beat after some good movement, but the classy finishing touch he required, which was a common sight a few years ago, was met with a defying silence.
Perhaps an indication of how low the bar has dropped, his performance after that game was heavily praised despite missing two huge chances.
• Goodbye Dele
So, Dele has packed his bags in North London and moved to Merseyside. The fall is the main story here, how the boy wonder turned into a liability.
But football, if you strip it down to the bare core of its very existence, is staged for entertainment. Forget the corruption, heartbreak, arguments, allegations, and feuds.
Dele provided this for many years and that is what he will be remembered by in N17.
With this loss, Spurs fans aren't just grieving at player which they have many loved memories with, they're grieving an era at Tottenham which, with his departure, has died.
Thank you Dele, and good luck. You will always be loved at Spurs.