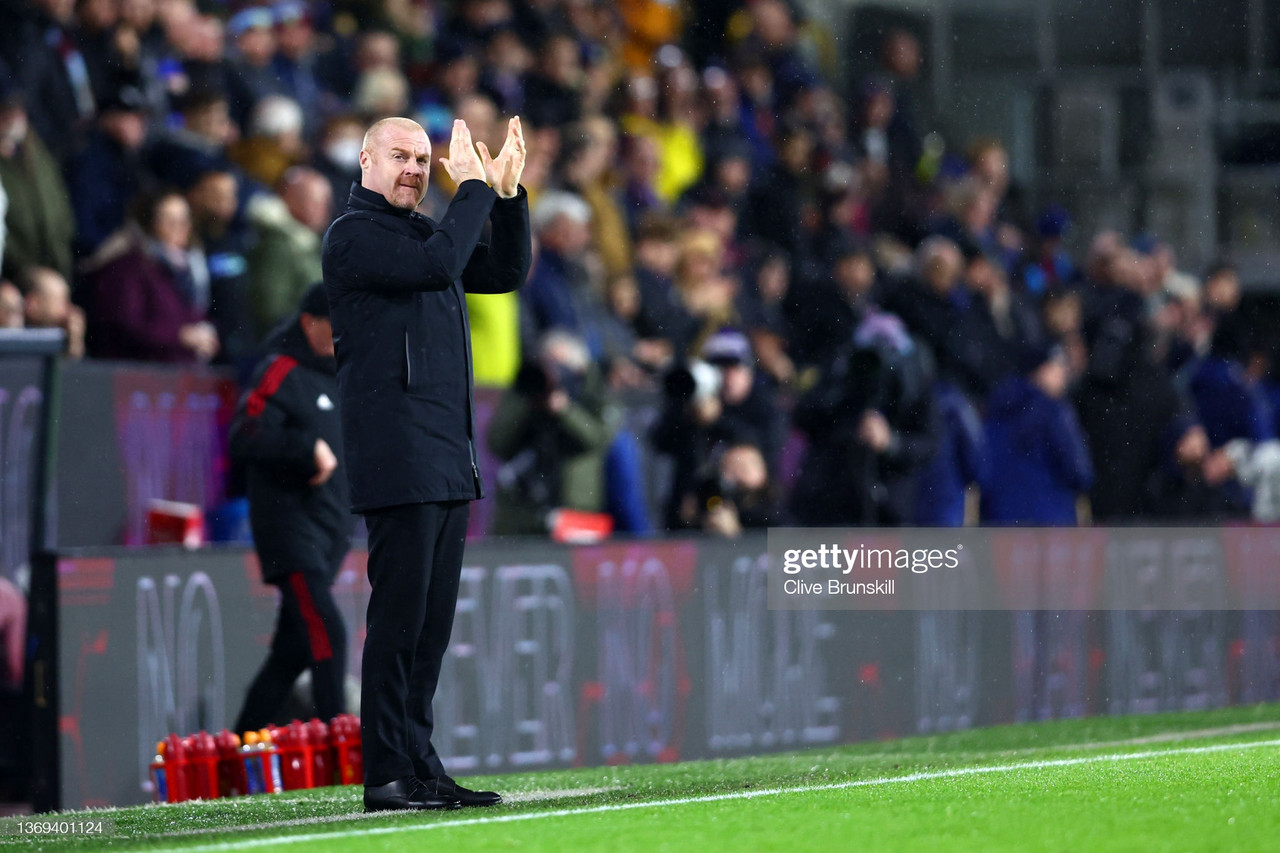 Sean Dyche felt that this was another point gained as his Burnley team valiantly battled back to draw with Manchester United.
The Clarets could have been dead and buried after a rampant first-half display from the visitors but an early second-half equaliser from Jay Rodriguez managed to turn the tide.
It is a result that leaves Burnley rooted to the bottom of the Premier League table but the manner of the performance in the second 45 minutes will help to boost the squad morale.
On the game
Dyche admitted that the first-half wasn't ideal but he was very happy with the response of his players after the interval.
"We asked for a reaction and wanted that," he said with regards to the opening 45 minutes. "The fans played their part at half time and stayed behind the players. The players gave a reaction and the second-half was pleasing and much more like we want to be like.
"In the end we have to be pleased with a point, it is only a point but it is a positive point."
On half-time talk
There was no master-plan from Dyche at the break. He simply encouraged his players to believe in themselves a little more.
"We are in a situation where we are bottom of the league, I don't think we should be there but we are," he acknowledged.
"It is difficult, we are playing Manchester United. There might be some noise about them but you look at that team-sheet and there are some top players on there.
"We stayed intact and in the second-half we just reminded them.
"I asked for a bit more from a few individuals in the first-half because I thought we were carrying a few and there was a really good reaction from every individual and the team.
"In the first-half you could argue United were very good and we were slightly off, or we were off and that made United very good.
"In the second-half, I was pleased with the quality of the play and demand of the players to take the game on."
On the future
The Burnley manager was under no illusions as to how difficult the challenge of survival will be, but he has been happy with the manner of recent displays.
"It is difficult. "We are not flying that is for sure. I just reminded them of the belief I have in them. We were too direct in the first-half and we had to change.
"Second-half we were trying to progress, trying to be on the front foot but also stay defensively organised. I was very pleased with the mix. All you can ask as a manager is a reaction and we certainly gave a reaction.
"It is not easy. Clean sheet down at Arsenal. Close but no cigar against Watford and tonight we created a chance against Manchester United and got a point. We don't want to be too greedy but we want to build on that. There is a belief here.
"It is not a major lack of belief it is just that edge of confidence that drifts a bit. We played in the second-half and could have nicked a second one at times."
On Cornet
One blow for Burnley was the injury to Maxwel Cornet in the second-half. The Ivory Coast star hobbled off the pitch due to a knock and some cramp but Dyche – despite not being too concerned – understands that Cornet's fitness needs to be continually managed.
"We have to make decisions with Maxwel [Cornet]," he confessed. "I was almost not going to play him because of his fitness levels and the risk of injury.
"He is still adapting to the Premier League and has hardly played in weeks. His training schedule has not been the demand we have for the Premier League so we are trying to factor all those things in and getting him fit and not break him. It is a fine line.
"He did fine and his fitness will improve and his sharpness will improve.
"I don't think his injury is a serious one, it was more of a knock. But he was cramping up as well and fatiguing and he was definitely going to come off at that stage anyway because we have got to be very careful. We can't keep losing players."
On Rodriguez
Jay Rodriguez notched his first league goal of the season and his boss was delighted with his efforts.
"He's a very good player and we believe in him. He stuck at it tonight and showed what a top player he is."
*There was no post-match quotes from Ralf Rangnick as the Zoom was broken