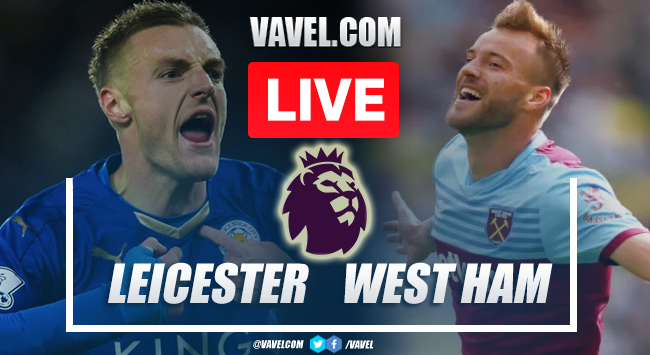 That's it!
WATCH: Jamie Carragher analyses Foxes corner woes!
WATCH: West Ham's controversial equaliser!
WATCH: Declan Rice and Craig Dawson reflect on the draw
Tielemans future!
Rob sums it up well here! it looked like the Foxes had turned a corner!
FULL-TIME!
GOAL GIVEN!
GOAL!
CORNER!
SUBSTITUTION
Lookman should have passed!
5 minutes to go! (plus stoppage time)
Benrahma half chance!
SUBSTITUTION!
Nearly three for Leicester!
SUBSTITUTION!
WATCH: Periera's headed goal
IMAGE: Leicester players celebrate Pereira's goal
HALF-CHANCE!
GOAL!
BIG CHANCE!
Leicester have started much better here!
SKIED IT!
SECOND HALF STARTS!
WATCH: Bowen's opening goal for the Hammers!
WATCH: Leicester's equaliser from the spot!
HALF-TIME!
BIG CHANCE!
GOAL!
PENALTY!
Half-chance from Tielemans!
Antonio is down here!
Good tracking back from Maddison!
Luke Thomas coming on here!
Leicester struggling to create anything here!
Leicester fans are frustrated here!
Cresswell is down injured!
Leicester have not started well here!
GOAL! 1-0 West Ham!
Soyuncu down this time!
Jarrod Bowen DOWN!
Kick-Off!
Zouma OUT! Diop is set to come in!
How important could he be for the visitors?
Potential injury before kick-off?
Read some match previews before today's game!
Hammers XI for today's game!
Leicester City's XI for today's game!
WATCH: What Brendan Rodgers has had to say!
Kick-off times around the world!
Predictions for today's game!
What happened when the teams last met
West Ham's key man?
Leicester City's key man?
West Ham's possible starting XI
The possible home team for Leicester City
West Ham's chance to cement top 4 spot
READ: Matchday preview with Brendan Rodgers
Leicester City's indifferent form
Introducing the stadium!