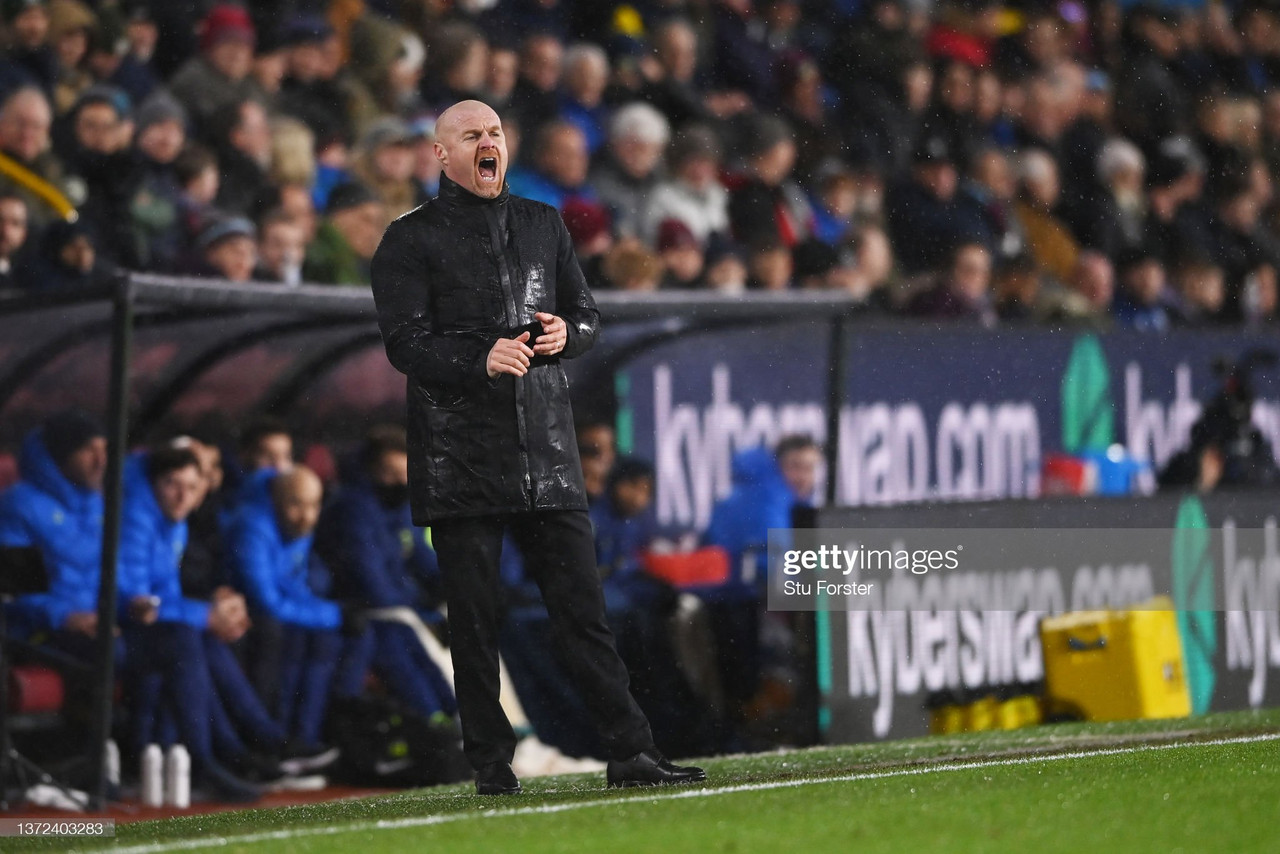 Sean Dyche was eager to draw on the wider picture after Burnley shocked Tottenham Hotspur at Turf Moor.
A goal from Ben Mee in the 71st minute was enough to seal all three points for the relegation-threated Clarets, condemning Spurs to a fourth defeat in five Premier League matches.
It marks two wins on the bounce for a Burnley team that had only won one league game all season up until last Saturday. All of a sudden, a remarkable turnaround in the battle for top-flight survival looks on the cards.
On the game
Dyche was very complimentary about the performance of his players, citing a few out for individual praise along the way.
"[A] similar but different feeling to Saturday, for different reasons, different style of game and feel to the performance, but a very good one obviously, very positive performance," he said.
"The mixture we're looking for is right again, and we've got to keep doing that.
"Nine points out of that run of six games, with four clean sheets, against four of the, you would argue, the top six, I think you'd be pleased with that, and with the greedy man that I am, probably should have picked up a point against Liverpool as well.
"It's been difficult all seasons talking about the margins, but I've been here long enough to know what I think of the team and hope it's operating against the facts and the stats, and what my eyes are telling me.
"I don't think we've been far away all season, but we've had to get the margins right and the details, and we are beginning to do that. I don't just mean scoring, the pressing lines, the breaking up of play – Josh Brownhill's last three performances have been outstanding, [Jack Cork] has come in looking back to himself, Dwight (McNeil) is looking back to his old self, Wout (Weghorst) has made a different. So many big performances."
On back-to-back wins
Dyche was contemplative when asked about the victory, reflecting back to near-misses over a tough campaign.
"It has been difficult talking about the close margins but I have been here long enough to think we haven't been far away all season. We had to get the facts and details right and we are beginning to do that.
"The players deserve a massive amount of credit because they have taken what I have said and gripped it. They are performing to where they want to be. But it is a couple of wins, not a done season, there is a lot of work still to be done but it just layers up the feeling."
Dyche went on to captain, Ben Mee, for his winning goal.
"Brilliant header. Ben (Mee) has that uncanny knack of only seeing the ball. It's a fantastic header."
On relegation scrap
As ever, the Burnley boss remained calm with the situation at the bottom of the table.
"Every season is tough for us and we had a point in the season where we needed a restart and we did that against Arsenal. We've had nine points from six games and four clean sheets.
"We had a very good result at Brighton and I was pleased we could produce again with that edge. People are ready to play and taking on the challenge.
"I have never overthought the table. Not because I am naïve. I believe in the players. When we are right we can compete with everyone. Statistically, we are strong during the second half of the season.
"I know what we do and how we do it. I have great trust in our players. After the Leeds game, we agreed it wasn't us."