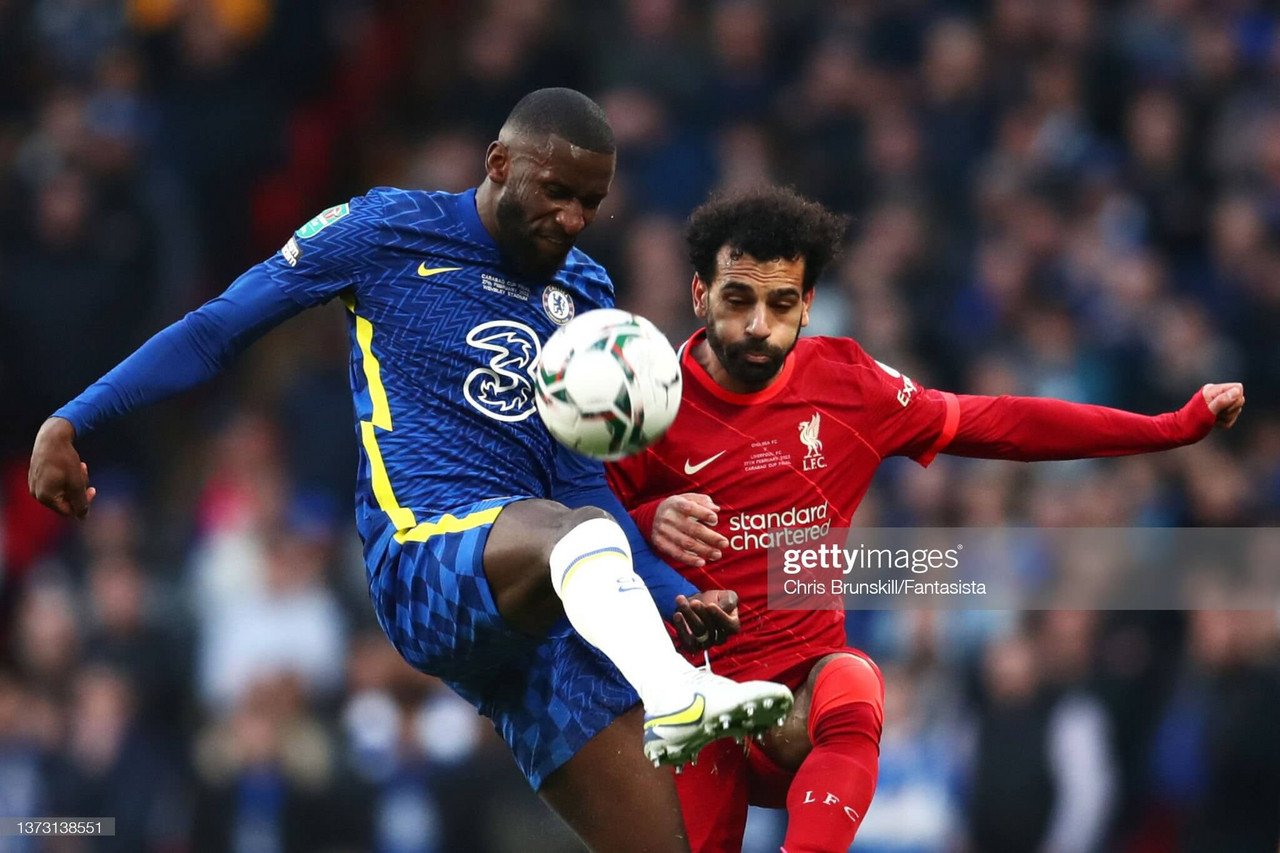 It was just as the springlike afternoon began to grow a little chillier that Liverpool started to turn up the heat. Up until that point, Chelsea had dominated this League Cup final, and it had been Jurgen Klopp's choice of goalkeeper that had been in the spotlight with Caoimhin Kelleher already making his presence known.
Now, in the 30th minute, it was the turn of Edouard Mendy. This was the first time that Liverpool had broke free and in a flash, Chelsea's No.1 got down low to deny Naby Keita and then in an instant sprung up to thwart Sadio Mane from dispatching the follow-up with a strong left-handed save. That piece of goalkeeping along with further stops to halt Luis Diaz and Virgil van Dijk, highlighted the Senegal's value.
What was also notable about the interventions of Mendy was that none of them involved Mo Salah. Much of Liverpool's attacking flowed through Diaz and Mane rather than Liverpool's leading goalscorer for the campaign. On the whole, Salah was kept in check and Antonio Rudiger was crucial in doing so.
Time and again this season Salah and Rudiger have lined up against one another, and on each occasion Rudiger has had the better of the duel. So much so that the question had to be asked whether Salah should have been shifted from his normal inside-right spot into the centre, where perhaps he would have had more joy coming up against Trevoh Chalobah.
Yet, Salah — and Klopp — persisted but to no avail. For instance, take this case from the start of the second half. Salah appeared to trick his way into the Chelsea penalty having done a lot of the hard work, but when Rudiger stepped across his path, the Egyptian was left grounded. Any appeals for a free-kick were waved away - Chelsea's German rock was in the (legal) zone.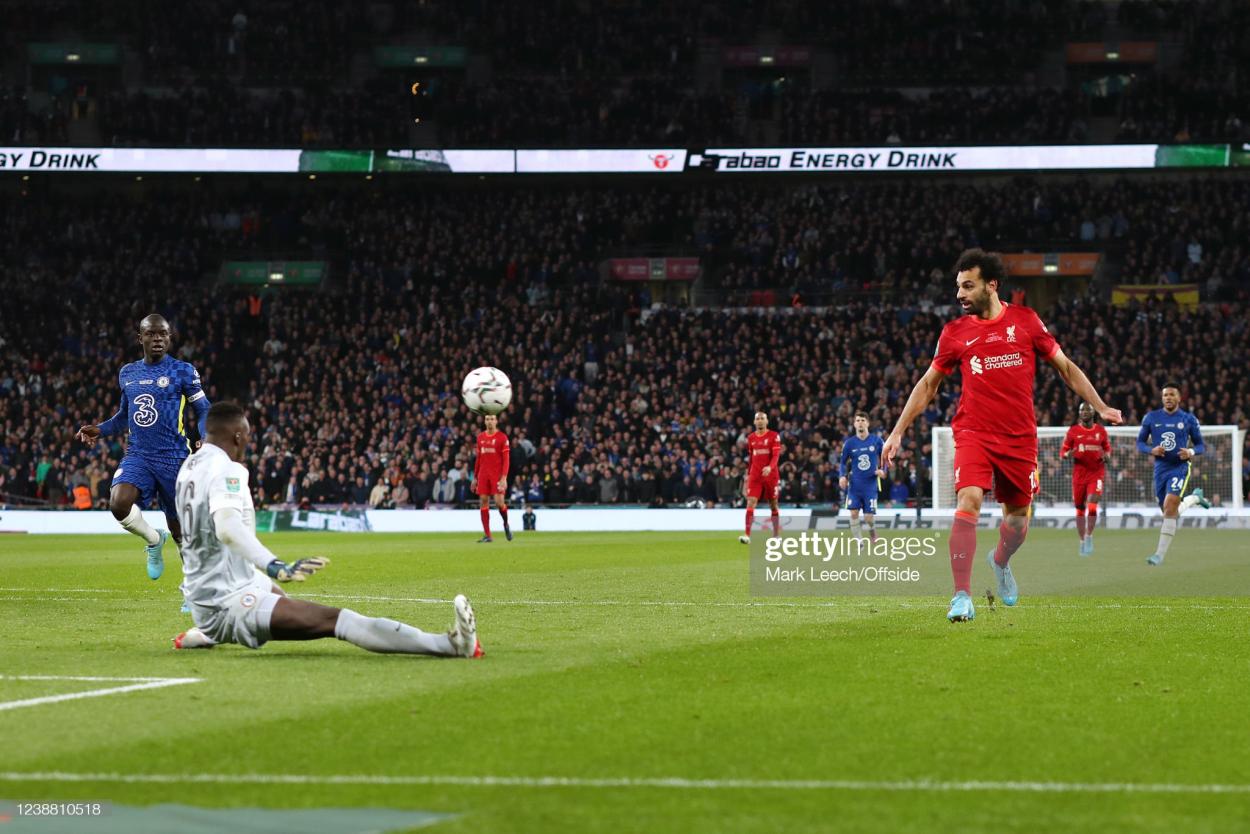 Such is Rudiger's competitive and combative nature that he plays each game like a final. Any of Marcos Alonso's slight flaws, for instance defending man-to-man when an opponent is baring down on the area, were negated by Rudiger's reading of play. One slight step across and danger was averted. To keep the player who many believe is the world's best on current form so quiet in a showpiece final was credit to Rudiger.
There was one chance, however, which emanated from a loss Mendy clearance. Fabinho picked it off, Mane ran through and sent Salah scampering but his dinked effort, despite evading Mendy, lacked the required pace to advance past the covering Thiago Silva who cleared off the goalline. The slight lack of conviction in Salah's finish possibly highlighted a clouded mind which an afternoon with Rudiger had induced.
Gilt-edged chances were spurned
Yet, to say that this was a game in which defences were on top would not be entirely correct. There were four disallowed goals between the two teams, all for offside. And chances also rained at both ends of the pitch.
Mason Mount was as guilty as anyone for spurning good openings. The Chelsea attacker, who combined well in a front-three with Christian Pulisic and Kai Havertz, struck the post and slotted agonisingly wide when Havertz presented him with an opportunity on a plate. The movement of Chelsea's attack was free-flowing and the threat on the counter was always there.
Equally, Liverpool found space on the large apron of the Wembley pitch. Diaz took to his first final in English football like a duck to water. The Colombia winger darted this way and that, and was a particular menace when Liverpool had saw minimal possession in the opening 30 minutes.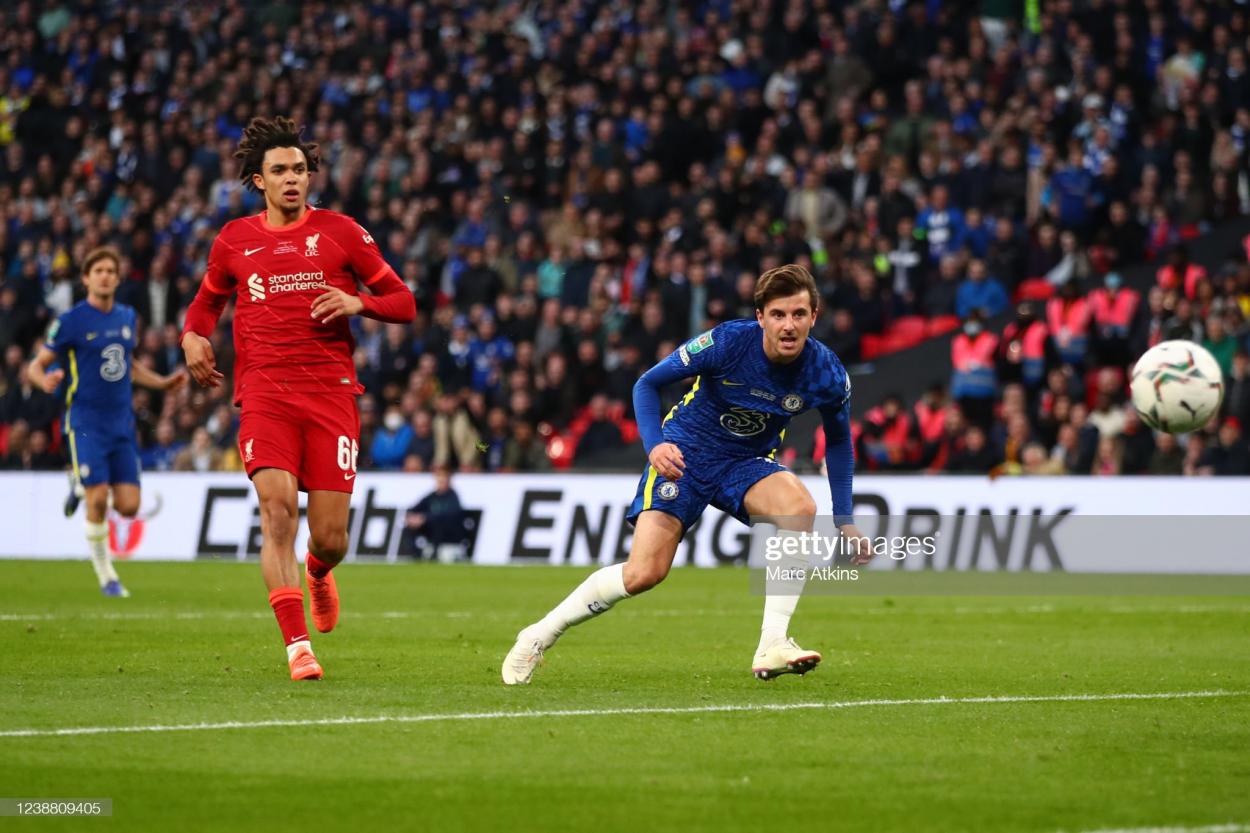 Klopp's approach was impacted somewhat by the late hamstring injury picked up by Thiago Alcantara during the warm-up. Drafted in was Naby Keita, who had a fine game, but had Thiago's precise passes featured in this game then Liverpool might have got in behind Chelsea's defence more.
For a 0-0 final, which stretched the full 120 minutes, this was highly engrossing and rather dramatic. All the way to the final spot-kick of a marathon 11-10 penalty shoot-out. And the storyline associated with Kepa Arrizabalaga being dropped, then sent on in extra-time only to fail to save any of the kicks and then miss his own which proved decisive was ironic to say the least.
Siverlined season could be a golden one
This cup final was never going to be the be-all and end-all for either side; Chelsea have three pieces of silverware to their name already this term. But a day out at Wembley creates its own special memories. For Liverpool, success means a first domestic cup triumph in a decade and breaks Klopp's Wembley hoo-doo. The Liverpool manager couldn't watch as the penalties kept going.
The momentum that Liverpool take from this in their pursuit of an unprecedented quadruple will be huge. Winning the League Cup has rarely done Manchester City any harm, with more prestigious honours usually following later in the season.
With attention swiftly turning to the visit of Norwich City in the FA Cup on Wednesday before West Ham United and Inter Milan visit Anfield in the space of three days, the sky is the limit for Liverpool. Their season is already silverlined but it could yet prove to be a golden one.