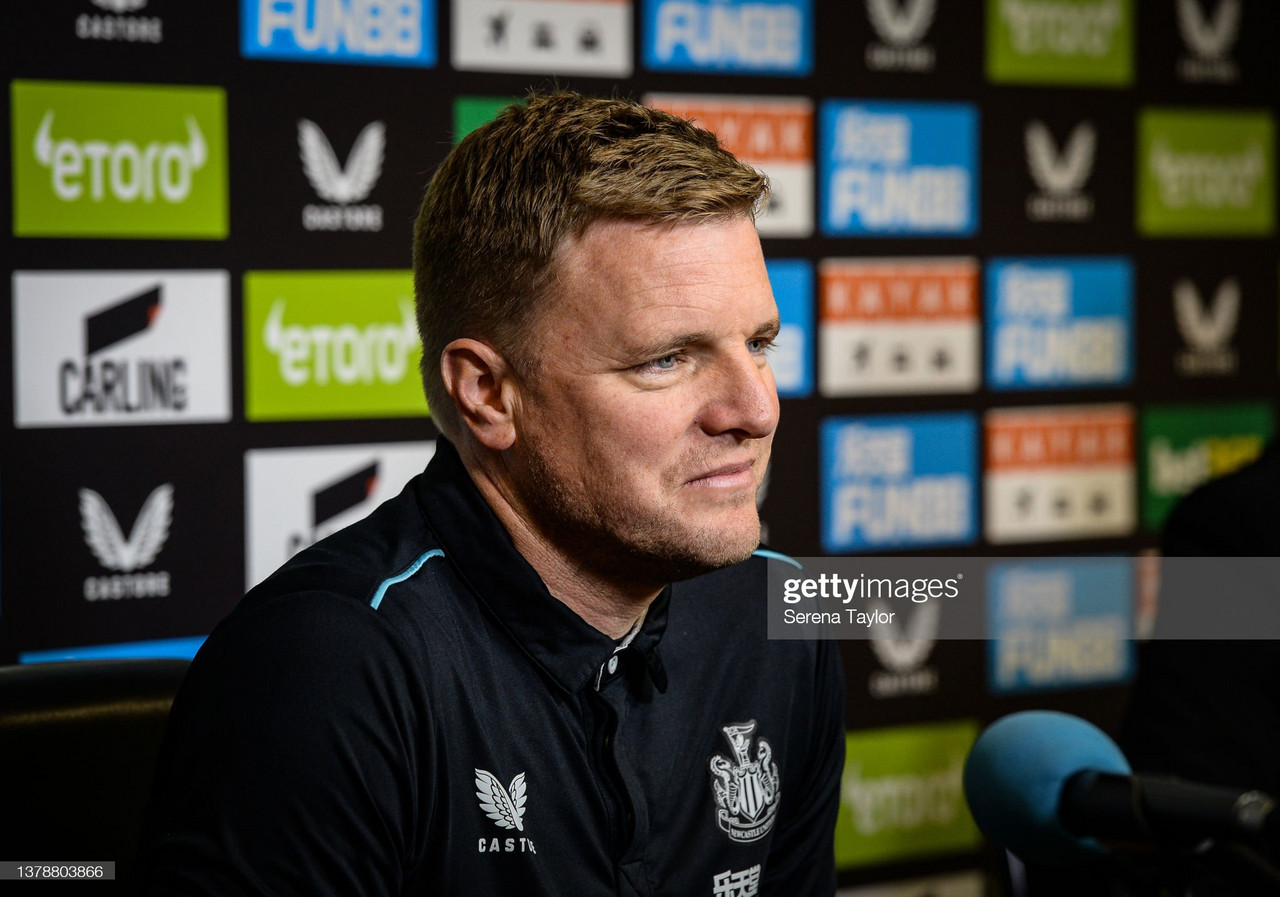 Newcastle United manager Eddie Howe spoke to the media today ahead of his sides home clash with Brighton & Hove Albion.
Some of the topics spoke about today were injuries, Newcastle's good form and players contracts.
Injury Updates
Newcastle are currently missing a number off key players due to injury, most notably Callum Wilson, Kieran Trippier and Allan Saint-Maximin.
While Wilson's and Trippier's injuries are more long term. Saint-Maximin's is only thought to be a minor knock and he could be back in contention for this weekends game.
"Maxi hasn't trained yet with us but we're hoping he does today. We'll have to make a decision based off how he looks and how is injury status is after the session. Other than that, we're as we were pre-Brentford."
Newcastle are currently one of only 2 teams currently who are yet to lose a Premier League game in 2022, along side Klopp's Liverpool.
In the month of February, The Magpies won 3 and drew 1 of their games. With wins over Everton, Aston Villa and Brentford. And a draw with high flying West Ham.
When Howe joined the club it sat 19th in the Premier League and were yet to win a game, whereas they currently sit 14th on a 7 game unbeaten run in the league.
"I haven't given it too much thought because my focus has been on this game but I will say that any type of accolade is a real statement for the staff and the players, not just one person. It's very much a collective effort."
Competition for places
Competitiveness within a squad is very important as it makes sure that every player is pushing to their maximum for the team.
This is something Howe wanted to address when he joined the club. Trying to both inspire current players as well as bringing some in in the January window.
"When I first came in to the job we wanted competition for places in all positions. I wouldn't say we're absolutely there yet but I think there's a healthy competition in the squad."
"I think players are elevating their levels and there's a fight to get in the team. Then when you're in it you have to fight to stay in it. Maxi coming back will give everyone a lift and hopefully he gets through today then we'll make the decision."
Players transformation
A lot has been said in recent weeks of certain players withing the squad who look completely different under the new management with Howe.
Arguable the biggest transformation is that of Newcastle's record signing Joelinton. Howe and his coaching staff made the decision to move the Brazilian into centre midfield. And they haven't looked back since.
"I think there's centre-forward qualities in there. Last week we saw that - it was a brilliant header. It was great to see him attack the box. His flexibility is something we'll utilise but he's doing so well in midfield I'm reluctant to move him."
Ryan Fraser is someone who has also seen an upturn in form since Howe joined. They worked together well at Bournemouth a lot of Newcastle fans were hopeful that Howe's arrival would be the spark he needed.
"He has played very well for me on the left [at Bournemouth]. I've used him more off the right here due to Maxi preferring that side too so it's a difficult one. I've said before that good players can play in multiple positions and Ryan's proved that."
This upturn in his performances have lead to him being nominated for February's player of the month.
Contract talks
With the season getting closer and closer to its conclusion it is time for clubs to focus on the players who's contracts expire this summer.
This is no different for Newcastle. One of the most pressing issues is Fabian Schar. Who's return to the team since Howe joined has led him to be a key part of the current team.
"He's defended very well. He's another one that's trained really well. We're aware of his contract situation & we'll be sitting down & discussing things with his agent very shortly."
Sean Longstaff is another who's contract will run out at the end of this season. However the academy graduate has been struggling to get into the starting XI recently.
"I love Sean, but I maybe haven't displayed that with my team selections. I really do rate him highly. I believe he has a long-term future here."