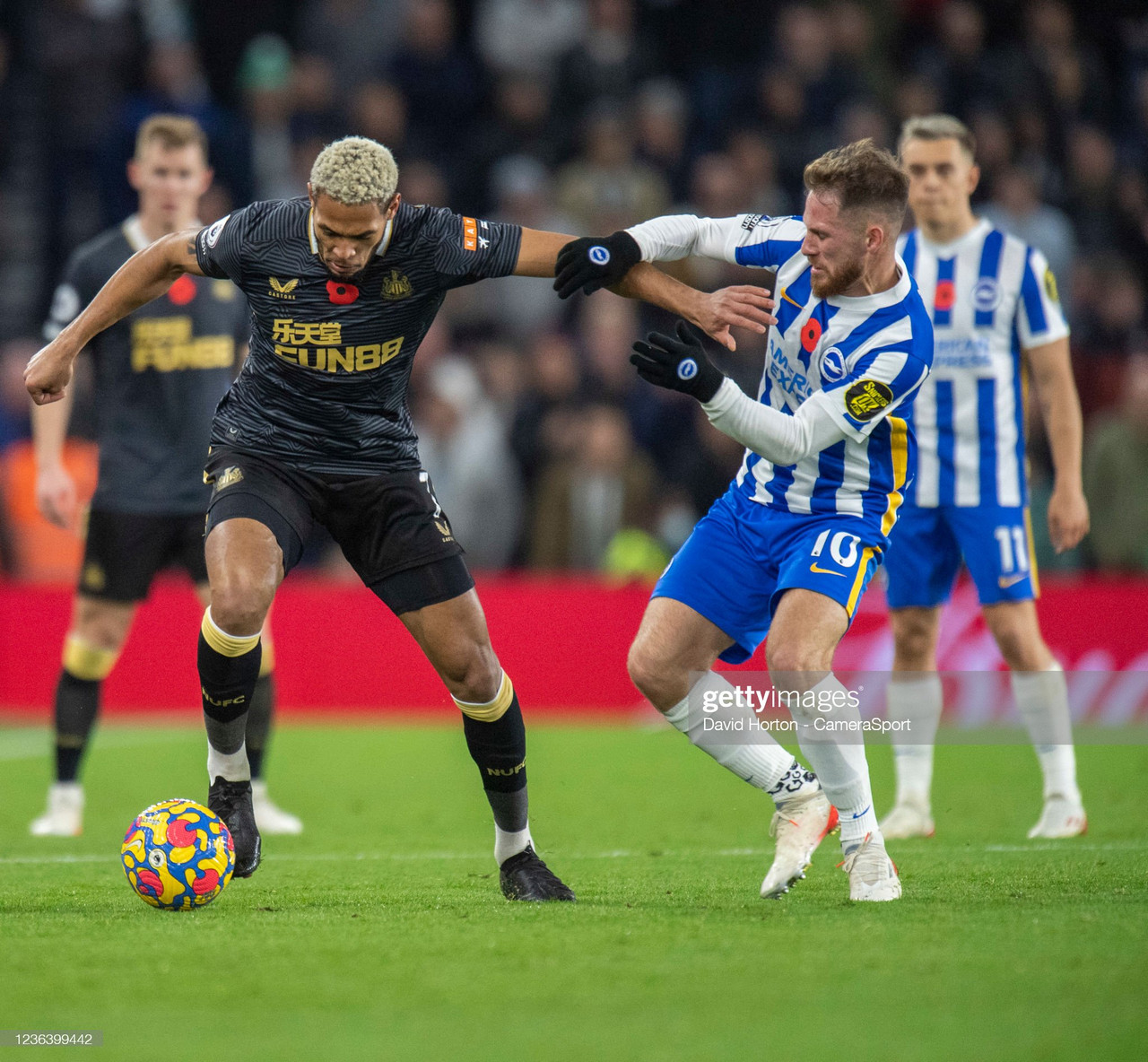 In-form Newcastle United face Brighton & Hove Albion this Saturday in the Premier League. This has historically been a poor fixture for Newcastle having never beaten them in the Premier League.
But Newcastle are flying high right now without a loss in the league in 2022, so how will they go about getting the better of Graham Potter's side?
Last time out
Newcastle and Brighton's last meeting was earlier in the season on November 6th 2021. The game ended 1-1.
The most notible incident of this game was Robert Sánchez's red card. Callum Wilson was played through down the left hand side after a brilliant ball from Joelinton. He looks to be in 1v1 with the keeper. Sanchez comes rushing out of his box and tries to put a tackle in. However, he misses the ball and clips Wilson's heel bringing him down and resulting in a straight red card.
The game was 1-1 at the time, but The Magpies were unable to press home their numerical advantage. As the red card was so late on in the game, Brighton had already made all their substitutions. which meant that centre back Lewis Dunk had to go in goal.
How will Brighton set up?
Potter is a very flexible and fluid coach who likes to change his system depending on who he is paying.
For example in the last two Premier League games they have set up in both a four and five at the back. But some themes of Brighton's play will always be the same.
Brighton have a very structured build up and prefer to play out of the back. When playing in their preferred 5-2-3 formation. They to push their wing-backs very high to create almost like a front 5 and their double pivot comes deep to create a very compact shape during possession.
They look to build through the lines weather that is one of the wide centre backs pushing on with the ball or a short pass into midfield to then distribute it to the forward line. This process of building from the back effectively is something Brighton excel at.
Out of possession Brighton are very defensively sound. They look to defend in a very compact mid-block. Setting pressing traps to pressure heavy touches, but do not impose themselves on teams in a more gegenpressing style such as Klopp's Liverpool. They are also just as happy to sit off teams and wait for their opportunity to nick the ball back.
How can Newcastle counter this?
On paper Brighton are a very tactically aware and adaptable team who will be tough to beat. But with only 1 win in 5 matches they are slowly falling down the table.
Looking at Brighton's last game against Aston Villa. The Brighton wing-backs were pushing up the pitch very high and this left spaces for long balls out to Aston Villas wide players.
Brighton's defenders seemed to struggle with the long balls Villa wanted to play, leading to their second goal.
Newcastle have the players to be able to do this. With the passing range of Jonjo Shelvey and Fabian Schar, and the pace of Newcastle's wide players this is something Newcastle could look to exploint.
Newcastle's legs in midfield can also be a great weapon this game. The midfield three in recent weeks has been a game changer for the magpies. Being able to dominate the midfield and possess the ability for fast turnovers that can spring into counter attacks.
If Newcastle can win that midfield battle then it can be a very dangerous weapon.
The key players to keep an eye on
Neal Maupay
Maupay is The Seagulls top scorer so far this season with eight goals in 24 league appearances. He is a physical presence upfront and will be almost guaranteed chances, as he averages 2.16 shots per 90 minutes. He sometimes can have trouble finishing them off.
Leandro Trossard
Trossard is an established Belgian international who was part of their Euro 2020 squad. He is a very talented player who is very good with the ball at his feet and is not afraid to heat his man.
While he is not the most physical player, he does however possess some blistering pace. While only having one assist this season, that does not reflect how important he is to Brighton's attack with his creativity. So if Newcastle are able to keep him under control they will be able to nullify a big threat.
Robert Sanchez
A lot of eyes will be on the Spanish shot stopper after his red card last time out. Brighton have conceded the fifth least amount of goals this season and Sanchez's form has played a key part in that. And with Newcastle only having conceded fifth league goals this calendar year. This could end up being the battle of the two defences.
Ryan Fraser.
Player of the month nominee Ryan Fraser has been in very good form in recent weeks looking like a new player since Howe has joined the club. He brings an amazing work rate to the team always coming back to help the team defence but also being dangerous in attack.
He is a true team player and with his pace and crossing ability. Finding balls into target man Chris Wood could soon become a deadly combination.
Joelinton
The £40 million man has been a revelation since he was moved into the midfield. Like Fraser his desire and work rate for the team is a very key attribute to the team. His ability on the ball is second to none as well, being able to bring the ball down and create attacking opportunities or beat his man. He has turned into the perfect box to box midfielder.
Dan Burn
Boyhood Toon fan, Burn joined this January from Brighton and he has already made a big impact in defence. His areal threat means that he is very good at clearing any balls into the box.
Despite standing at 6"7, he is surprisingly fast and agile so will have no problem with dealing with Brighton's more technical players. He has also trained and played with all of Brighton's team so may be able to provide an insight into how to beat them.
The verdict
Brighton are a team that historially in the Premier League are able to get the better over Newcastle.
While Newcastle were able to beat them twice during their season in the championship. Thanks, in part, to a memorable fluke goal by Mohamed Diame.
Since then Brighton have turned into a very well drilled and adaptive side under Graham Potter. But Newcastle have also changed the last time the two teams met.
Eddie Howe spent the last game sat with the New Owners of the club as rumours were swirling that he would be the man to take over management after Steve Bruce was sacked.
Fast forward four months and Newcastle look a totally different team. Well drilled under Howe, in very good form and with new signings to bolster their ranks this will be a very difficult challenge for Brighton and it should make for a very close and exciting game.