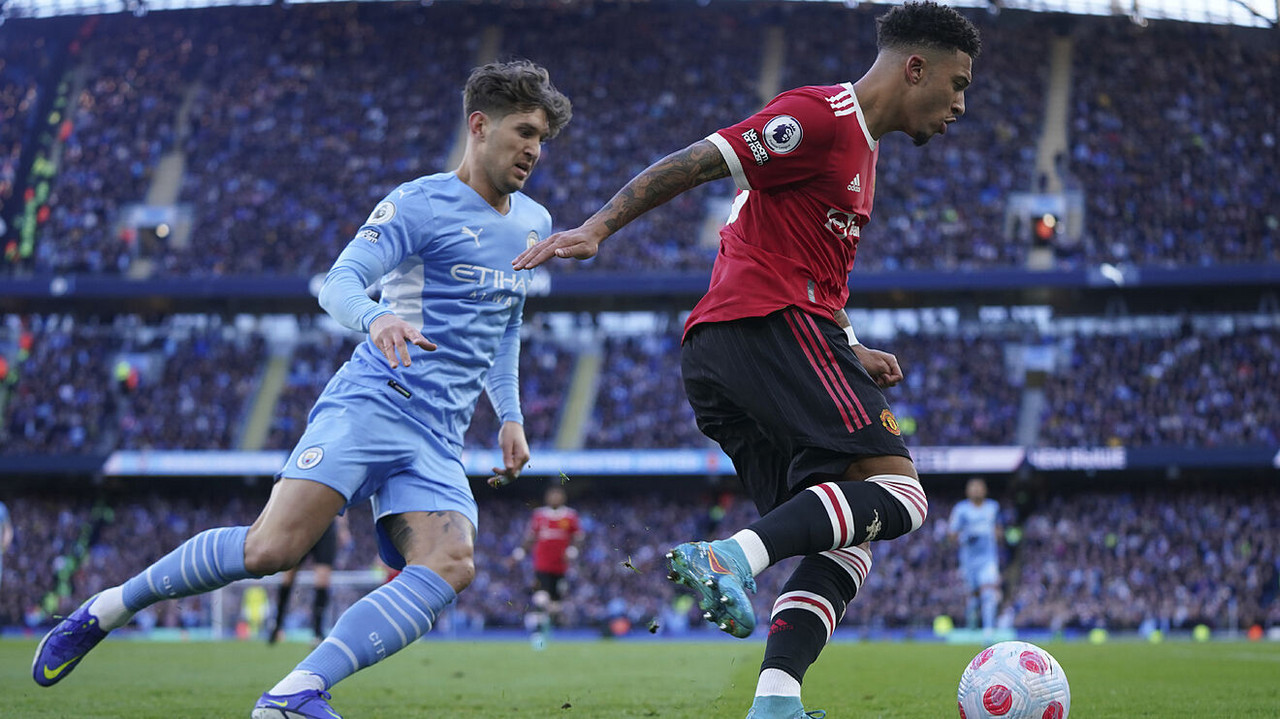 After Liverpool's victory against West Ham on Saturday night, all eyes were on Manchester City at the top of the table with the gap standing at three points between both sides ahead of the Manchester Derby.
With the fixture one that United had come out triumphant in the last three at the Etihad, it was crucial Pep Guardiola's side put a stop to the streak.
Former City man Jadon Sancho replied to level things up after Kevin De Bruyne's early strike, but the Belgian found his second just six minutes later.
In the second-half, it was one-way traffic, with United soon punished with Riyad Mahrez's double giving the home side all three points.
Here are the key takeaways from the 187th contest between both sides.
City coping with Liverpool's pressure
With the gap between title rivals Liverpool just three points ahead of the match, many were expecting a cagey affair between both sides.
That was quickly put to bed with captain Kevin De Bruyne finding the net after five minutes.
Although Jurgen Klopp's side do have a game in hand, City seem to have an aura about them, not fazed at all with the occasion.
In the second-half, Guardiola's men recorded 14 shots on David De Gea's goal, having 79 per cent possession.
Contrasting to this, Ralf Rangnick's side didn't have a single attempt after the interval, a sign of City's dominance.
An enjoyable afternoon for Jack Grealish
After a goal in midweek for City's record signing, there were question marks whether Grealish would start Sunday's derby.
Before his start against Peterborough in midweek, the Englishman hadn't started for five consecutive games however, it was clear the former Aston Villa man really enjoyed himself up against Aaron Wan-Bissaka – a man who has performed some of his best games in this fixture up against Raheem Sterling.
Although Grealish didn't contribute with a goal or assist on Sunday, he completed 28 of his 33 attempted final third passes, more than any other player on the pitch.
Post-match, regarding the summer signing, Pep Guardiola said: "[He was] excellent. He is so generous most of the time, when to pass the ball, when he has to take the risk."
He added: "When you see Phil [Foden], when you see Riyad [Mahrez] in that moment, it is 'this is my ball', and this is the next step that Jack must do. But in terms of decision making, keeping the ball, attracting two or three players, to put players away from him in more space, it was exceptional."
No Ruben Rue
After Pep Guardiola's announcement leading up to Sunday's fixture regarding Ruben Dias' injury, the Cityzens seemed to be themselves, even without one of their most prominent figures.
Dias is expected to miss between 4-6 weeks; however, John Stones has shown previously he is an able deputy for the Portuguese international.
Since the start of last season, City have lost just one game in 14 with a partnership of Stones and Aymeric Laporte, having now won 12 times when playing together.
The City faithful will be hoping this run continues, with Nathan Ake also currently absent through injury.