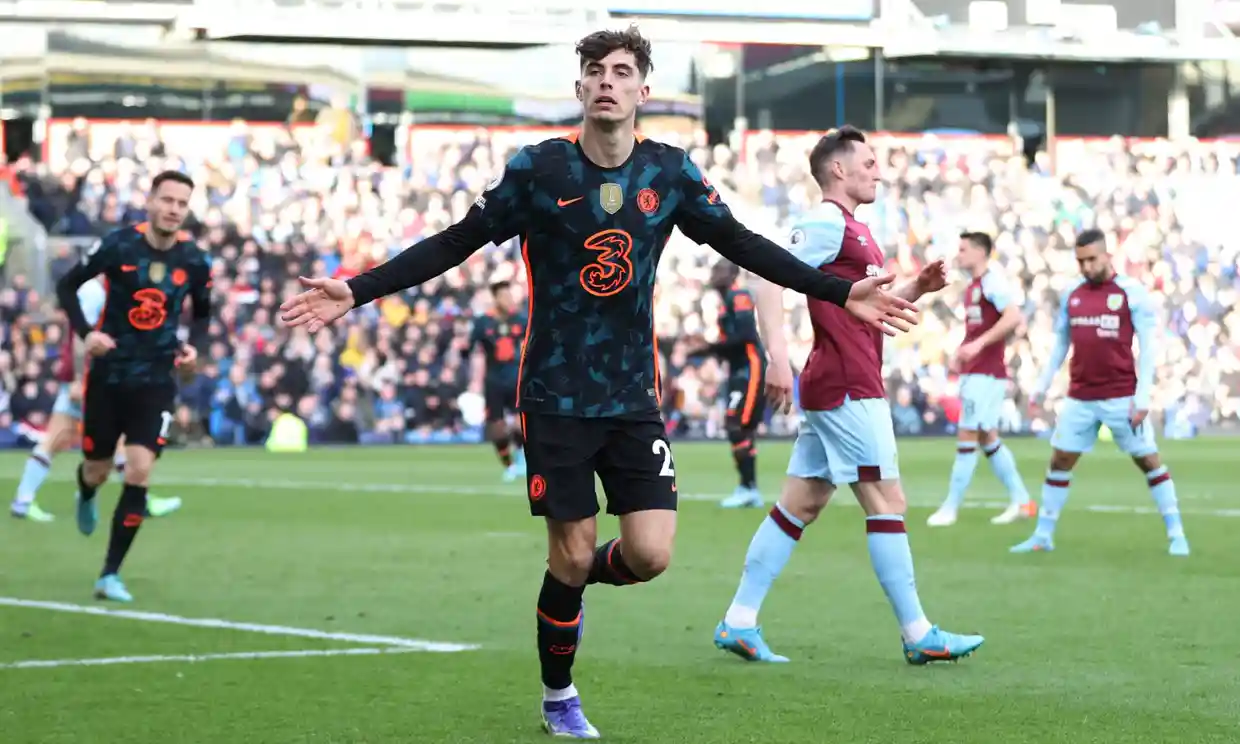 Ukraine on the Brain -
Chelsea manager Thomas Tuchel went into his side's match at Turf Moor against Burnley with a weight on his shoulders. All week he had fielded questions about Ukraine, Russia and the associations of Chelsea's owner Roman Abramovich, expressing frustration towards journalists who continued to probe him on the unique position Chelsea as a business found themselves in due to the conflict.
Having a match to prepare for likely came as a welcome relief, but as the sides lined up to show their support for Ukraine, Chelsea fans sung the name of their outgoing owner Abramovich, ensuring Tuchel's post-match interview would again be dominated by off-field issues.
Game Time -
Once underway, the first half gave Chelsea's manager and supporters little to cheer and ended in a 0-0 stalemate, reflecting the 1-1 reverse fixture at Stamford Bridge which proved a frustrating afternoon for the London side. But Tuchel appeared to say the right things to his team at half-time and Chelsea picked up the pace in the second half and the sight of a marauding Reece James on the right-wing, returning to the starting line-up for the first time in 2022 will surely have brought a smile to his manager's face.
James, who managed to twist and turn the attentions of five Burnley defenders before scoring from a tight angle just two minutes into the second half, sparking a flurry of three goals in seven minutes from Chelsea. The in-form forward Kai Havertz scored two goals with one of these coming from a James assist, Christian Pulisic added a fourth in the 70th minute.
Havertz Heyday -
Havertz has kept Romelu Lukaku firmly on the substitutes bench since Chelsea returned to Premier League action following his Club World Cup winning penalty. With Abramovich soon to be departing Stamford Bridge, the club may not feel such an obligation to hang on to their owners £97.7m record signing in the next transfer window as Chelsea regularly score more goals per game without Lukaku in their side.
Havertz offers greater flexibility as a forward, and sees himself as a number nine, perhaps not a typical one, but one that is proving very effective; no one in fact has scored more goals for Chelsea under Tuchel than Havertz (13) who is looking a far better signing at £72m. Havertz appears to bring more from the team-mates alongside him and plays well whoever joins him in the front three, he is also six years younger than Lukaku.
If Chelsea do decide to move Lukaku on, what kind of a hit they will be willing to take on the fee remains to be seen, and whose decision it will be is yet unknown, but it does not appear to be working out for either party. Perhaps Tuchel would prefer a return to questions on the Lukaku issue, but with the team coming away with a 4-0 victory, his decisions look to be justified.
Back to Business -
Until Chelsea is sold to a new owner, the associations of Abramovich will continue to hang over the club and distract both supporters and journalists alike. In his relatively short time at Chelsea, Havertz has consistently shown that he is a player who thrives under pressure, rising to become one of Chelsea's big game players, his performance shining through the disappointment of the EFL Cup final defeat to Liverpool.
The season has entered its business end and Chelsea need to cement their place in next seasons Champions League, they also still have this season's competition and the FA Cup to compete for. Tuchel will therefore use his best players to perform on the pitch to achieve those aims, he will doubtless have been buoyed by the return of James, the form of Havertz and the contributions of Pulisic, who seems to finally be playing in his most natural position.
Though very few would question Tuchel's suitability for his position, the prospect of a new owner, a potential new vision, could cause some un-ease and have him looking over his shoulder, wondering who will emerge as his new boss. But, as long as Chelsea's on pitch performances can block out the chatter and noise off it, the questions will likely prove easier to answer for Tuchel.