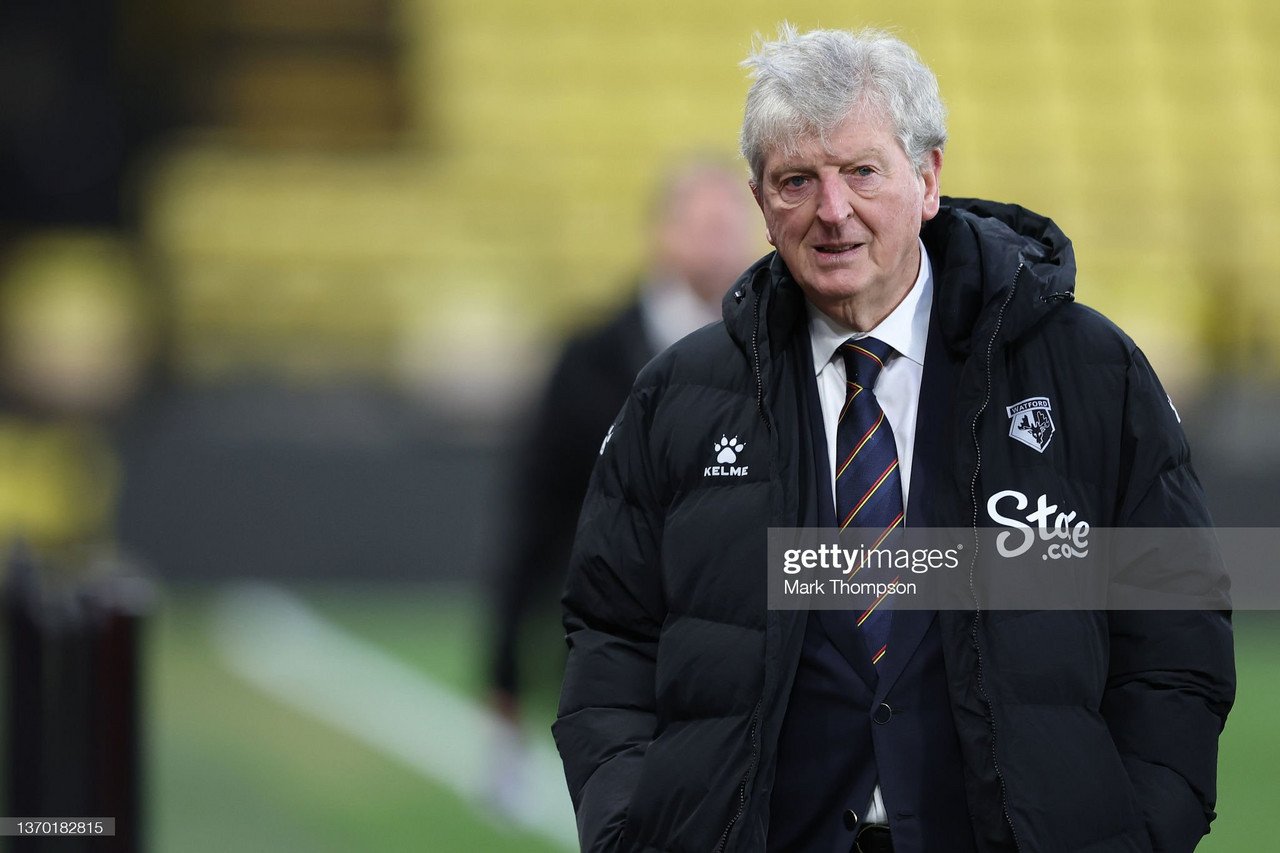 Roy Hodgson was in spiky form after watching his side waste chances and ultimately succumb to defeat at home to Arsenal.
In a tense press conference where the former Crystal Palace manager was confrontation with journalists, Hodgson also took aim at the Watford fanbase.
Disagreeing with Watford fans
When questioned on the substitution of Imran Louza in the second half and the negative response from the Watford fans, Hodgson questioned the wisdom of the home fans,
"Fans have got their favourites. I like Louza as well. I think he's a very good player. But we won't know Kayembe that well and certainly, people at the club think he's an excellent player. Plays in the same position as Louza.

I thought Imran was looking a little bit tired. We got two games coming up, I thought it was the right moment to give him a rest and let's see what Kayembe can do for 30 minutes.

The thing is, the fans will pick players that are their favourites, and they have payers unfortunately at this club that are not their favourites, and my problem is the ones that are not their favourites are the ones that are doing the best job for us."
Technical mistakes cost Watford
Hodgson was honest in his frustration at the mistakes that cost Watford three points,
"We always knew we would have to put out a lot of stops to get something from the game. I don't think I can ask any more from the players on what they gave Watford football club and the fans today I really don't.

I think in other circumstances, we could have got something from the game quite simply, because the two goals we conceded, unfortunately – the second and third goal – they weren't good goals to concede that's for sure. They came from quite clear technical mistakes. But technical mistakes are part of the game. You know, we understand that you don't criticise your players for making a technical mistake."
Hernandez lit up Vicarage Road with a spectacular overhead strike to equalise for Watford in the first half and Hodgson was full of praise for the young striker,
"It was a great goal. It was a very good move. That's the thing. It wasn't just a good goal. It was a very good move. We had a few of those moves. I thought some of our attacking moves and the intentions today were actually quite good. I mean Kiko [Femenia] got in the second half and play the ball across the six-yard box which I was pretty sure we were gonna score for.

I thought that Dennis' shot in the first half, when we got the ball to his feet in the penalty area after another good move, and he shimmied and got a good left foot shot in which Ramsdale made a good save."
On Watford's chances of survival
After a shrug of the shoulders, Hodgson went back on the offensive,
"What do you want me to say? I've got to say quite frankly, it always stupifies me. That people know football, you follow football, you know what Arsenal are, you know how good they are. It stupifies me to think that people believe quite frankly, that you're going to start your revival by comfortably beating Arsenal.

I know in football, that's not going to happen. And you've got to work very hard to keep in the game as we did. But we've got games against teams much closer in the table than us, than Manchester United and Arsenal, I would like to think that if we can be producing some of the football we produced today, especially going forward, and we can defend even a little bit better – and we have defended better in some of the previous games – if we can marry those two things together, then who knows, we give ourselves a good chance."
The problem for Hodgson and Watford, is that defence and attack are gripped in a firm divorce.
Today's defeat was the first time since November that Watford have scored twice but have conceded 22 in all competitions since late December.
Next up, the Hornets travel to Wolves on Thursday and are already staring at the abyss of relegation.
With time and games running out, Watford need to be united towards survival but fans and management couldn't be further apart. It is only likely to end badly for Hodgson and Watford.