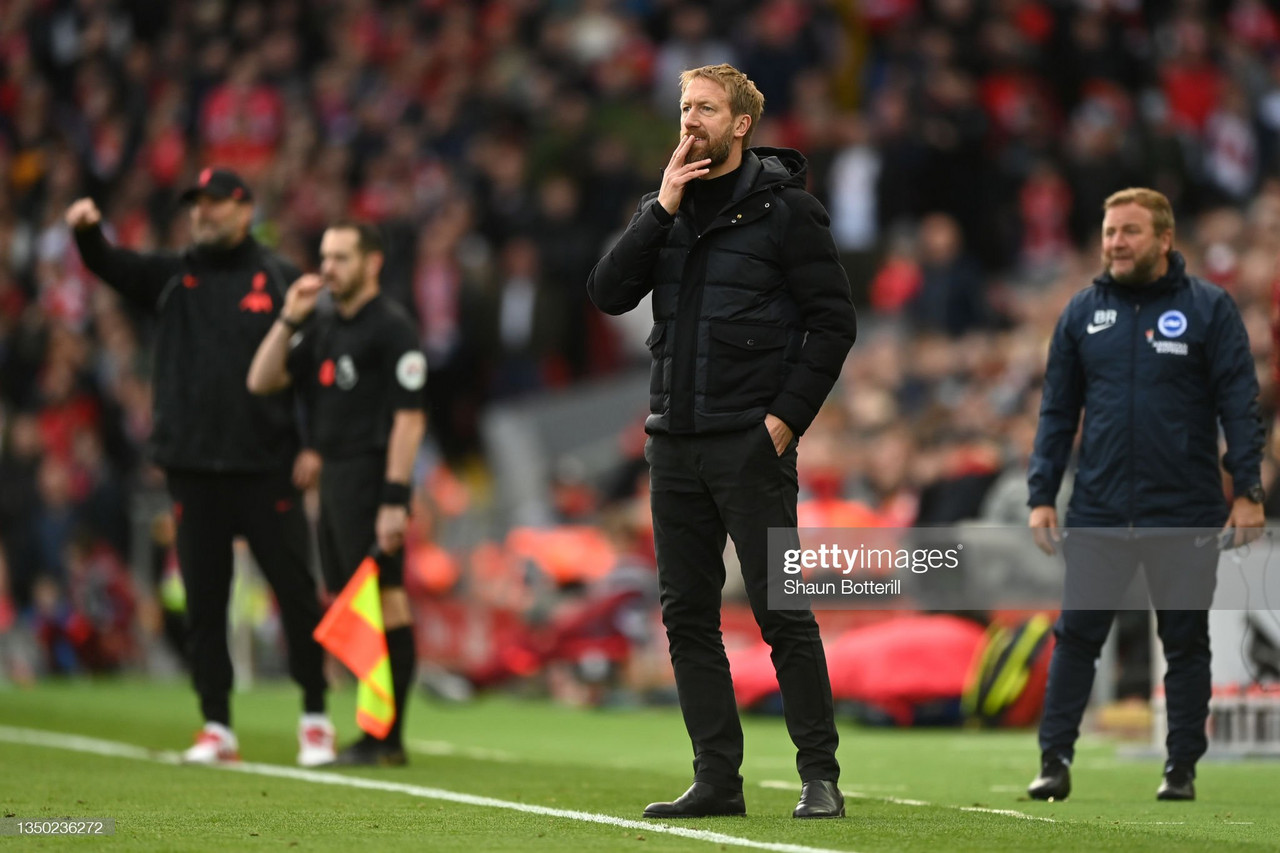 Brighton & Hove Albion might be enduring their worst run of the season, but Graham Potter expressed his eagerness to begin a fixture that is "a massive opportunity for us" as Liverpool traverse to the South Coast.
In the reverse fixture, Liverpool were held to a 2-2 draw at Anfield after Brighton's resilience forced a comeback from two goals down.
If the home side are to complete a season undefeated against their fearless opposition, they will be to recall some of the fighting spirit on show last time.
With five straight defeats across all competitions, Potter understands the weight of the task ahead, with Liverpool currently relishing a blistering run of seven successive wins in the top-flight.
Liverpool 'one of the best'
Potter indeed knows of the size of the task facing his side on Saturday afternoon, and will expect his team to cast aside doubts formed across the past month of wayward results.
Despite the recent misfortunes, there was a glint in his eye as he spoke with fervour about facing 'one of the best teams in the world'.
He said, "They play at an incredible level and I always like playing against them. It's rare in life you get to test yourself against the best in your profession – it's a massive challenge and a huge opportunity for us."
And regarding the importance of a roaring home crowd, Potter's words illustrated the necessity for the Seagulls to bellow their support and galvanise the side toward a positive result.
"We hope being at home works in our favour. It's on us to play well - because the better we play, the easier it is for the crowd to get behind us. Hopefully everyone will be really up for it, enjoy the game and help us to get three points."
On recent struggles
Since arriving in the Premier League for the first time back in August of 2017, Brighton have done exceptional work in maintaining top-flight status and safely treading water away from the depths of the drop zone.
Despite this, and an increasingly lauded style of play - largely down to the tactical aptitude of Graham Potter - the current term is the first that Brighton have seen a rise towards the potential for a top half finish.
Before the current lapse in result and performance, an outside glimpse of a finish in a European position had even somewhat presented itself, although now seems a distant proposition.
For Potter, pragmatism is key, and the footballing cliche of 'one match at a time' is something that must be abided by in order to stabilise the squad and piece a good run together in the latter stage of the campaign.
"Our job is to see this period out, to stick together and to learn from it. Sometimes, as much as we want to win, we need a bit of pain to grow as a club and we want to use it that way."
One way of doing so is by utilising the strengths of Tariq Lamptey, who has looked impressive since returning from a lengthy injury layoff and offered a forward-thinking approach down the right flank.
Potter said, "It's about using his attributes as well as we can based on the game we want to play. We want him to be threatening the opposition defence as much as he can. The fact he is so open-minded and so ready to help the team makes it easier for me."