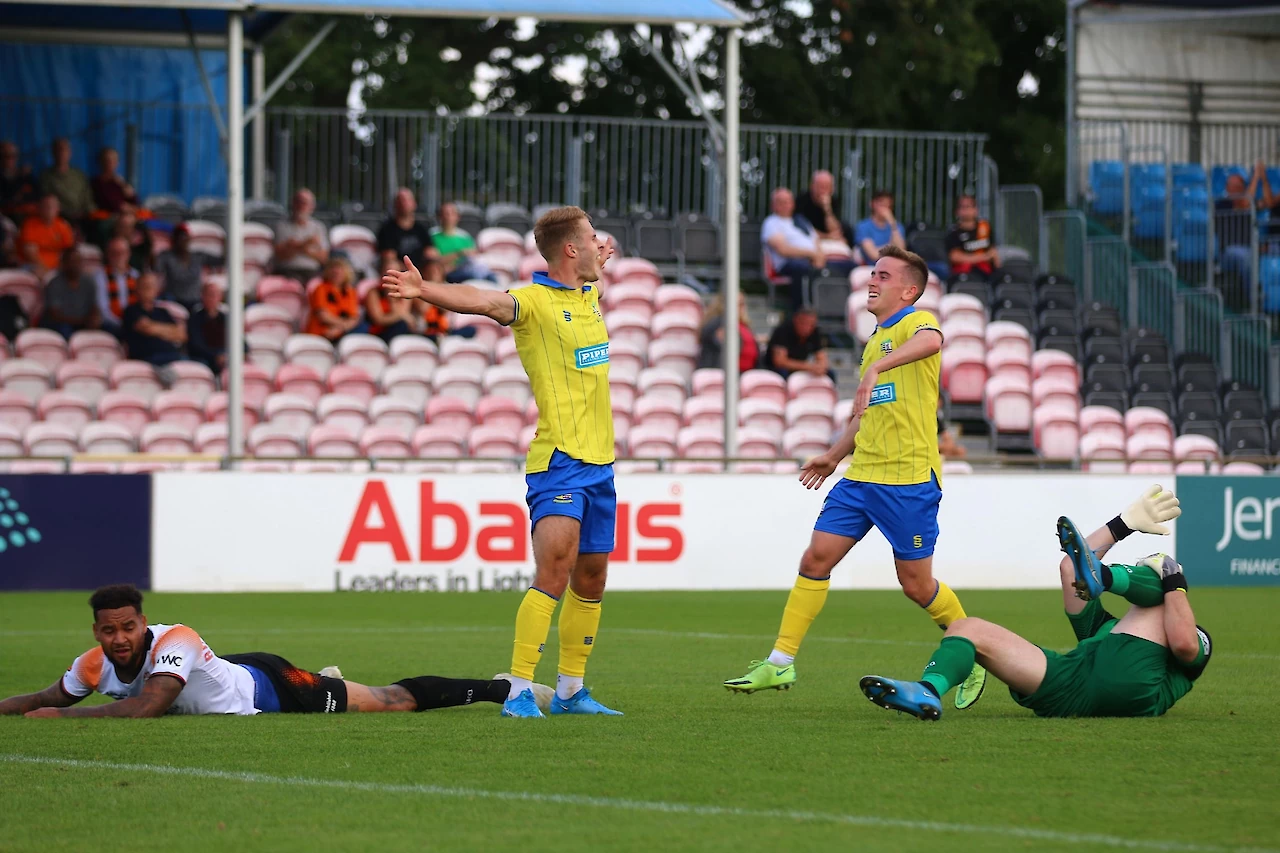 Solihull Moors suffered no injuries in mid-weeks draw to Halifax Town despite Danny Newton needing brief medical attention in the first half. Therefore, the Moors are expected to name a very similar side for their trip to Barnet on Saturday afternoon.

Predicted Line-Up: Boot (GK) ; Clarke, Howe, Maynard, Boyes ; Maycock, Osborne ; Barnett, Sbarra, Dallas ; Hudlin (4-2-3-1)
As for the hosts, Barnet FC they have just recalled Antonis Vasiliou from his loan spell away from the club and have made him available for tomorrow's home match against Solihull. Aside from that there is nothing new to report.

Predicted Line-Up: Askew (GK) ; Woods, Richards-Everton, Greenidge, Beard ; Marshall, Fonguck ; Grego-Cox, Hall, Mason-Clarke ; Marriott (4-2-3-1)
Barnet FC aren't in the best of form but do have three wins in their previous six matches in the National League. This includes a shock victory over play-off chasing Boreham Wood. They are also unbeaten in four of their last five home league games with their only defeat in that time was against in-form Woking.

As for Solihull Moors, they may have lost their four match winning run after their draw against Halifax Town but they are still currently on a fourteen match unbeaten league run which dates back to the first game of 2022 when they lost to Bromley FC. They will certainly be keen to extend that run on Saturday.

Solihull Moors & Barnet have met on several separate occasions with their first meeting dating back to October 2018. That meeting was won by Barnet which is their only victory against Solihull Moors. Since then, there has been three wins for Solihull Moors as well as three draws including their previous meeting earlier on in the season.

The last meeting between Barnet FC & Solihull Moors was back in August 2021 which finished as a one all draw at the ARMCO Arena.

Solihull Moors almost took the lead early into the game when Joe Sbarra had an effort which deflected off a Barnet player and it went just wide of the target. However, it was still Solihull that took the lead when their Scotsman Andrew Dallas fired the ball home just before half time in what was a routine first half for the Moors. Harry Boyes almost doubled Solihull's lead but his strike was well saved and within ten minutes, Barnet had equalised through their debutant Daniel Powell who side-footed past Ryan Boot.

The draw at the time left Solihull Moors fourteenth after back to back draws whilst Barnet sat sixteenth after earning their first point of the National League season.

Player To Watch - Barnet FC
My player to watch for Barnet has to be their striker Adam Marriott who's enjoyed a fairly impressive season so far and currently sits as the clubs top goalscorer with eleven goals already this season.

Marriott is a very quick forward who has been the saviour for Barnet several times throughout the season and has helped to earn them some valuable points as they've pulled away from the bottom three.

Barnet's Marriott will cause Solihull's defence all sorts of problems on Saturday afternoon so the back two for the Moors have got to be on it from the get go because they will be punished if they don't.

Player To Watch - Solihull Moors
My player to watch for Solihull Moors is their full-back Harry Boyes who had an excellent evening in mid-week where he did almost everything right except contribute to a goal in the goalless draw.

Boyes has enjoyed an excellent loan spell so far this season and has already scored four goals from left-back. He has also provided several assists as well so he will be very keen to add to that tally and extend Solihull's unbeaten run.

Halifax were in-part lucky because they didn't properly deal with Harry Boyes in mid-week but it wasn't punished. Therefore, Barnet have got to ensure that their right hand side is up for it immediately otherwise it could be a very long afternoon.

Barnet FC boss Dean Brennan will be keen to make it four wins from seven when they host Solihull Moors at the weekend. They will be fully aware of the Moors threat and will need to act accordingly if they are going to pick up the three points.
Solihull Moors manager Neal Ardley will be very keen to extend his sides unbeaten league run to fifteen matches on Saturday but will be aware that Barnet have a past of picking up shock wins this season.

Tomorrow (Saturday 9th April), will be a 3:00pm kick off at the Hive London. Tickets are available for both sides and pay on the gate is also possible. Ticket prices are as follows;
- Adults (18-64) £22
- Concessions (65+) £14
- Under 17s £5
Thanks For Reading & Enjoy The Game!