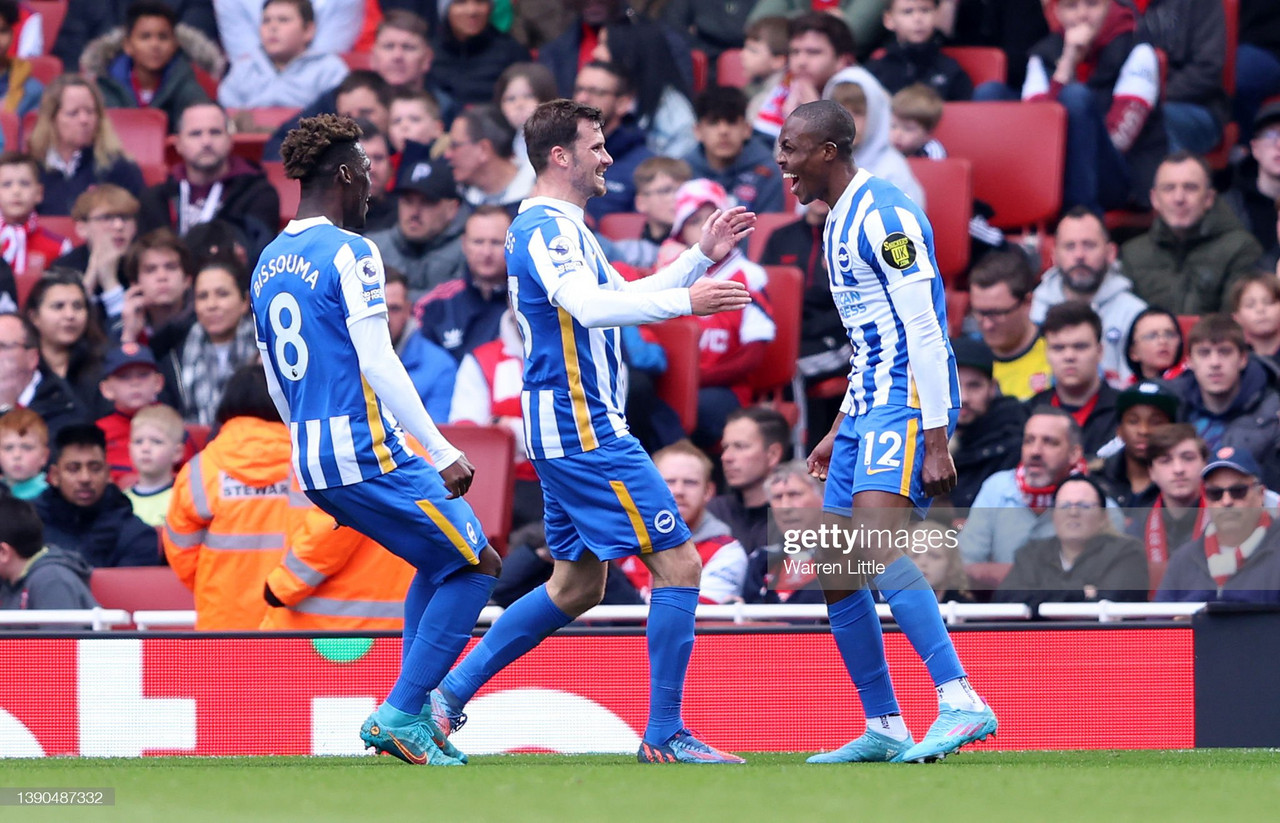 As Brighton & Hove Albion departed down the tunnel at the midpoint of their Premier League encounter against South Coast rivals Southampton, victory appeared imminent.
Danny Welbeck had given his side an early advantage after striking early, with Mohamed Salisu stretching the lead after turning into his own net minutes before the break.
But as water is wet, James Ward-Prowse put in a stellar display with a trademark free kick and a resounding strike from distance to sink Albion's hopes of a third win in four fixtures.
Ultimately, parity was probably a fair assessment of the respective efforts. For all of Brighton's good work in the first half, Southampton came out battling with grit and dogged determination after the break, galvanised by their talisman.
Some supporters may lament the inability to control the game and continue a resurgent run of form after a lapse of confidence and cohesion after the campaign's midpoint.
But Sunday's draw represents a record-equalling points standing in England's top-flight with four matches still to play - indeed, the Seagulls reside in 11th place on 41 points having previously only reached 15th upon a seasons conclusion.
Ship stabilised?
After such a torrid run of form, Brighton needed to steady the ship and veer clear of genuine concerns as the depths of the division loomed closer each passing match week.
Graham Potter's side had gone seven matches without victory in the division after exemplary previous work, and the Albion machine seemed to had spluttered to a weary halt.

Seven successive defeats were ended by a lacklustre goalless draw to lowly Norwich City, but what ensued typified Brighton's year.
Both Arsenal and Tottenham Hotspur were defeated in North London before Manchester City were made to work for their victory over Graham Potter's side.
A daunting triad of away fixtures, especially given the club's predicament at the time, but six points on the board swerved potential relegation danger, albeit unlikely.
Against Southampton, Welbeck reacted quickest to capitalise on a defensive mess early on, and continued to impress with a dazzling ball in a fluid sequence that resulted in Salisu turning into his own net.
Offensively, Brighton look as good as they've been this term, and whilst goals are being shipped in greater volume - there is real promise of a record finish in both points and position upon the seasons conclusion.
Three points are required across four games to achieve this mark, and despite a testing end - fixtures against Wolverhampton Wanderers, Manchester United, Leeds United and West Ham United imminent - Potter will be confident in his sides knack at rising to the occasion against fierce foes.
AMEX form hindering progress
Away from home this campaign, Brighton have been exemplary. On away form alone, the club reside in seventh place above sides such as Manchester United and West Ham.
Efforts at the AMEX Stadium paint a very different picture.
Brighton boast a meagre three home victories out of 17 outings, with only bottom clubs Watford and Norwich beset with poorer records on home soil.
It is a troubling statistic, especially since prospects were so fruitful at the season's midpoint, but through the negatives the positives certainly shine through.
Under the tutelage of Graham Potter, the Seagulls have turned into a resilient and cohesive outfit with slick passing and a clear identity.
Signing a forward presence is a must for the summer, with efforts in front of goal still the hinderance to progress - should summer business be successful, Brighton may just improve on a good campaign once again next year.
Ward-Prowse saves Saints once again
Where would Southampton be without James Ward-Prowse? Saints' captain supreme netted his eighth and ninth league goals of the season against Brighton and served as the focal point once again.
When _ was you fouled on the brink of half time, a chorus of groan emanated from the Brighton faithful, the Saints captain would imminently have a strike on goal from a free kick.
Likening Ward-Prowse to Lionel Messi might be meeted with incredulous response by many, but when the Englishman lines up a shooting chance from a dead ball situation, there are few players who come close to the Argentine magicians ability to bend belief with the artistry and precision of his shots.
Sunday's free-kick was Ward-Prowse's 14th in the Premier League, a simply incredible return and bettered only by the 18 free-kicks of David Beckham.
If the first goal wasn't enough, Ward-Prowse evened proceedings not ten minutes after the break after striking a thunderous shot from distance after Oriel Romeu's nifty layoff.
Clearly inspired by their leader, Saints pursued a late winner but were foiled by the home defensive efforts, and were fortunate not to concede late on after Pascal Gross' goal was ruled out for offside.
Both sides will be somewhat frustrated that they did not end the day with three points, but with just a point between them and the top-half of there table well within reach, there is optimism on both ends for a positive end to the campaign.