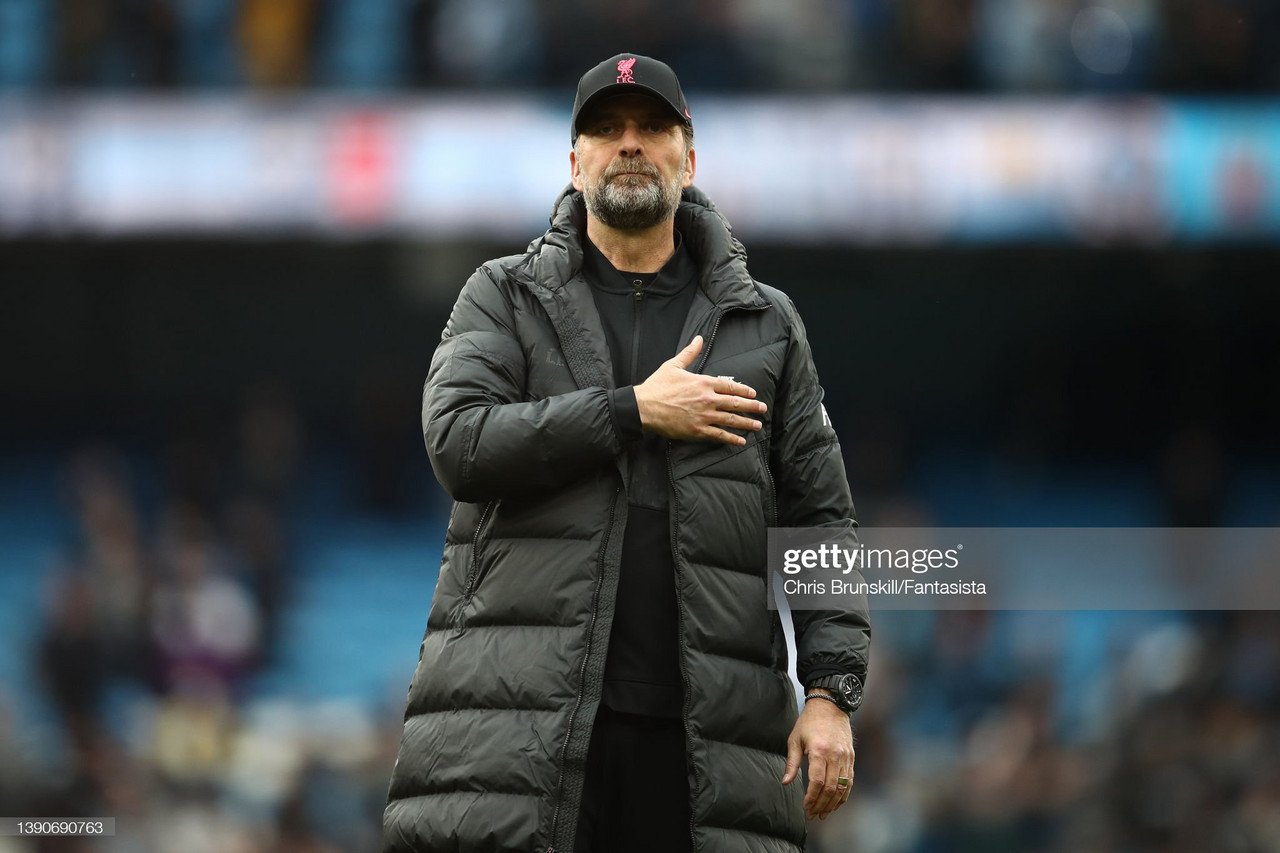 It was a game dubbed the title decider, but there was nothing to separate the Premier Leagues top-two sides, as Liverpool twice came from behind to take a point away from the Etihad.
Liverpool manager Jurgen Klopp addressed the press following the result. Here is what the German had to say.
On Post Match 'Celebrations'
"I was looking for my missus, to be honest, she was in there somewhere. No, come on, it's not about celebrating something.

Embed from Getty Images
"It's just about showing appreciation for something, to say thank you and go there [over to the fans]. Their support was again incredible today."
On Facing Manchester City
"We could calm down the City ground slightly with the football we played in moments, but there were other moments when they were really on their toes, so I liked this game analysis-wise as well.

"So nothing has changed, really. We played 95 minutes of incredibly intense football and you are as smart as before, but that is actually pretty good news.

"If we won today, it could have been possible. But it could have been possible that we lost as well. So today, nothing really changed.

"We have to be almost perfect to beat this team in a game. And over a season as well, so yes, let's see.

"Did I find my wife? No, but she was there, so it is all fine."
On City 'Playing Like Liverpool'
"It's just smart. Who care? City is allowed to play balls behind the line, I couldn't respect it more. Kevin De Bruyne *woosh*.

Embed from Getty Images
"It's easy to play the pass but the timing they had for their runs, it's not bad. I like that. We could've done it as well, but we were in the playing mood. It's fine, really, we improved and it's about winning football games.
"It's not about showing up which style you want to push through, like really stubborn. Yes there were moments when they were more direct than usual but I thought it was a good idea [by City]."
On Liverpool's Approach
"We played much less long balls than we usually do, but we wanted to play between the lines, through the lines and this kind of thing.

"The last line of City defence is really together, physically they are quick and all these kind of things. So we wanted to mix it up but the plan was to play and that is what we did."