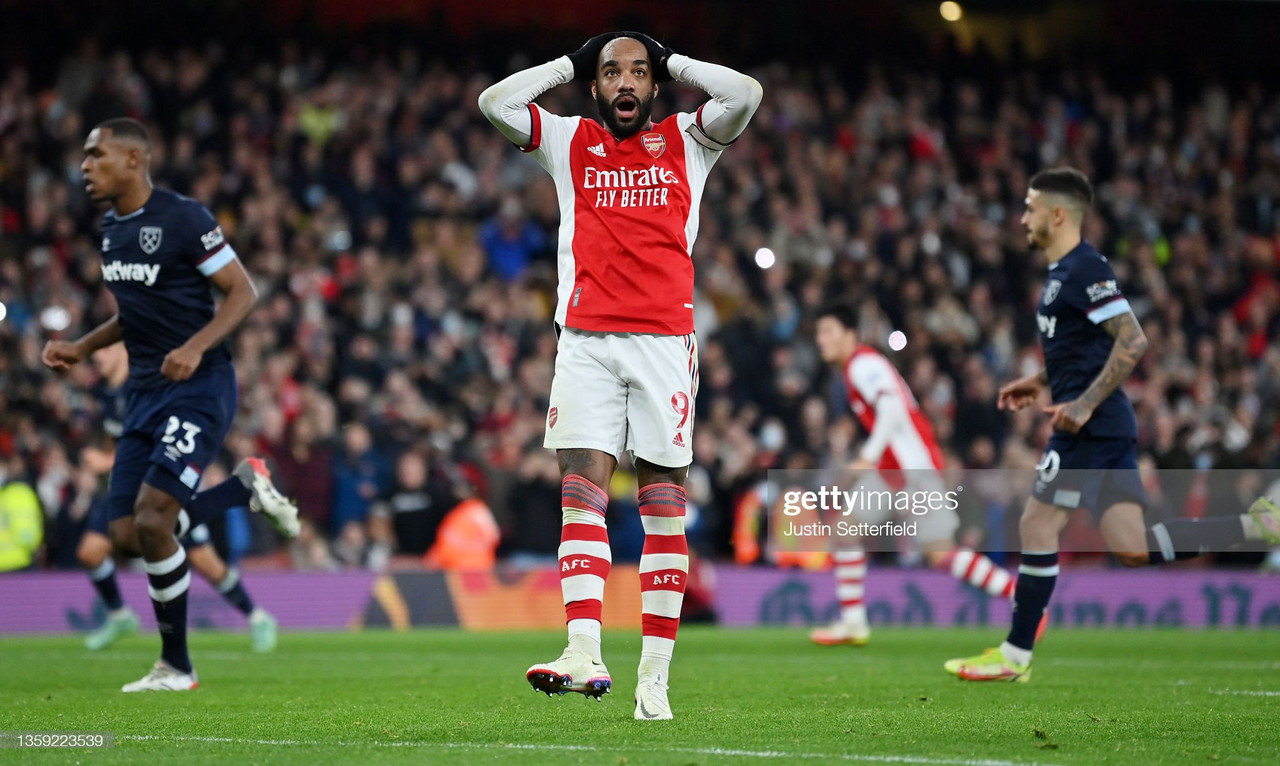 The last time Alexandre Lacazette scored a goal that wasn't from the penalty spot was halfway into December, about four months ago.
His season total so far this season is six goals, three being penalty kicks.
Though he's racked up a respectable tally of eight assists, Arsenal's recent losses against Brighton and Crystal Palace have further highlighted the lack of a goalscoring presence in front of goal.
Lacazette registered no attempted shots against Brighton in Saturday's 2-1 loss.
The stats and the eye test below help explain why the Frenchman isn't blessed with goal glory this season.
Worse positioning and quality
That goal four months ago was against this weekend's opponent, Southampton. It was a fine display, a 3-0 win, in which Lacazette showed efficiency scoring with his only shot.
Such productivity, however, isn't something Arsenal fans have enjoyed much of from their striker this season.
In the 17 games following Southampton, Lacazette started 16 and scored two penalties. In those 17 tries, the Frenchman attempted 38 shots (not including penalty kicks), only nine of which hit target, accumulating 4.5 npxG (Non-Penalty Expected Goals), according to FBref.
He was expected to find the net almost five times in that period, excluding penalties, but scored none.
Lacazette just isn't hitting target.
The numbers for the full season so far tell the same story: 49 non-penalty shots, 16 on target, three non-penalty goals.
If we compare the same stats to previous seasons at Arsenal, we see a significant drop.
Though there are still eight games left to play, Lacazette currently has a 0.06 Goals Per Shot ratio this season. For the 20/21 campaign he boasted 0.23 and during the 19/20 season he amassed 0.17.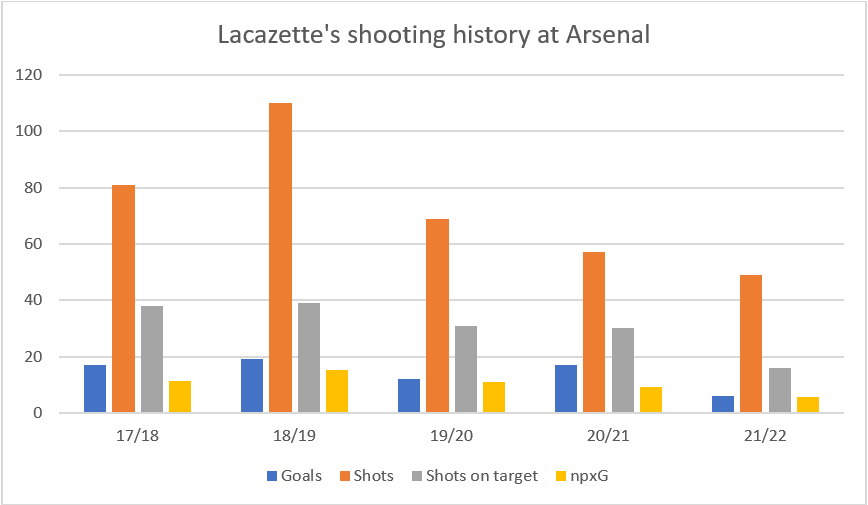 One explanation why Lacazette isn't scoring much is tactical. His role has evolved away from just being the finisher, especially after Mikel Arteta's switch to 4-3-3.
The striker is now often tasked to drop into midfield to create man advantages in the build-up, which moves him some distance from the opposition's goal. Without a #10 behind him he's also more isolated from his teammates, which makes him easier to mark and perhaps more difficult to find with a pass. He tends to go missing inside the box with his 1.75cm stature.
The Lyon-born is also pushing 31 and his fading athleticism is showing. Arteta's focus on pressing from the front seems to drain him.
Lacazette is shooting less, hitting target far less and has a much lower Non-Penalty Expected Goals count than before.
The data indicate that he finds himself in worse positions to shoot from – or not in a position to shoot at all – and that his finishing is sub-par.
But what does the eye test show?
Two plays with different outcomes
Two of Lacazette's three non-penalty goals are pretty much identical.
He's not involved in the build-up.
Arsenal attack quickly.
Lacazette arrives in the box late to meet a low cross.
He finishes with one touch near the penalty spot.

Against Southampton in December's 3-0 thrashing, for example: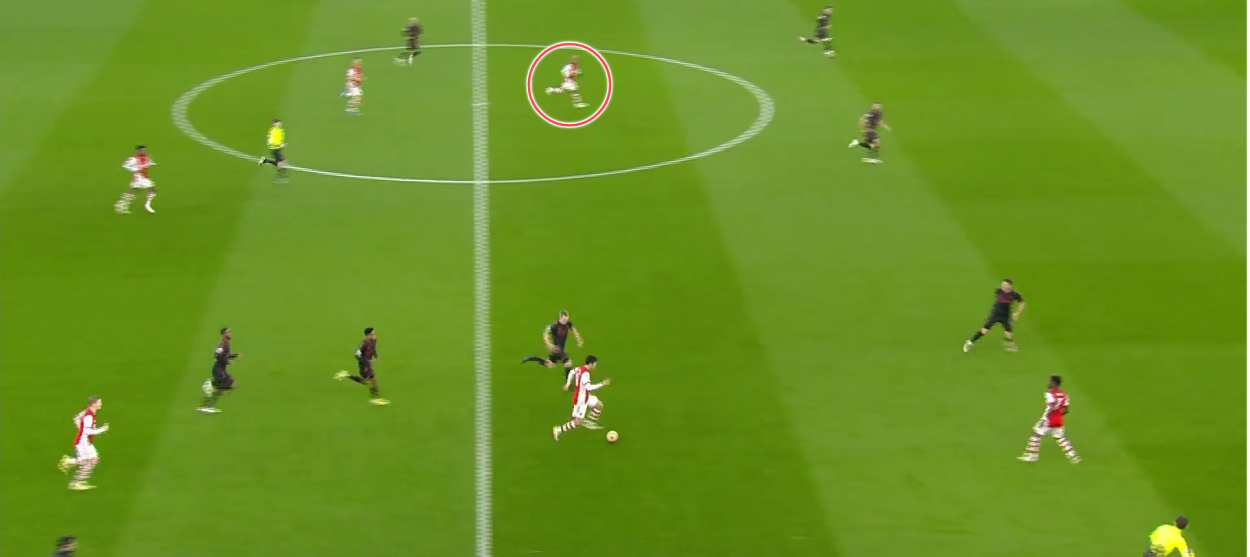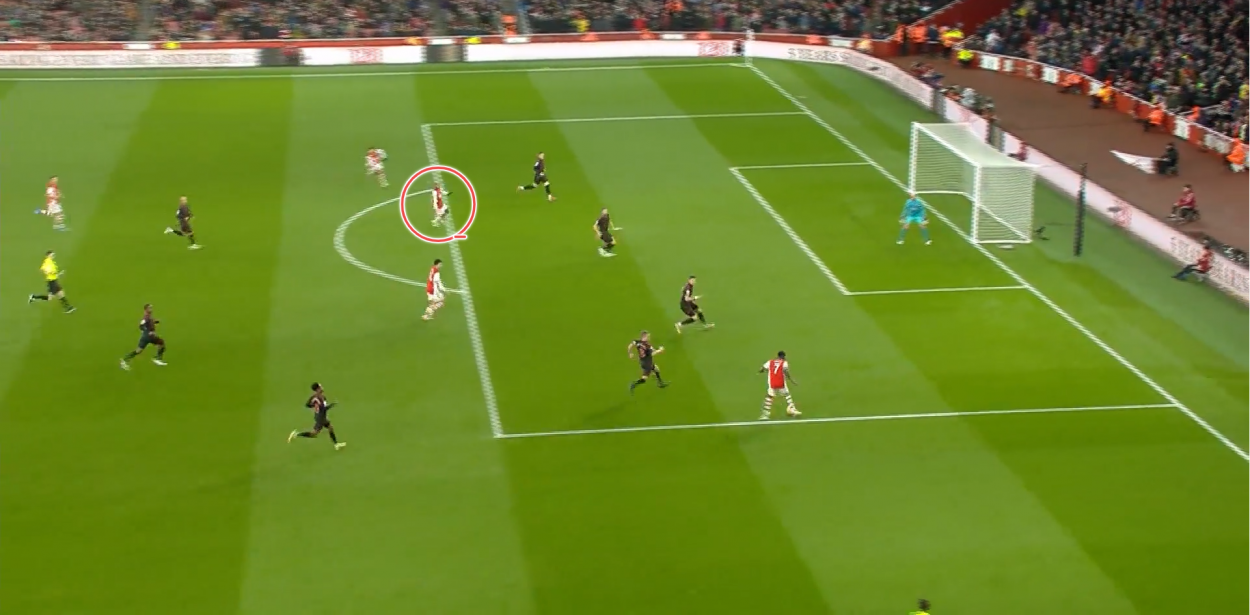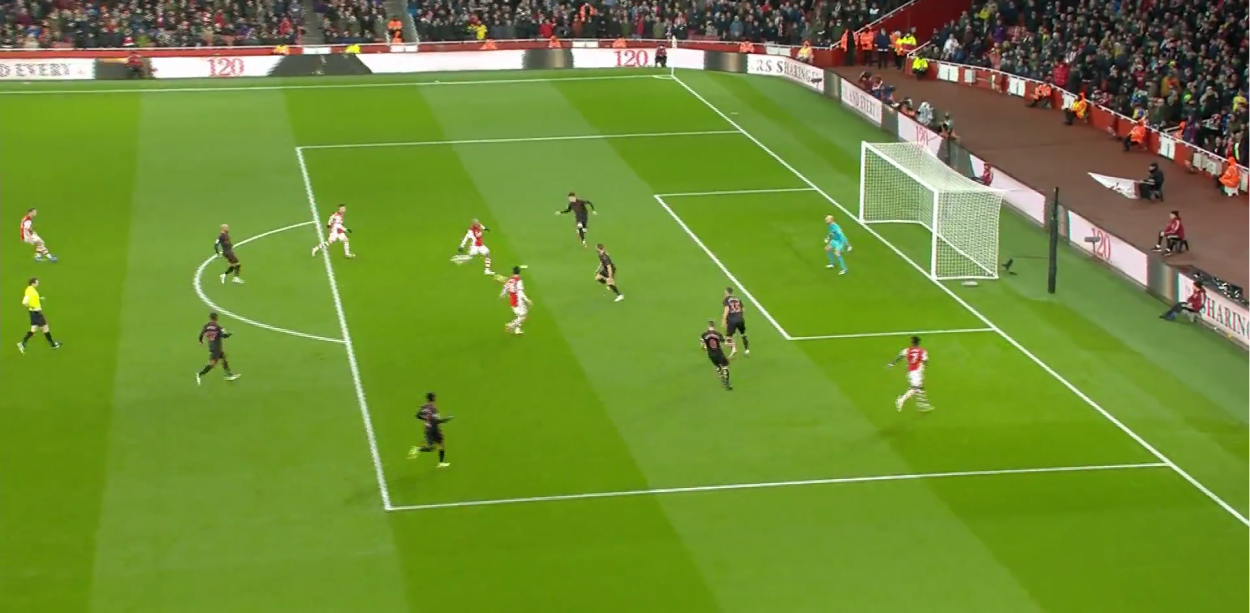 Against West Brom in the Carabao Cup second round: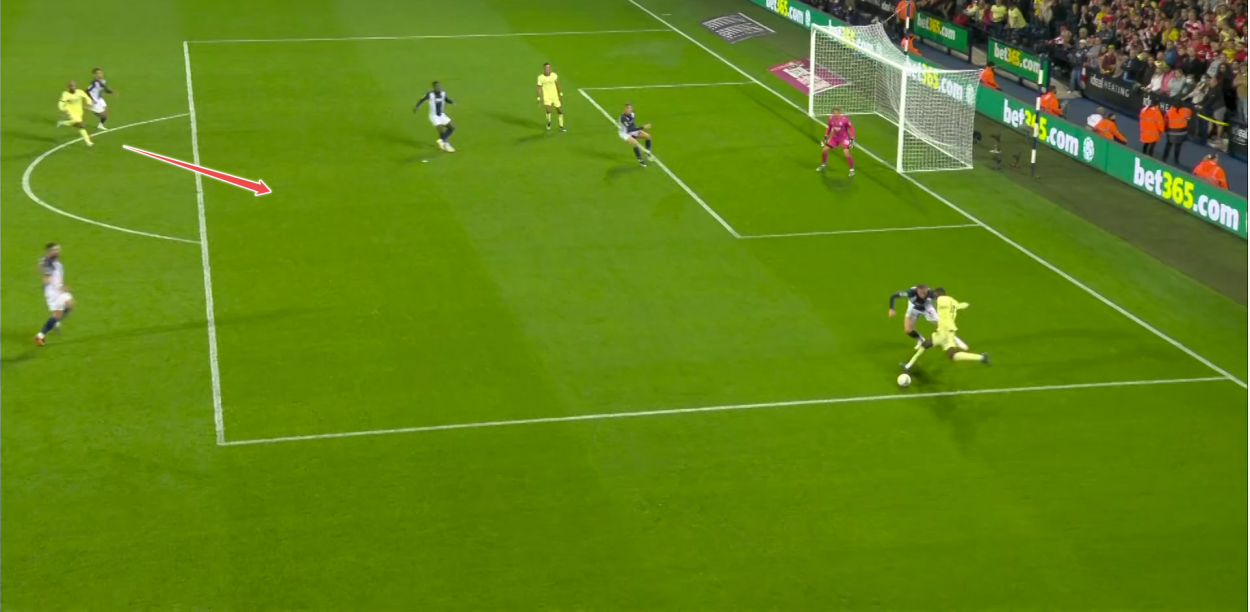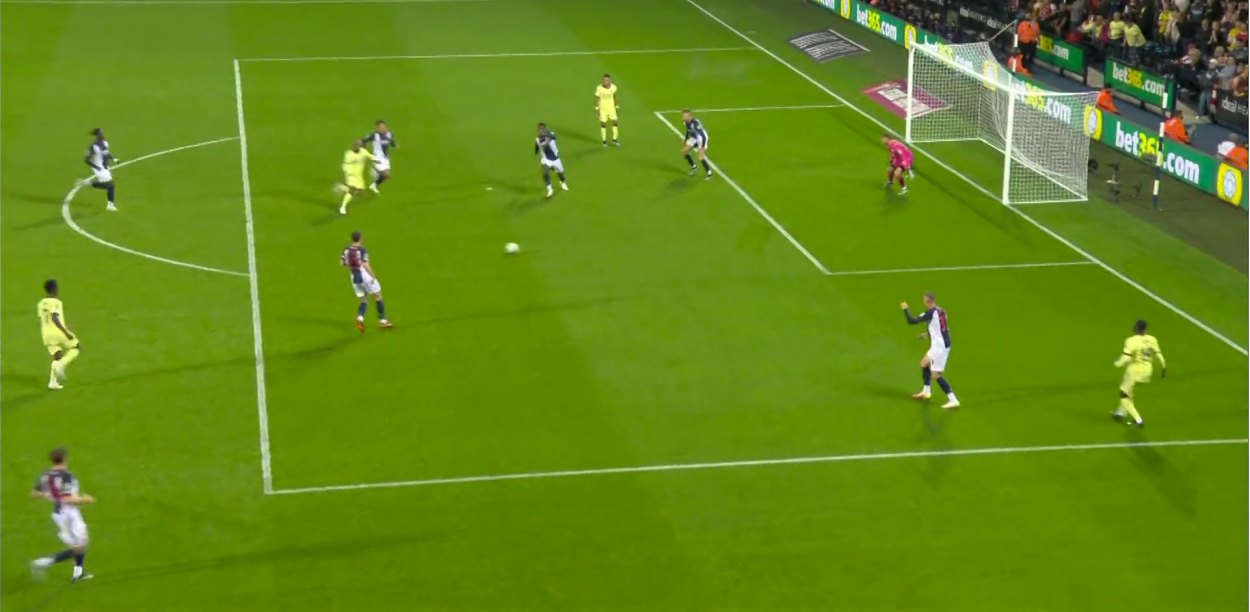 Lacazette gets to finish the attack, not concern himself with build-up play or dribbling past a defender. He gets to attack open spaces in the box because the opposition is not in a settled defensive shape due to the quick nature of the attack.
When he drops deep, however, he often finds himself in an unattractive position to shot from like here against Wolves: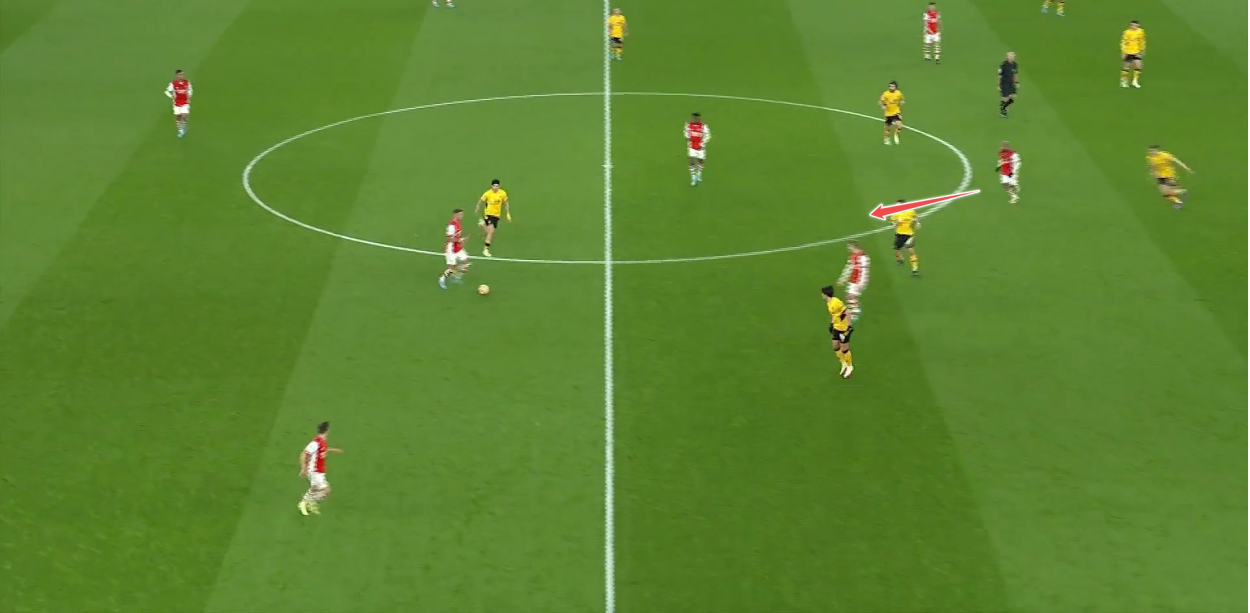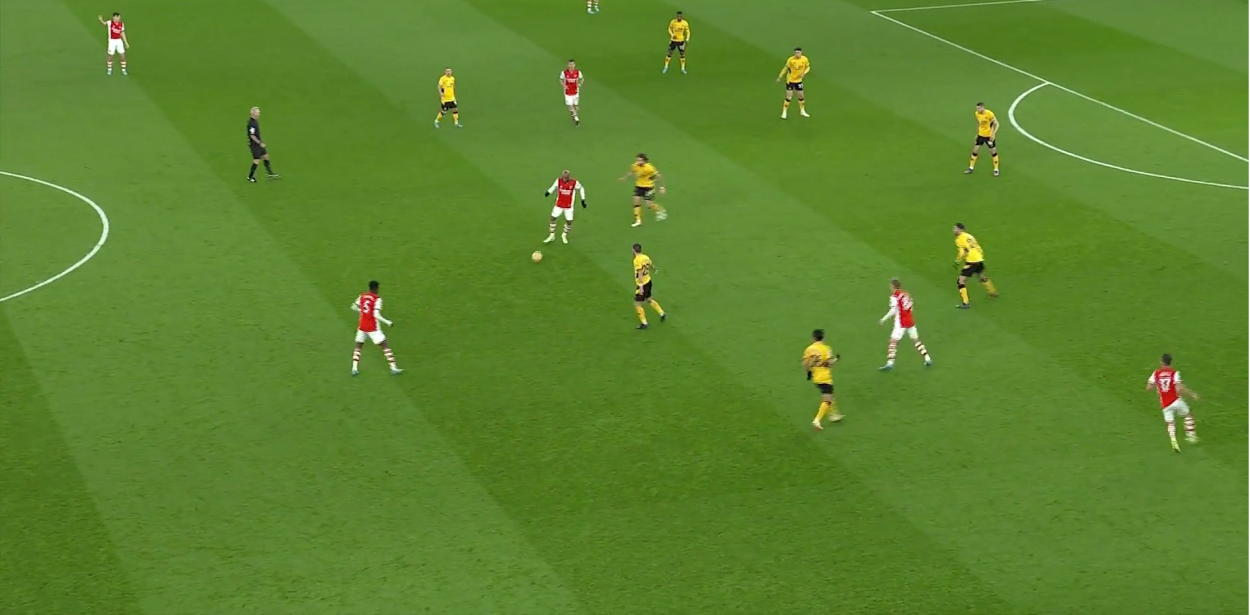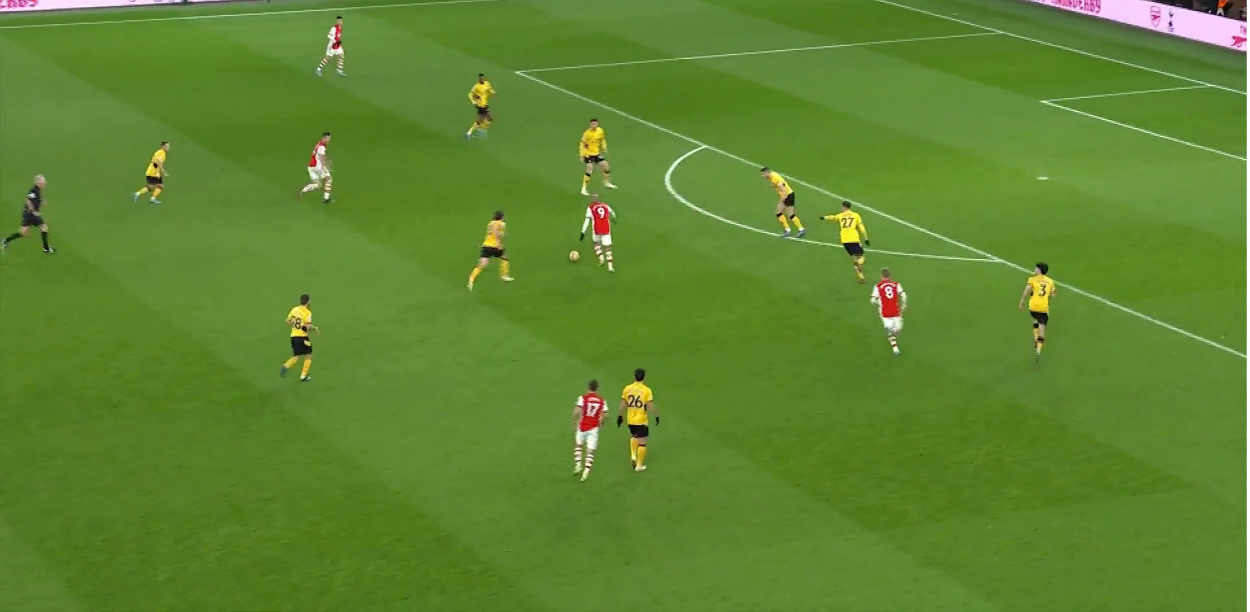 In fact, 31% of Lacazette's shots so far this season has come from outside the 18-yard box, according to FBref.
Here's his overall shot map this season (excluding penalties):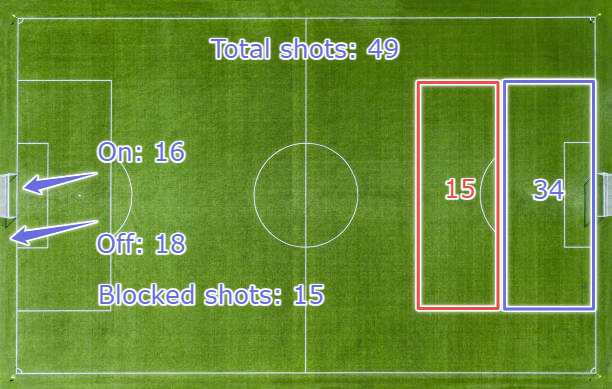 34 shots inside the box, 15 from the outside.
16 shots on target, 18 off target, 15 blocked shots.
Not surprisingly, considering his relatively high ratio of shots from outside the box, 37% of Lacazette's attempts missed the goal. 31% of shots were blocked. The striker has hit target with 31% of his attempts.
Thinking back on his season there aren't many big chances he's missed that comes to mind either. Lacazette has scored three non-penalty goals from a starved npxG of 5.6 this season. Because of tactical reasons and his own performance, he hasn't had many scoring chances.
Big challenge ahead
Arteta demands a lot of his striker. He needs to drop deep to help with the build-up phase, hold onto the ball and battle centre-backs, dribble past defenders in tight spaces and score goals with feet and head via through balls and crosses.
The data and eye test suggest that this is too much for Lacazette to handle – and how big a challenge it will be for the Gunners to find a suitable striker this summer.