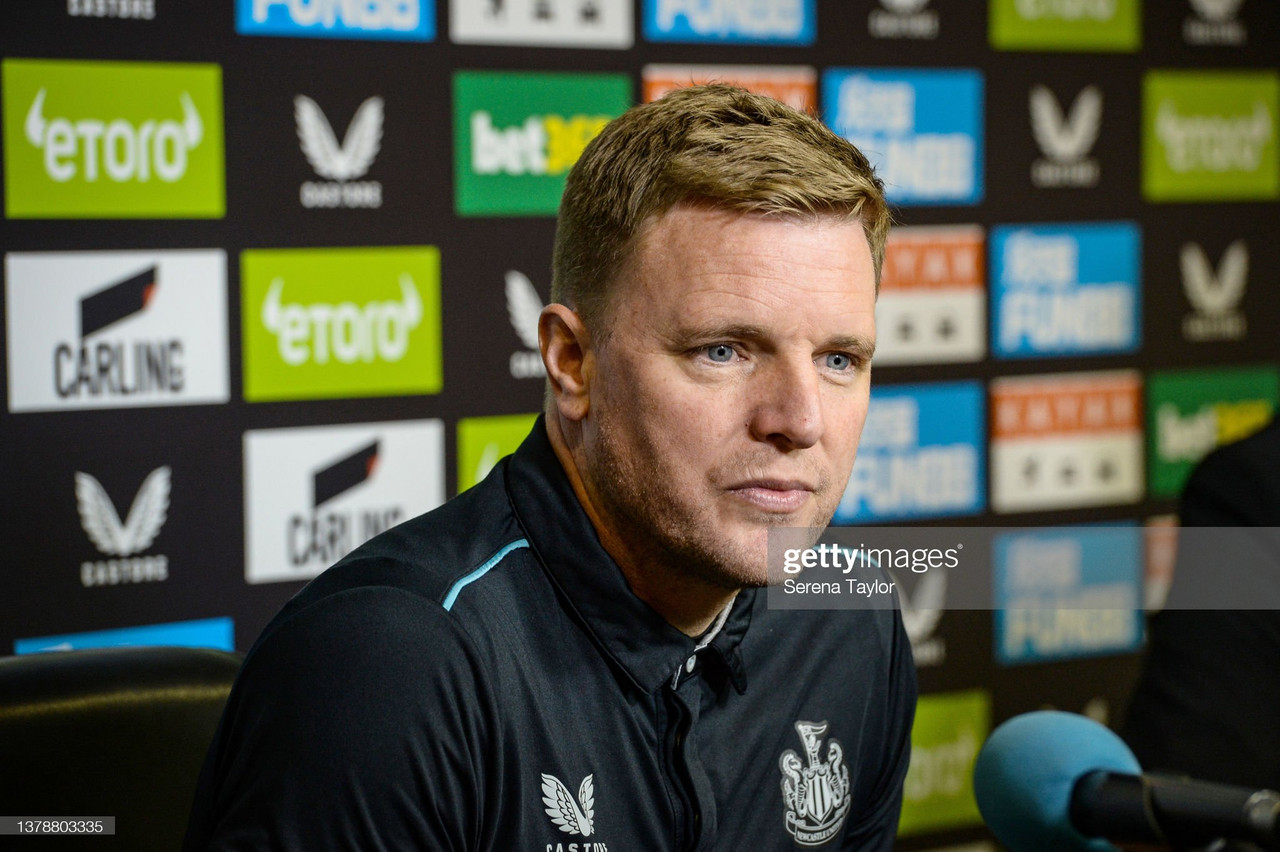 Newcastle United manager Eddie Howe spoke to the media today ahead of his sides home clash with Leicester City.
Some of the topics spoke about today were injury updates, the Wolves win and and player form.
Injury Updates
Newcastle are currently missing a number off key players due to injury, most notably Callum Wilson, Kieran Trippier and Joe Willock.
Wilson and Trippier have been touch and go on weather they will feature again for Newcastle this season, this week the club have shared some positive images of the two payers working with Newcastle staff and starting to get back into light training.
"Callum is now hitting balls towards the goal with no goalkeeper in. It's only against mannequins but he's gradually building up to where he wants to be so it's great to see."
On Trippier, Howe said: Kieran is very slightly ahead of schedule. He's beginning to run back on the grass with his boots on so that's a great sign for us. He's still now got to build up his fitness but he's in a good place."
Willock's injury was much less severe with his only missing the last couple of games.
"Joe has made good progress. He's trained this week so we hope to have him fit."
Wolves Win
Newcastle were able to get back to winning ways last Friday with a 1-0 win over high flying Wolves. After 3 straight defeats this result was very important for the teams final push for guaranteed safety. A goal from a penalty that was both won and scored by Chris Wood topped off what was a very strong performance for Newcastle.
"Nobody wanted to see that losing run continue and although it was on the back of a really good run before that, we were well aware we needed to respond. Those nights at home have been special for us and it was another one of those."
Brilliant Bruno
Bruno Guimarães got his first start for Newcastle in front of the St James Park crowd last time out and he showed the fans what he could do putting in a MOTM worthy performance.
"He's a really, really great lad. He's got a really unique mix - he's a really friendly and happy guy who mixes well with his team-mates but he's also got a steely determination when he enters the pitch. He's a real competitor."
"I think the celebration with the ballboy just reflects his softer, human side. He's a really good person and he cares about other people. It was a really nice moment for the ballboy and he'll remember that for the rest of his life."
Looking at Leicester
Leicester have been struggling somewhat this season, after narrowly missing out on top 4 last season they currently sit 9th. However they have hit some good form in recent weeks with just one defeat in their last five matches. This will be a very tough game for Howe and the team.
"We've been in this situation before where we've played teams that have played in Europe. My experience is that it doesn't have too much bearing on the next game. They've got a squad to cope & an experienced manager. We expect a full strength Leicester."
Last time out
In the reverse fixture in December it was a game to forget for the Geordie Boys. Losing 4-0 away from home they were thoroughly beaten. Howe will be looking to avenge this heavy defeat and continue to push Newcastle as high up the table as he can.
"It was a difficult day. I think we've become more resilient since that game and we're harder to play against. I'd love to think we've improved but the reflection of that will be in the performance. We've got to show those qualities on Sunday."