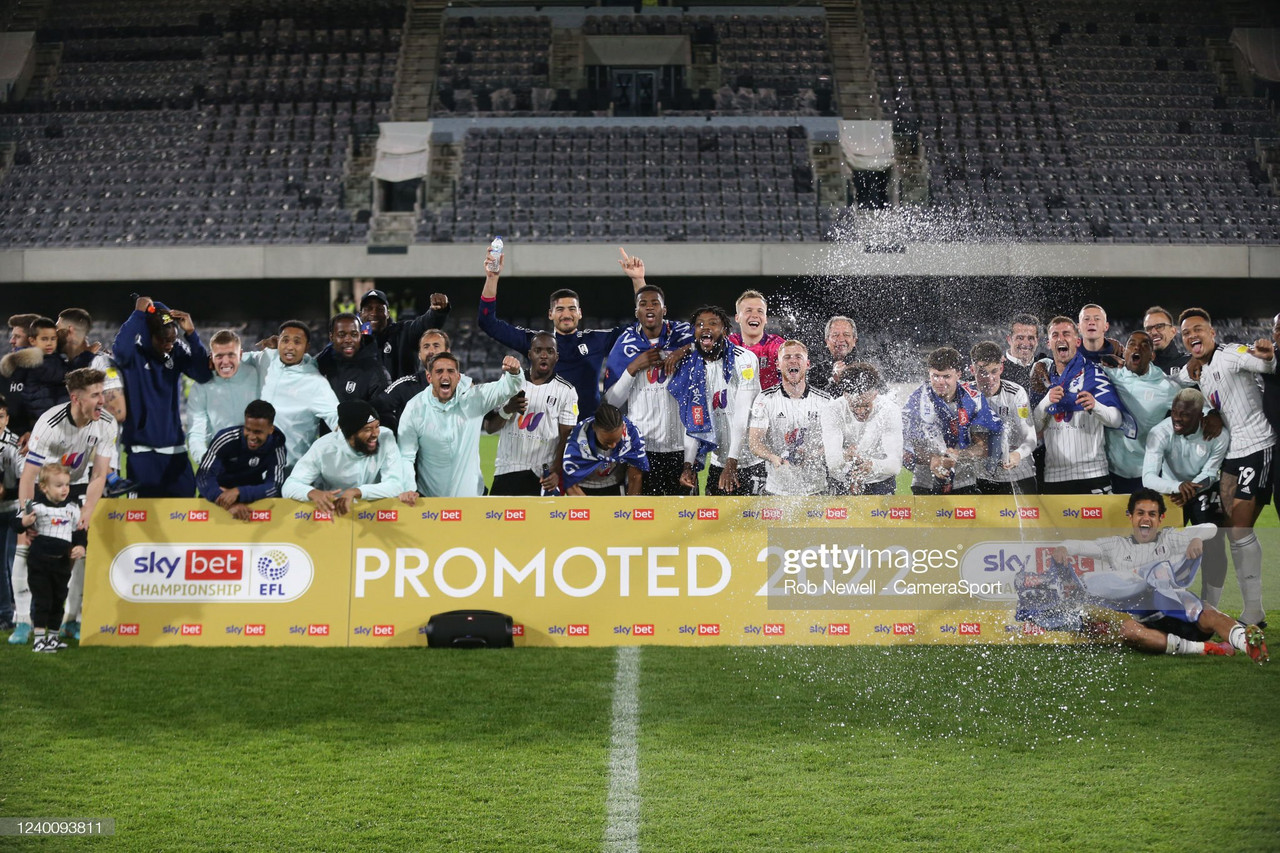 As Fulham celebrated their instant return to the Premier League — confirmed by the comfortable victory over Preston North End on Tuesday evening — two revered members of the club were exuberantly thrust into the air by their colleagues: striker Aleksandar Mitrovic, and head coach Marco Silva.
And, it must be said, there are none among the Craven Cottage contingent more deserving of the highest acclaim than those two. Mitrovic's simply staggering tally of 40 league goals (and counting, with four games still to play) have transformed Fulham from a good Championship side into a formidable one, but the Serbian international also owes a lot to Silva, whose coaching and tactical philosophies have masterminded promotion this year.
With both their head coach and arch marksman simply a cut above the rest of the division, the Whites proved a force to be reckoned with. Silva is always keen to emphasise that this campaign's triumphs have been collective in nature, the fruits of a determined team effort, but the pair have undoubtedly been the protagonists in this season-long portrayal of Fulham's irrefutable superiority.
When the head coach addressed the media in his post-match press conference — his clothes still slightly dampened having been the target of some vigorous celebratory champagne spraying — he had one simple message of humility to voice: he had merely attained what he was brought in for.
"All of us have to be proud of what we've achieved. It was the reason we were brought here. I know why I joined Fulham and this is just the beginning of a long journey, I hope," he said.
There are two interlinked shades to his statement which reflect the direction Fulham as a club are heading in (or, at least, planning to): one is expectation, that the summit of the Championship is where they should be; and the other is ambition, the desire to gradually consolidate themselves further up the footballing pyramid.
The head coach is right to hope. Presumably that long journey he speaks of leads to Premier League stability, something which has eluded the club since the relegation of 2014 which put an end to 13 consecutive years of top-flight football on the white side of west London. They've had chances to regain that stability but have been relegated immediately after each of their last two promotions in 2018 and 2020, earning them the unfavourable and rather unsavoury label of a 'yo-yo club.'
Fulham's case reflects how difficult it is to make the step up from the Championship these days, but the Whites as a club are arguably in a better position now than they were in their last two attempts at survival — not least because of the presence of Silva and Mitrovic.
Ahead of 2018/19, more than £100m was pumped into improving the squad but these were focused in the wrong areas. The defence — which had undoubtably been the weakest part of the promotion-winning squad — wasn't adequately reinforced, and Fulham paid the price by shipping 81 Premier League goals that year, more than anyone else in the division.
Both Slavisa Jokanovic and Claudio Ranieri proved unsuited to the dual task of organising a weak back-line for damage limitations whilst still attempting to eke goals out of their strikers and both were therefore dismissed mid-season — the managerial turnover of that year hardly helped the club's already dubious bid for survival.
Fulham strove to learn their lessons before and throughout 2020/21: they didn't spend as lavishly and they showed faith in. Despite ultimately finishing 11 points below that final spot of safety in 17th, there was a hint of misfortune about last season, with the Whites often looking better than their position in the table suggested but ultimately failing to deliver at both ends of the pitch.
In the end, Parker's inability to keep them up — and his thawing of relations with the Khan family towards the end of the campaign — proved a blessing in disguise; in Silva, they now have a man at the helm who looks more likely than both the Englishman and Jokanovic to be able to carry the team's spirit, cohesion and tactical dynamism (and thus perhaps some of their form, too) from this year into the next.
The head coach's footballing principles have proven tailor-made for Championship dominance, with possession, width and pressing at the forefront of everything he tries to do with his squads. Fulham's current crop of player suit his tactical approach well, and whilst that may have to be adjusted somewhat for the step up to the top flight, there is now a clarity around the club about what they are ultimately striving towards on the pitch.
Of course, perhaps Silva's biggest achievement so far lies in the remarkable levels of output he has extracted from Mitrovic. The team has been built around him, in many ways accommodating him tactically, in the faith that the 27-year old could prove the best striker in the division, and he's done exactly that — with aplomb.
If Ivan Toney's 30 second tier goals last season was impressive, then Mitrovic making 40 this term is simply astronomical. Fulham's ability to keep hold of him last summer — something which was driven largely by the demands of Silva, who reportedly called the striker urging him to stay — has paid dividends and then some.
The worry for the Whites may well be that Mitrovic has yet to prove his quality at Premier League level but, given his yield in the Championship this year, it appears he has married with the ideal head coach with the right tools and philosophies to eke the most out of him. Ensuring his goals don't dry up this time, as they have in his last two top flight campaigns, will surely be a pivotal facet of Fulham's quest for survival.
But the truth is that the gap between the first and second tier is widening to a devastating degree. Many of the best players in the Championship simply wouldn't cut it at Premier League level, so it should be acknowledged that whilst the Whites are arguably stronger now than in their previous promotion campaigns, the league they are set to join has most definitely become a more exclusive party, too.
Can anything be taken from the fact that, as opposed to their last two promotions coming from the playoffs, Fulham have earned an automatic spot this season and look set to become champions, too? Does that raise their chances of survival at all?
Probably not. See Brentford for example, third best in the Championship last year but so much better off than Norwich City and Watford, who look set for instant returns to the second tier while the Bees buzz into their second year in the top flight.
What's done is done and, for newly promoted sides in this day and age, there is no time or opportunity to rest and reflect on their laurels the summer after going up — the key part of any Premier League survival bid now lies in the preparation. Fulham's fortunes next year will most likely hinge hugely on how they fare in the off-season transfer window.
Money rules supreme in English football these days but, fortunately for the Whites, the Khan family aren't too short in that regard. If they're prepared to get their chequebook out and back Silva in the market — and, most crucially of all, to equip him with adequate Premier League defenders — Fulham might just be in with a chance of riding the crest of this wave into the start of 2022/23 and beyond.
But more important than any new signings will be the performances of their two key footballing assets. Just as Mitrovic and Silva have been front and centre of all that's gone well for the Whites this campaign, they'll surely be their protagonists next year, too.
The soundtrack to this memorable, remarkable season on the white side of west London has consisted mainly of two chants: "Mitro's on fire," and "We've got Marco Silva, so glad you're mine!" If their pair take well to the step up to the top flight, this could well be the year that Fulham defy gravity and finally beat the drop.