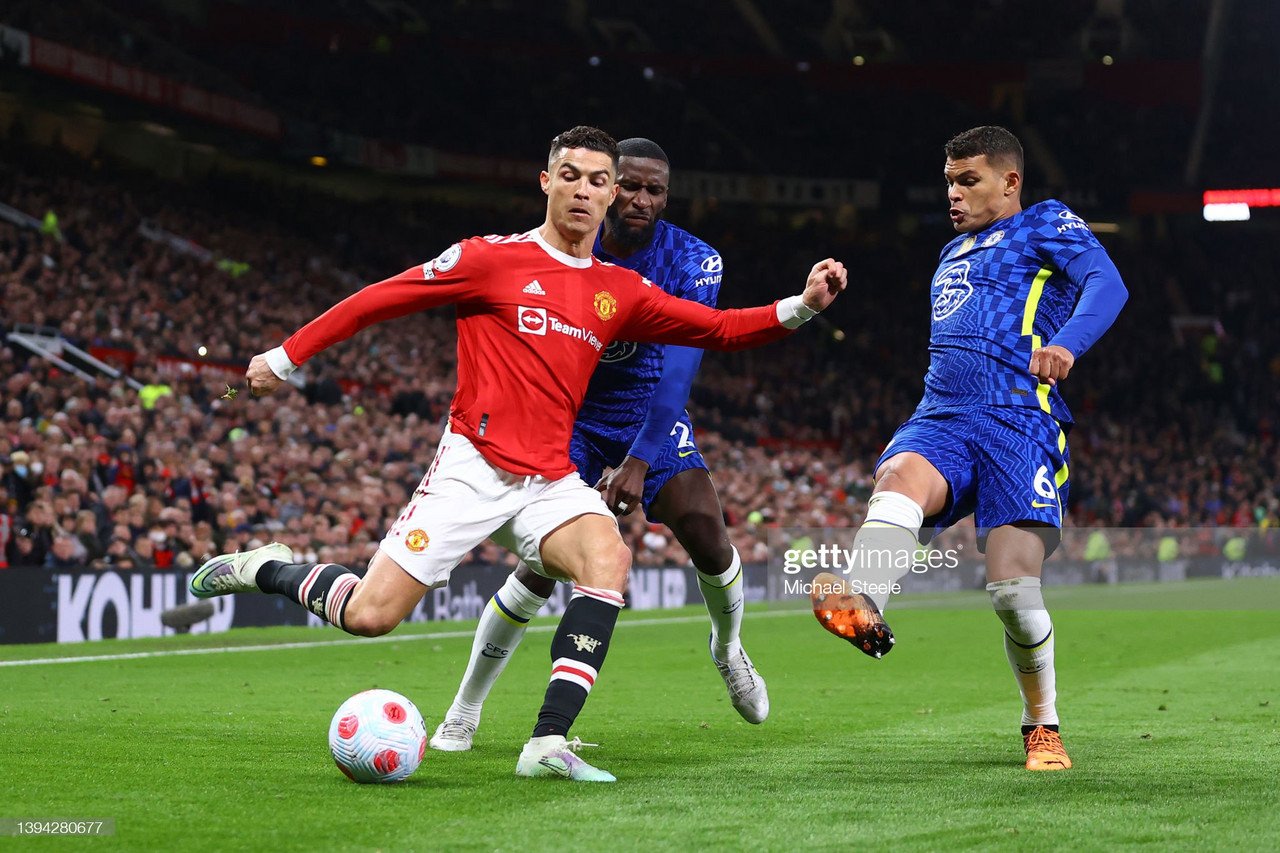 Manchester United and Chelsea shared the spoils in a 1-1 draw at Old Trafford.
Chelsea squandered numerous chances in the first half but broke the deadlock on the hour mark after a thumping volley from Marcos Alonso.
Reece James, who had generated the majority of Chelsea's attacks, scooped a cross into the box for Kai Havertz to flick on to the back post where Alonso fired past David De Gea.
A problem is a matter or situation regarded as unwelcome or harmful and needing to be dealt with and overcome. Cristiano Ronaldo has certainly overcome critics that branded him a 'problem' earlier in the season, back when United were in freefall last November.
The Portuguese striker now has 17 goals in the Premier League and five in his last three games. One of which came to rescue a point against Chelsea with a fine finish after a delightful chip from Nemanja Matic set Ronaldo up.
Story of the game
It was eery around Old Trafford long before kick-off and that transferred onto the pitch in the opening 15 minutes as the stadium remained far from capacity.
For the second home match running, United fans held protests against the Glazer family's ownership of the club.
United struggled with Chelsea's intensity and Reece James caused the hosts a lot of trouble down the right.
Chelsea's best chance in the first half came when Kante cut through United's midfield like there was nobody there before slipping through Havertz. The German should have scored but De Gea stood up to the challenge and made a good save to deny Chelsea the lead.
United came out for the second half with a lot more intensity than the first and the crowd reacted.
Chelsea's class kicked in and they started to get a hold of the ball whereas United lacked ideas going forward.
Again, it was James down the right who caused United problems as he clipped a ball into the box. His cross was flicked on by Havertz before Alonso let rip with a ferocious volley past De Gea.
It had been coming for Chelsea and somehow they were only one goal to the good come the hour mark.
But it was Ronaldo yet again who pulled his side level. It was a delightful chip from Matic to pick the forward out in the box and United's top goalscorer took a touch before dispatching past Mendy.
Chelsea nearly regained the lead with 10 minutes to play. Kante dispossessed Scott McTominay in the middle of the pitch and found Mason Mount in the 18-yard box. Mount beautifully teed up James who curled an effort that beat De Gea, but not the woodwork.
Alejandro Garnacho came on in stoppage time to make his Man United debut at 17 years of age.
The final whistle blew and United made it three games without a win, Chelsea dropped points away from home for the first time since January.