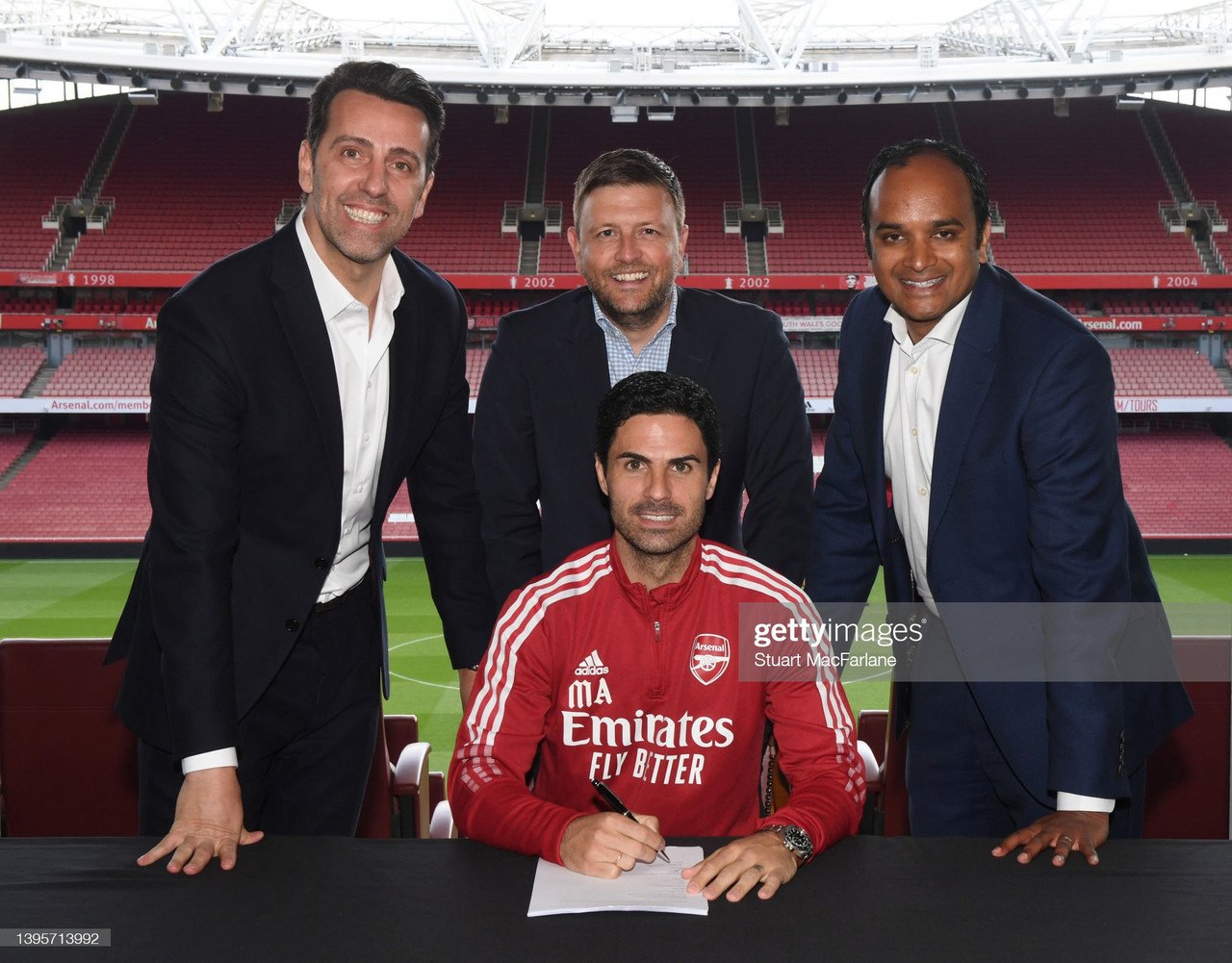 Mikel Arteta has signed a new contract extension until the 2024/25 season. The timing of the announcement has caused a stir on social media, with some believing it would have been preferable to wait until The Gunners can secure a top-four finish but others with a view that this new extension was justified.
Arteta was appointed in December 2019, taking over Unai Emery and interim Freddie Ljunberg who had Arsenal in 10th. Two-and-a-half years later, he has Arsenal sitting in fourth. Currently, they are two points clear of their arch-rivals Tottenham Hotspur but it remains to be seen if Arteta's young team can get over the line and finish in a Champions League spot.
Progress since Arteta's arrival?
Those who back this decision will proclaim that there has been clear progression since his arrival from where Arsenal were at. The Gunners had a team filled with individuals that had little spirit and compared to the team now, Mikel has the youngest squad in the Premier League. with an average age of 24, fighting for a top-four finish. Not to mention, Arteta won the FA Cup in his first season, following a Community Shield victory too.
There has evidently been a shift in mentality with the players, closeness with the fans and a playing style that is identifiable. Journalist for The Athletic, David Ornstein says that Arsenal are "Ahead of schedule" if they finish in a Champions League place. This demonstrates there is backing from Arsenal's owners, The Kroenke's; Offering a contract after back-to-back 8th place places illustrates they also believe in the long-term process.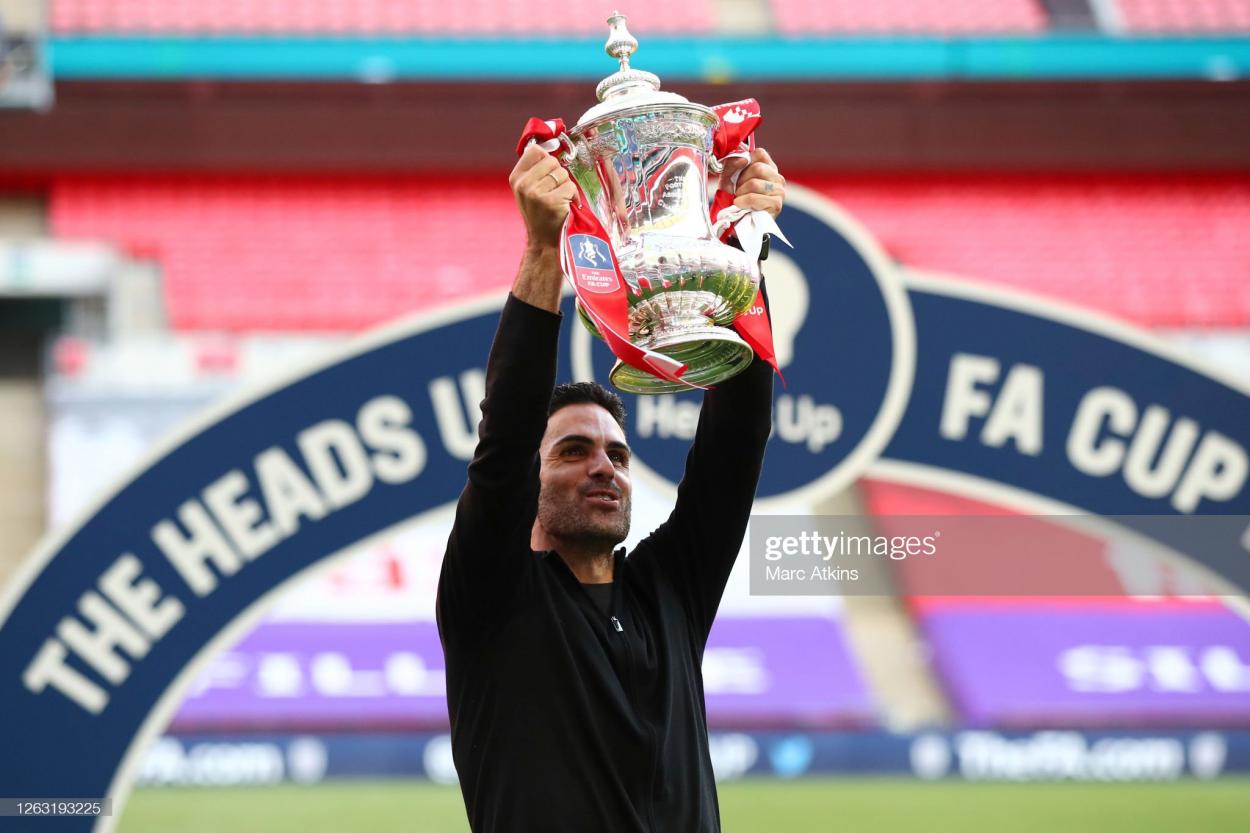 Competing with Bayern Munich? Not anywhere close
That famous quote "We can compete with Bayern Munich" from Ivan Gazidis...remember him? Some Arsenal fans still hold the club to these standards. The Gunners have finished 8th in the last two seasons and even though a trophy was won, Arsenal exited early in the FA Cup and had a poor showing against Liverpool in the Carabao Cup. A semi-final exit in last years Europa League also gave these fans another reason on why an extension was not justified. Last season had many on the edge whether Arteta was the right man for the job, but after that dismal December spell, Arsenal found some consistency even though finishing 8th.
If The Gunners do get fourth place, there are still those in the fanbase who believe this is not an achievement; Arsene Wenger was hounded out by a certain section of the fanbase for finishing 4th consistently and not mounting a title challenge or close to winning a Champions League trophy since 2006.
Right timing or Poor judgement?
Arteta stated in his latest press conference that the club offered him the contract after the three consecutive losses to Crystal Palace, Brighton FC and Southampton FC. He said he "got emotional" because "things like this don't happen" regarding how the club are backing him and his project. Mikel himself believes this was the right time to be announce this new deal yet there are those who believe the board should have waited.
What if Arsenal lose the next game? What if Arsenal don't make the top-four? What if Arsenal lose the North London Derby?
Many unanswered questions but the ultimate conclusion is that The Kroenke's and the Arsenal board have trust in Mikel Arteta, no matter the circumstance. A majority of the fans are also on his side, the culture has finally changed and the wage structure has been decreased to allow more freedom. These are changes that fans wanted and Arsenal needed. Only time will tell if he will be a success. So Super Mik Arteta... can he bring Arsenal to the Champions League?
Arsenal face Leeds United this week at The Emirates Stadium with kick-off at 2pm on May 8 2022. A live blog will be provided by Vavel.