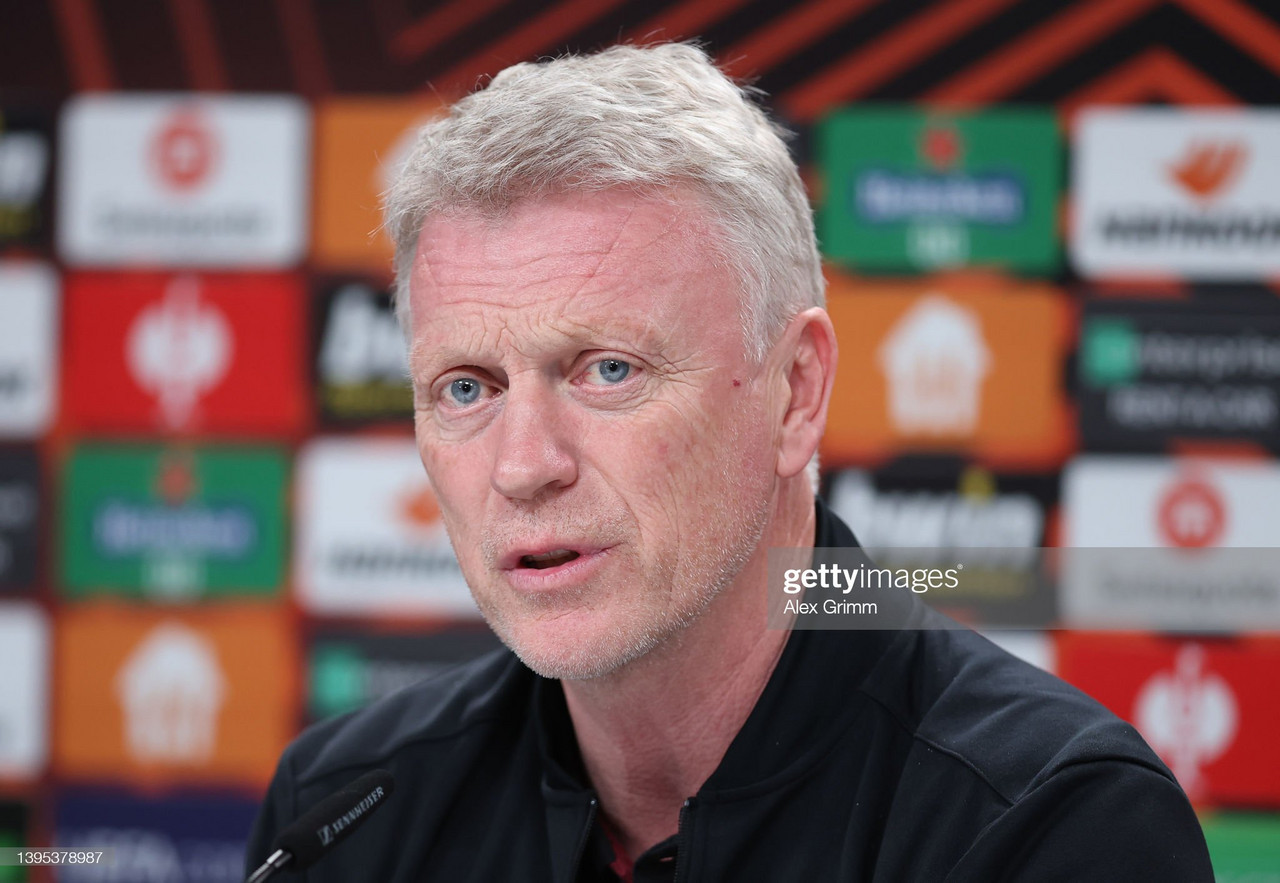 Ahead of West Ham's mammoth game in Germany on Thursday night against Oliver Glasner's Eintracht Frankfurt, David Moyes took questions from journalists about the UEFA Europa League semi final.
The Hammers go into the game currently losing 2-1 on aggregate following a first leg defeat at the London Stadium last week, courtesy of goals from Ansgar Knauff (after just 51 seconds), as well as Daichi Kamada too.
During the press conference, Moyes gave some updates on his squad's fitness and team news, how he thought the first leg went for the Hammers and his expectations from the forthcoming match.
Here are the five key quotes from when the Scot addressed the media earlier today...
On the atmosphere
'I actually think we've enjoyed the atmospheres in the stadiums [in previous rounds]. We had an incredible atmosphere in Seville. I've watched several games here - the national team, Frankfurt - and a lot of the atmospheres in the stadium have been great.'
'This is what the players want and what we want. For two years we've been watching with nobody in the stadiums. Even though we're the away team, we're looking forward to what Eintracht Frankfurt are going to show us in the stadium.'
You may think that, with the reputation many European clubs have for being able to create hostile atmospheres in their home grounds at such big occasions, West Ham and David Moyes may be a little apprehensive at what they might face.
Judging by the manager's words however, it seems the feeling among the Hammers is far from that - if anything, the noise created could serve as an extra incentive for the away side to overcome the odds and progress to the final.
Of course, the pandemic led to games having to be played behind closed doors, which highlighted the extent of the impact fans really can play during matches - and it seems this huge night in Frankfurt will be no exception.
On the first leg
'I don't think I learnt anything new about Frankfurt [after the first leg in London] because I knew about the style they play in. There are quite a few people in Germany I speak to regularly as well. I thought the two teams were quite even on the night.
'We may see something different tomorrow night, but we think we've got as good an opportunity as them. We have to chase the game because we're one goal down, but in the same breath they're the ones who have to protect it.'
Last time out against tomorrow night's opponents... Plenty to play for in Germany 👊#UEL | #SGEWHU pic.twitter.com/OjH7uiJ1zy

— West Ham United (@WestHam) May 4, 2022
Evidently the first leg didn't end up producing the result West Ham fans would have been hoping for, especially considering it was played at their own ground, though they have certainly still left themselves with more than a decent chance of getting through.
Moyes appears to be fairly calm when it comes to assessing his opponents and how they play - not arrogant, of course, as he notes the evenness of the game on the night, which most supporters would probably agree with.
And while he recognises that the onus is on the East London side to go out and get a goal, else they will exit the competition, he is right to point out the pressure on Frankfurt, in front of their own fans, to protect that lead too, meaning the stakes are high for both teams.
On team news
'At the moment, everybody is [fit]. Ben Johnson had a thing strain, but seems to be okay. Issa Diop had a problem with his ankle but has made an incredible recovery.'
'Is he a hundred per cent? Maybe not, but we're at the stage of the season where we need to take one or two risks in getting him back in the squad.'
Up until very recently, there had been quite a few concerns when it came to the fitness of most central defenders within the West Ham squad for Moyes to choose from, with almost all of them out with injuries.
It led to a rather makeshift back three being utilised against Chelsea, in which a formation change was also required, but it seems now that those selections headaches are behind the team and they can focus on the upcoming game at hand.
Now, the only player who won't be available to face Die Adler in this second leg clash will be Angelo Ogbonna, with the 33-year-old remaining sidelined as a result of the long term injury he picked up back in November of last year.
On the potential significance
'Getting to the semi final of a cup competition like this is really important. To be in a semi final here with West Ham is huge for us as a football club. I've got a great group of players - resilience, character, all those things that go with it.'
'It wasn't too long ago we were fighting relegation. It's been a great climb and I see no reason that shouldn't continue. I don't want to go back. I'm trying to give a new West Ham because I want people to see a new young team.'
This is it.

Who will make it to Sevilla? 🤔#UEL pic.twitter.com/8lb8Oep9um

— UEFA Europa League (@EuropaLeague) May 5, 2022
It's easy to forget quite how quick this meteoric rise to European success has been for West Ham, with the past two seasons producing some of the most unbelievable results for the Hammers in many years.
After all, just under two years ago this same club was in a relegation scrap at the end of the 2019/20 season, finishing just five points above the drop in a dismal 16th place, with hopes of top half seeming difficult to achieve in the following campaign.
Against al the odds though, Moyes galvanised his squad and led them to an extraordinary sixth place finish - above the likes of Tottenham Hotspur and Arsenal - which led them to the journey they have been on this year.
On Declan Rice
'The biggest thing I've seen is the mentality change in the players here. It's incredible. I say to Declan [Rice] every day you have to drive them on, the levels. He has to bring his experience with England back and demand that from the other boys.'
'We also mustn't put too much on his shoulders. I challenge him a lot but we need to get a whole team performance. We need Dec to drive us on but we need a steady, experienced head. '
There have been a multitude of players who have shown their importance to the Hammers during the course of this season, particularly in the Europa League, including Jarrod Bowen, Michail Antonio and Aaron Cresswell.
But perhaps the one who has been the most crucial to Moyes' side is that of Declan Rice, who has effectively become the captain of West Ham, given the fact the club captain, Mark Noble, rarely plays as much nowadays.
The coach is right to reference the midfielder's leadership skills, as well as the fact he can draw on his experience in big games with his country - such as the Euro 2020 final against Italy last summer - and use it to help his teammates to prepare for one of West Ham's biggest games in living memory.