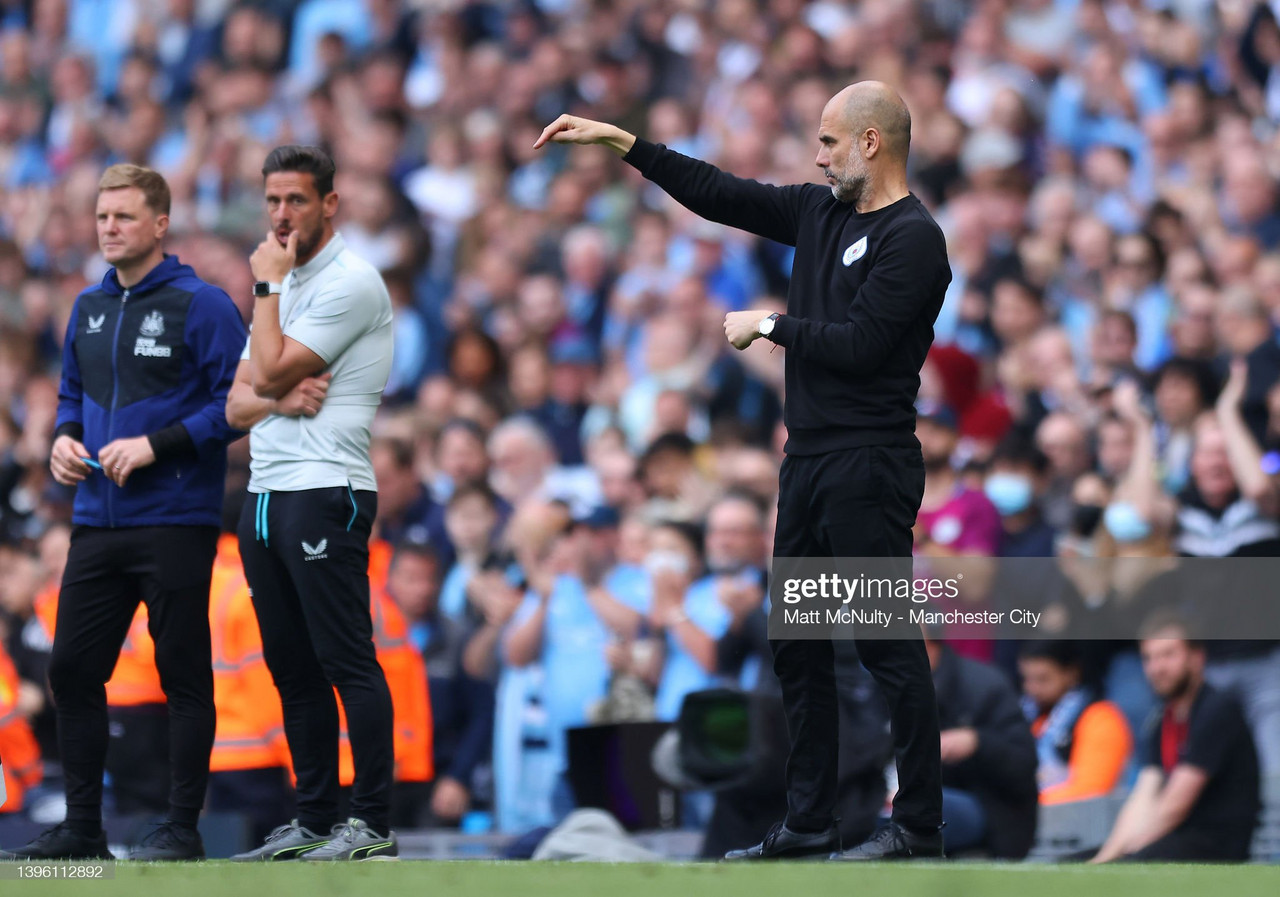 Manchester City bounced back from their UEFA Champions League exit with a crucial win against Newcastle United on Sunday afternoon.
City's win - coupled with Liverpool's draw against Spurs - means that Guardiola is just seven points away from a fourth Premier League title during his reign at City, but he isn't taking anything for granted just yet.
"Did you have any doubts?
"I am very pleased, it was a perfect afternoon. Just before the start of the game I felt that our crowd they were disappointed but not grumpy and upset and sad about who we are as a team.
What we have done today we have done in the last five years every three days so yeah it's three more points and three left to play.
"We have big problems because we have just three defenders for these three games but we will do it in terms of we are going to try.
"After what happened with Liverpool yesterday into our game today, Wednesday [Wolves (A)] absolutely becomes a final for us. If we are able to win maybe we are able to arrive in the last game at home with our people to try and back it back-to-back [Premier League titles].
"That is why Wednesday is absolutely a final and I'm pretty sure that we will prepare to try and beat them."
"In the locker room most of the time with the players we talk about our away fans, when we play away always they are really really good.
"Sometimes I say to the players they have to play good to lift our fans to make them feel that here is not a nice place to come but today, even before the game we didn't need to because the people are not stupid.
"They deserve my admiration and recognition as one of the best groups I have ever had in my entire life as a manager or even as a football player."
On Three Points
"It's just three points. It is important after the result yesterday between Liverpool and Tottenham but of course anything can happen in football.
"If it happened in 56 seconds three days ago then it can happen in three games and that's why we must be calm and prepare for Wednesday against Wolves.
On Set Pieces
"Of course, it's so important. I think many times the taker is vital for the set pieces and of course, we have you know a strong player in that position and that makes Carlos [Vicens] an incredibly easy job in terms of what you have to do or believe where are the spaces where you could attack.
"Two goals from them, the second one it was inspiration from Kevin [De Bruyne] and Gundo [Ilkay Gundogan] so nobody was involved in that and yeah it was really good in those terms."
On Injured Defenders
"Kyle [Walker] and John [Stones] is the end of the season. Ruben [Dias] is the end of the season.
Ruben [Dias], Kyle [Walker] and John [Stones] are out until the end of the season, pre-season maybe they will be ready."
"I think [Fernandinho] is a lot [important] otherwise we'll have to play CJ [Egan-Riley] or Luke M'Bete.
"Honestly in this situation, it's not a problem, if Rodri has to play in that position he will play there and I don't know what to play now that we have the academy.
'We have 13 and a half players available for these three games no more than that and when that happens everyone has to do more. to be more and do more to help with our absence and the problems that we have."