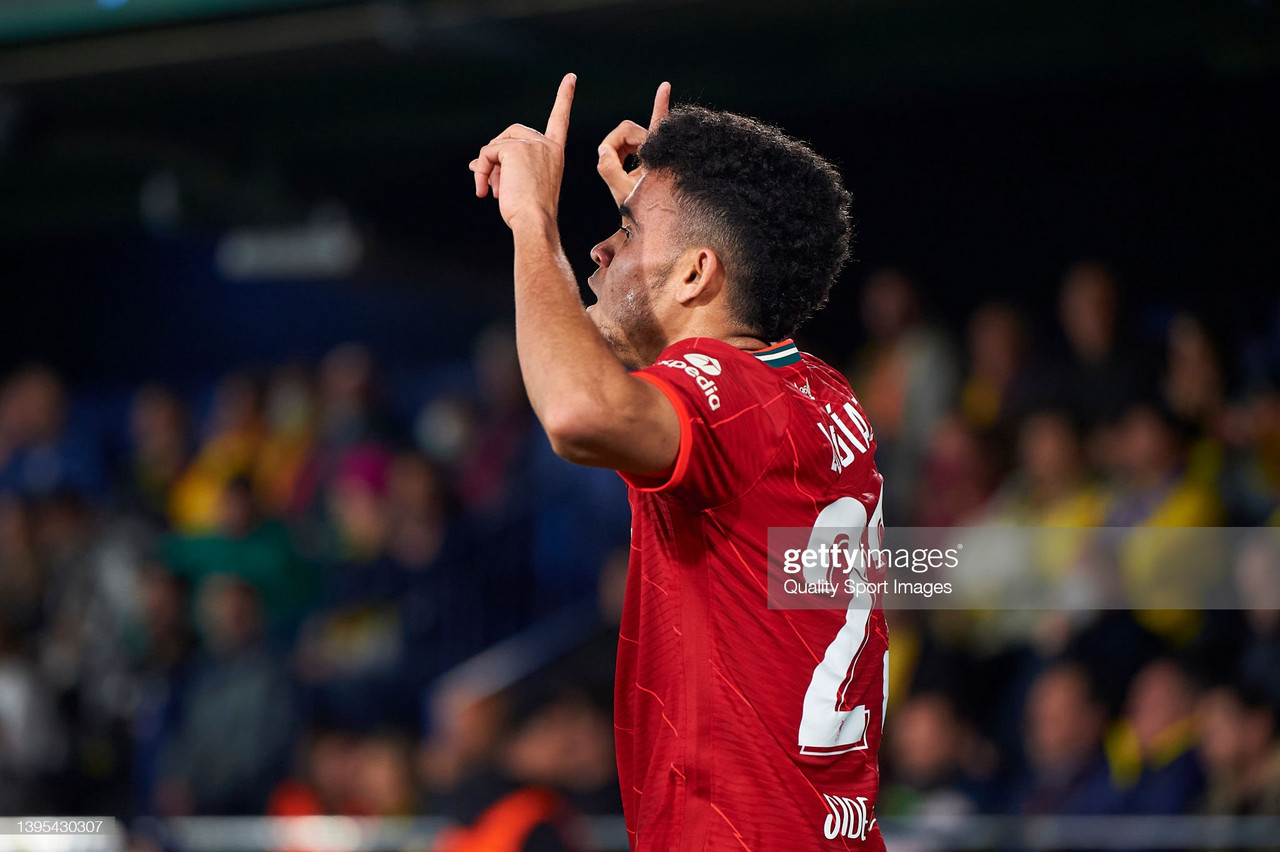 A new hero on Merseyside
Outstanding since his January arrival, Luis Diaz has certainly introduced himself to the Liverpool faithful. In the words of Gary Neville, the Reds have 'found another one'. Liverpool never fail to impress, do they?
The Colombian has five goals and two assists to his name since arriving from FC Porto in the January window. But there's more to his game than just an output infront of goal. The full package. He's a player you'd pay good money to see live.
Lightning speed, flicks and tricks, no look passes, yet an engine that never seems to tire. He has the lot. Heavy metal football incarnated into a man. A proper Jurgen Klopp player. Liverpool really do have another gem on their hands. Diaz, Jota, Mane, Salah and Firmino. There's a reason in itself why Liverpool are eyeing up an infamous quadruple.
A Champions League final beckons for Liverpool, and it owes a lot to Diaz himself. Liverpool's first leg 2-0 advantage was cancelled out by a dominant first half display by Villareal under the lights in the cauldron of the Yellow Submarine.
The interval saw the introduction of the Colombian, and what came next epitomised his start to life in Liverpool. Boy he's good, isn't he?
Diaz ignited a much-needed spark into what had been a poor outing from the Reds. Frightening to watch, and even more frightening to play against. Diaz got them playing 'The Liverpool way'. On the front foot.
He was crucial in Liverpool's emphatic second half display. His man of the match performance was topped off with a goal too. He made no mistake in heading home from a trademark Alexander-Arnold cross.
A young, malnourished boy, raised in La Guajira, one of Colombia's most neglected areas. Diaz' hobby was to watch trains pass by in the village of Barrancas, that were destined for Europe.
But despite the torment he endured, little did this young lad from La Guajira know, his destiny matched these trains. Setting Europe alight. Diaz says he treats every game as a chance to seek revenge for his difficult past, and his performances would suggest hes achieving this and more.
When asked about his self-belief, Diaz said: "It comes from my roots. I always played football in my town, in my homeland.
"They are my characteristics; they have instilled in me several things that I have today and now I have grown much more. That's my game.
"Each game is a revenge for always going out to look for more, I know what it costs, and I have to take advantage of every moment, every minute I have."
The quadruple is well and truly on for the Reds, but for Diaz, he could end up with a sextuplet. Eligible for a league and cup winners medal if Porto are to enjoy a successful end to the campaign, he seems to make an impact wherever he goes this lad.
Klopp announced his stay at Anfield for another two years last week. And you know what that means. There are trophies to be won, memories to be made, and there's no hiding that Diaz will be at the centre of this.
Loved by his teammates, adored by his fans. He's only been here what feels like five minutes but plays like he's been here for an eternity. Luis Diaz. A new star in town, and this is only the beginning.