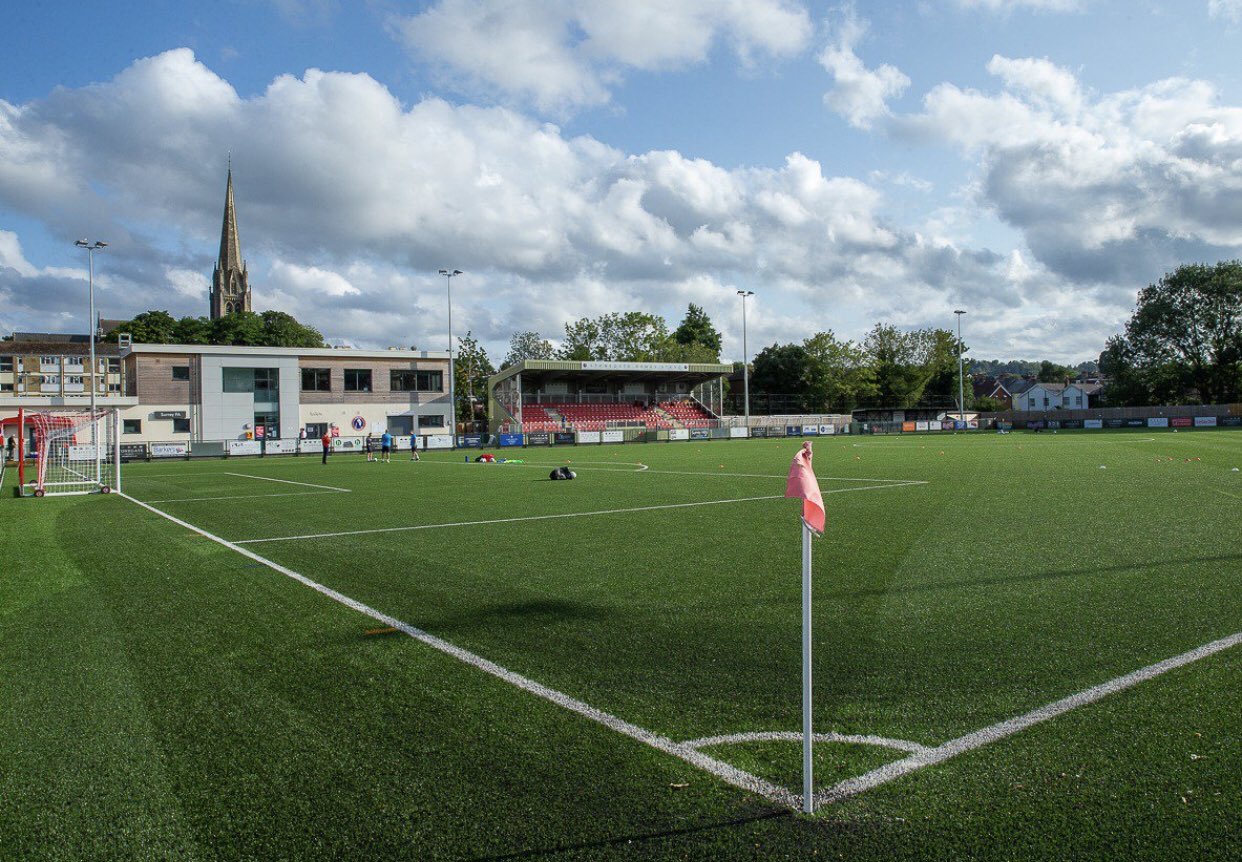 Dorking Wanderers' meteoric journey reached another seismic milestone last weekend as they secured second place following a ferociously-contested title battle with eventual winners Maidstone United, whom they'll now be seeking to join in the National League via the play-offs.
Representing the first hurdle towards that ambition will be an Oxford City side fuelled by the confidence of winning Wednesday night's eliminator against Eastbourne Borough 2-0 by virtue of goals from Elliot Benyon and George Harmon.
This extended their unbeaten run to five games ahead of this weekend's crucial battle at the division's sternest hunting ground Meadowbank, where only two visiting sides have triumphed all season.
While the visitors will justifiably be instilled as underdogs after finishing twelve points behind Dorking, whom they also lost to twice in the regular campaign, this however matters little in a format where unpredictability often supersedes logic.
Oxford City ended the campaign encouragingly, with strong form of only one defeat from eight - namely 1-0 at fellow play-off semi finalists Chippenham Town around Easter - which they then carried into the play-off eliminator at home to Eastbourne.
However, their record against teams around them is a concerning omen to say the least, with victory against Ebbsfleet United in November their solitary one from twelve games against the remainder of the top seven.
Dorking, by contrast, have been exceptional on that front as they've beaten all of those sides at home. They also rounded off their season in impressive fashion by reaching an incredible 100 goal milestone.
Recently, they've demolished Welling United and Concord Rangers while also coming from three down to beat Dulwich Hamlet 4-3. Their last two away fixtures proved frustrating, though, with a reverse at St Albans then draw versus Hungerford Town.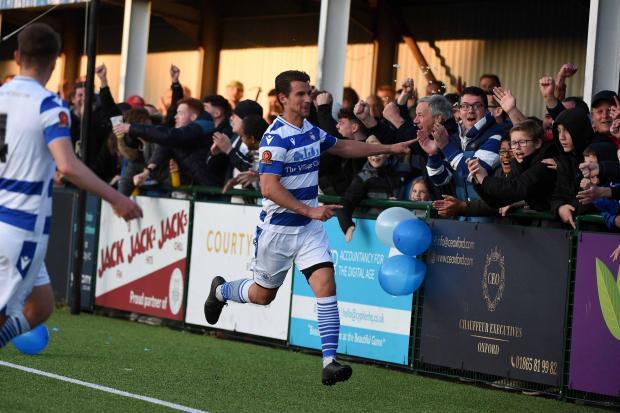 Elliot Benyon celebrates after giving Oxford City the lead in Wednesday night's play-off eliminator. (Image: Mike Allen)
DORKING WANDERERS: Dan Lincoln, Bobby-Joe Taylor, Ed Harris, Dan Gallagher, Isaac Philpot, Barry Fuller, DJ Oldaker, Wes Fogden, James McShane, Alfie Rutherford, Jason Prior
OXFORD CITY: Ben Dudzinski, George Harmon, Charlie Rowan, Zico Asare, Dan Matsuzaka, Reece Fleet, Canice Carroll, Josh Ashby, Zac McEachran, Elliot Benyon, Joe Iaciofano
Dorking boast the Golden Boot winner in striker Alfie Rutherford, who spearheaded his side's promotion bid by netting thirty times in the VNL South and has consequently cultivated a deadly reputation, which Oxford City will know all about having conceded a treble to him on home soil.
Injury largely inhibited a promising partnership with Jason Prior, but the centre-forward is now fully recovered from his broken collarbone injury and in recent weeks has begun providing further goals to a side that already netted a frightening amount in his absence.
Moving over to the opposition camp, where the visitors also boast a dangerous frontline. Joe Iaciofano was their top scorer by an enormous distance with 22, having also been prolific at his previous club St Albans City, and will certainly pose the greatest threat for his side.
Behind him lurks creative technician Zach McEachran, who frequently loiters in vacant pockets of space to draw out defenders and open up avenues for teammates.
Dorking completed the league double over Oxford City and ironically were responsible for ending their unbeaten home and away records through those results.
Back in December, Marc White's side triumphed 4-2 thanks in no small part to that aforementioned hat-trick from Rutherford, alongside James McShane's contribution. Joe Iaciofano and Josh Ashby were on target for the hosts, who nonetheless remained top despite the disappointment.
Two months later and the teams reconvened under the Meadowbank floodlights, with Dorking the league leaders this time, for a clash that proved far cagier as epitomised by the nature of the winning goal - DJ Oldaker's free-kick squirming underneath the body of Ben Dudzinski. The highlights for that game are linked below:
Every ticket for this game has been sold but there are still ways to follow the action, the most reliable of which is the dedicated matchday commentary available through the twitter handle @LiveDWFC. There will also be coverage via the BBC Sport portal.