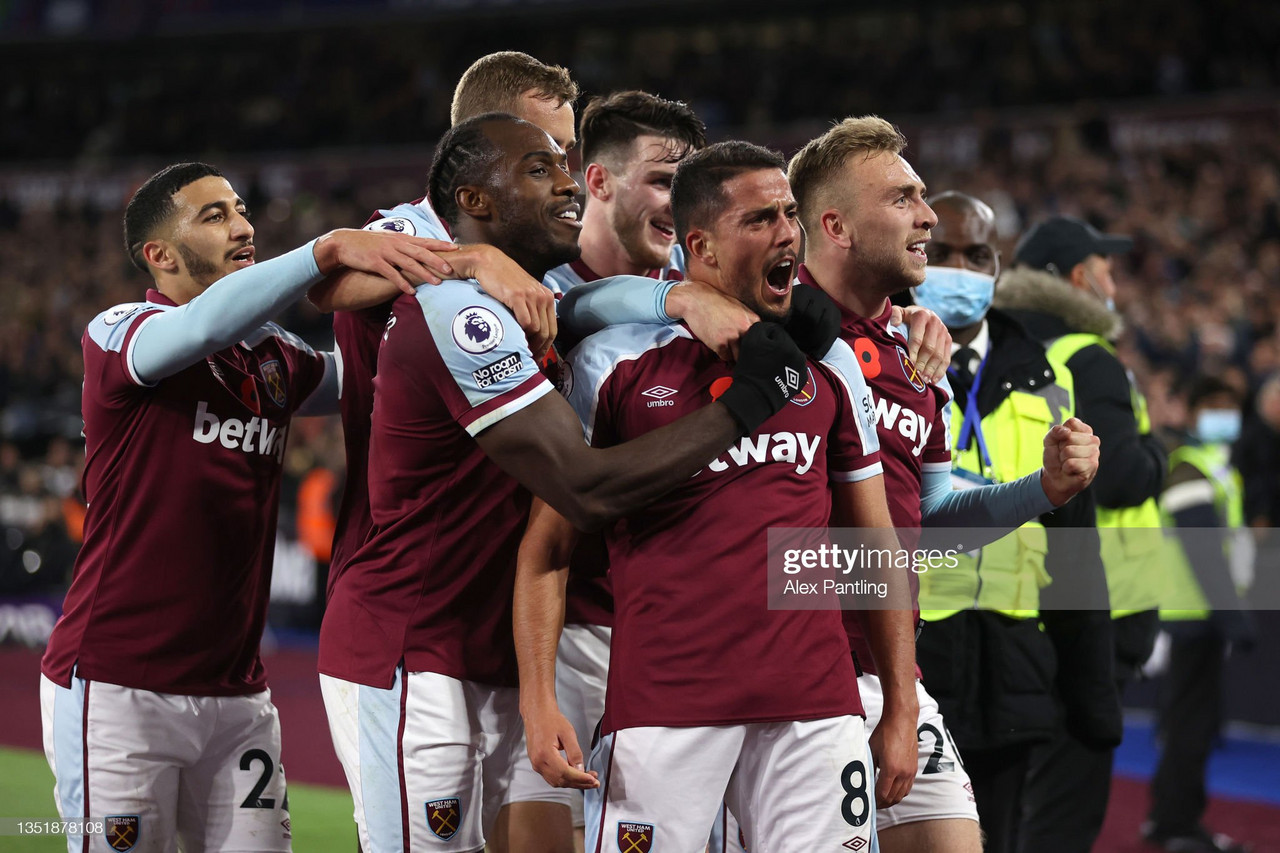 To begin their 2022/23 Premier League season, West Ham United will face reigning champions Manchester City, in the primetime Sunday evening slot of 4:30 PM BST.
The Hammers almost spoiled the Citizens' title hopes last campaign, holding them to a 2-2 draw at home, and they'll be hoping to cause problems once more at the London Stadium.
David Moyes' team will have their first away trip the following weekend, facing newly-promoted Nottingham Forest at the City Ground, before playing Brighton and Aston Villa home and away respectively.
To finish off August it's a first London derby of the season, as West Ham go up against Tottenham Hotspur in a midweek clash at the end of the month.
Another cross-capital clash takes place a week later, as last season's Europa League semi-finalists make the trip across to West London to face Chelsea, then having games against Newcastle United and Everton in the remainder of September.
It's a busy October in store, with no fewer than six scheduled games, the most notable two being trips to the North West to face Liverpool and Manchester United.
A home game against Bournemouth is sandwiched in between those aforementioned matches, while Wolves, Fulham and Southampton are the first three fixtures after the international break.
Owing to the calendar being altered for the World Cup, there's then two more games in November, against Crystal Palace and Leicester City, before some players jet off to Qatar.
Arsenal away is the first game back on Boxing Day, and meetings with Brentford, Leeds United, Wolves and Everton take the Hammers up to the end of January.
February contains two more London derbies, with Chelsea and Tottenham the opponents, while Newcastle and Nottingham Forest lie either side of that exciting double header.
Throughout March and April the standout games include a trip to the Etihad Stadium to face Man City and two tough home clashes against Arsenal and Liverpool.
The final run-in involves fixtures against Man United, Brentford and Leeds - which is the final home game of the season.
Moyes and his team will finish off the campaign with an away trip to the King Power Stadium, where they'll face Leicester on the 28th May 2023.
Games to look out for
August 7th: Manchester City (H)
August 30th: Tottenham Hotspur (H)
September 3rd: Chelsea (A)
October 19th: Liverpool (A)
October 29th: Manchester United (A)
December 26th: Arsenal (A)
January 2nd: Leeds United (A)
February 11th: Chelsea (H)
February 18th: Tottenham Hotspur (A)
March 18th: Manchester City (A)
April 15th: Arsenal (H)
April 25th: Liverpool (H)
May 6th: Manchester United (H)
May 28th: Leicester City (A)
Opening day 🆚 Manchester City
Boxing Day 🆚 Arsenal
NYE 🆚 Brentford
Final day 🆚 Leicester City

Which dates have you got your eyes on for 2022/23?#PLFixtures 🗓 pic.twitter.com/V9uVvdvfe3

— West Ham United (@WestHam) June 16, 2022
Full List of West Ham Fixtures*
*All Premier League fixtures are subject to change
August 7th: Manchester City (H)
August 13th: Nottingham Forest (A)
August 20th: Brighton (H)
August 27th: Aston Villa (A)
August 30th: Tottenham Hotspur (H)
September 3rd: Chelsea (A)
September 10th: Newcastle United (H)
September 17th: Everton (A)
October 1st: Wolves (H)
October 8th: Fulham (H)
October 15th: Southampton (A)
October 19th: Liverpool (A)
October 22nd: Bournemouth (H)
October 29th: Manchester United (A)
November 5th: Crystal Palace (H)
November 12th: Leicester City (H)
December 26th: Arsenal (A)
December 31st: Brentford (H)
January 2nd: Leeds United (A)
January 14th: Wolves (A)
January 21st: Everton (H)
February 4th: Newcastle United (A)
February 11th: Chelsea (H)
February 18th: Tottenham Hotspur (A)
February 25th: Nottingham Forest (H)
March 4th: Brighton (A)
March 11th: Aston Villa (H)
March 18th: Manchester City (A)
April 1st: Southampton (H)
April 8th: Fulham (A)
April 15th: Arsenal (H)
April 22nd: Bournemouth (A)
April 25th: Liverpool (H)
April 29th: Crystal Palace (A)
May
May 6th: Manchester United (H)
May 13th: Brentford (A)
May 20th: Leeds United (H)
May 28th: Leicester City (A)
🗓 Our 2022/23 @premierleague fixtures...#PLFixtures pic.twitter.com/vZEEc5QaB2

— West Ham United (@WestHam) June 16, 2022