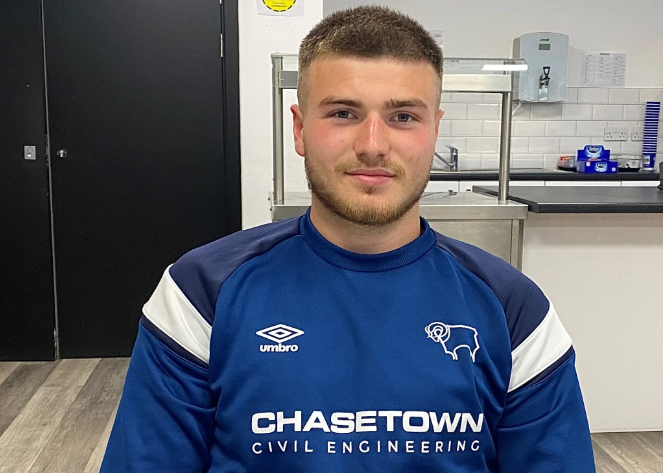 When some think of the next generation of footballers, they think of loud, flashy, and conceited. However, young Alfie Roberts is anything but. His radiant grin invites me to ask about his time at Derby County as I sit down in front of him at Moor Farm. "I've loved every day of it," he laughs, politely pulling his chair closer to the table.
Roberts is a local boy who was plucked by the Rams from the youth ranks of rivals Nottingham Forest seven years ago. He joined the club and has risen through the age groups during perhaps the most transformative years the academy has seen in recent history.
Here he is now, on the brink of his professional breakthrough. He is looking forward to the next step of his career, remaining upbeat and in high spirits, despite his team's relegation.
The best job in the world.
"The opportunities here are unbelievable," he says with another smile. "You see, with the young lads coming through, the opportunities are there, and everyone will get a chance.
"Especially next year with the club going into League One. There are as many lows as there are highs in football, but this is the best job in the world, and there will be younger lads who get a chance next season thanks to the relegation; it could be a blessing in disguise."
But what about himself? A brief pause ensues.
"I try not to make plans. It's a bit of an older head approach," he responds jovially. He believes comparing himself to others can lead to losing track of his development and wishes to simply push the limits to improve himself.
It is intriguing to find out what Roberts compares the art of goalkeeping to. "I think of it as the subject of English. In Maths, for example, you have a definite answer. But in English, you have hundreds of different ones!
"You look at Spanish, Brazilian, or even English goalkeepers in the Premier League. They all do little things differently, and everyone has their style. I know I am not the tallest in the scheme of being a goalkeeper, so I know I must be quick and agile."
Roberts joined Matlock Town on a one-month deal last November, an experience he visibly cherishes due to the size of the smirk he emits when the topic is brought up.
"I loved every minute of my time there. The men's game is a huge difference from the under 18s and under 23s level, and I learned so much there. It was a great experience even though I didn't play as it helped me a lot with my anxiety."
A deep thinker who has grown immensely as a player and as a person since his loan move, the maturity the 17-year-old speaks with – when describing how he learns from mistakes – is so far beyond his years that he is obviously cut from a different cloth to the rest.
"I look at my mistakes and don't shy away from them. I watch them. I tend to not look at the stuff I've done well because I don't have to. But the stuff I've done bad: I watch, I watch it again from different angles, and I think about it. The moment. The pressure. What it all felt like. That's when you learn.
"It is tough because I am the last man, and if I make a mistake, it usually results in a goal. But I think you're going to have a million more games in your career, so it's better to make them now and learn from them than make them in the first team.
"If I drop a clanger, I push it to the back of my head. My teammates might be a bit annoyed, but I can't take it back. You can't reverse time once the moment is gone. Everyone makes mistakes; I make a million in daily life.
"The most important thing is the next thing I do has to be perfect."
As Roberts finishes speaking, I find myself sitting silently in disbelief. Still trying to process the charisma and energy of this young man; eventually, the topic moves away from football.
The poison of social media
When I ask where he gets his wisdom from, he does not miss a beat. "My family," he laughs. "Family is the most important thing for me and will always come first over everything."
Unlike most teenagers, who like to party, play video games, or even use social media, the goalkeeper prefers to spend his time outside the walls of his house with his girlfriend, away from football. He treasures walking his dog and believes it allows him to keep grounded.
The mention of social media receives a firm shake of the head from the academy player. Then, hesitating, choosing his words carefully, he says: "It's the worst thing that has happened to this world.
"It ruins people; not necessarily careers, but people's confidence, and in football, confidence is a massive thing. If it were gone from Earth tomorrow, I would not miss it one bit."
Goalkeepers often get labelled as mad or unique, and Alfie is no different. In just a ten-minute conversation it becomes apparent he is a gifted young man who possesses a unique mindset. If his career goes on to be even half as great as the way he speaks and carries himself, then the sky is the limit for the young star.