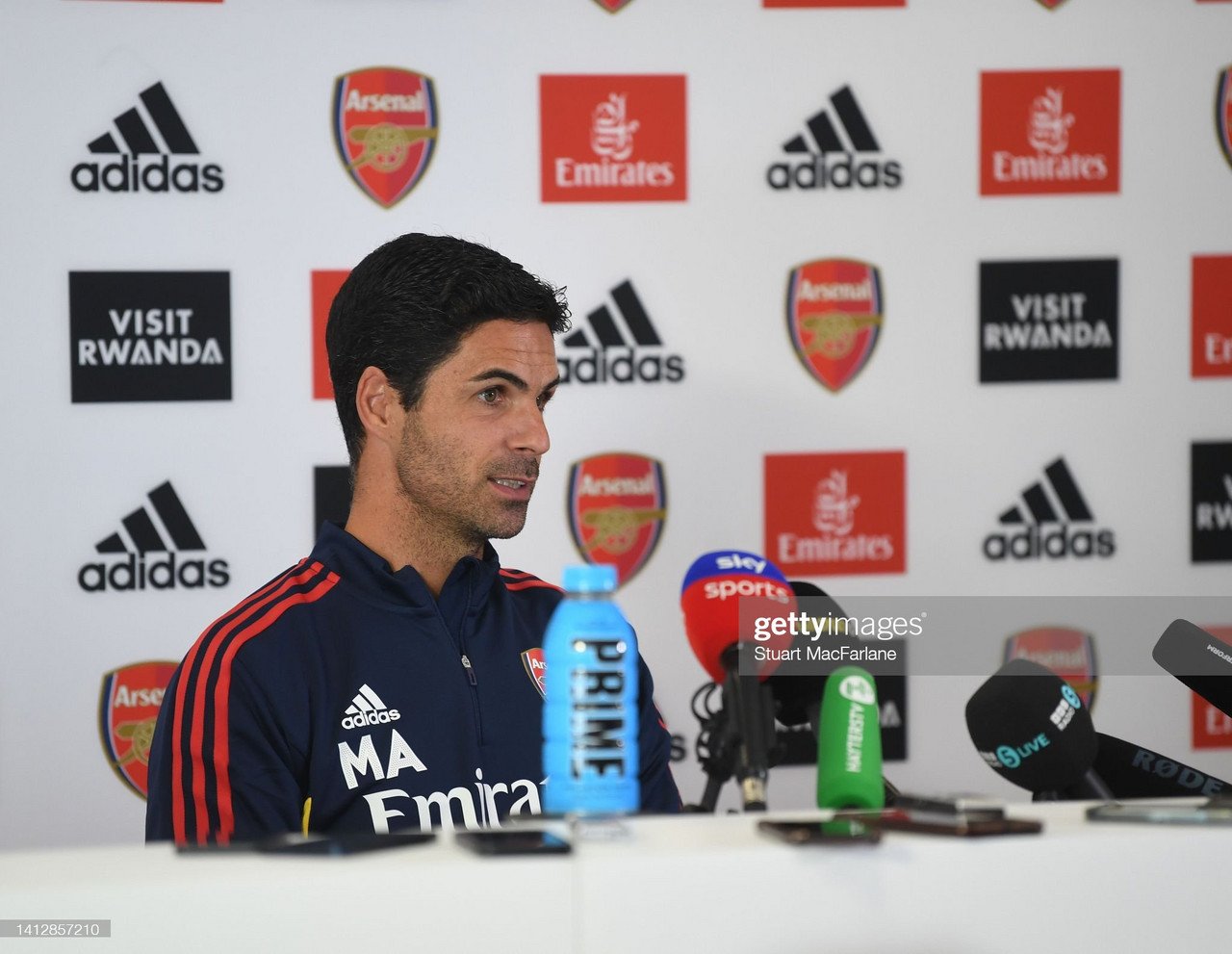 After a fairly short summer, the Premier League season is set to return on Friday night when Arsenal take on Crystal Palace in what promises to be a thrilling atmosphere at Selhurst Park.
Arsenal fans may still be having nightmares when it comes to playing away at Palace after The Eagles thrashed them towards the backend of last season 3-0.
Gunners boss Mikel Arteta expressed his excitement to get started ahead of the new season this afternoon when speaking to the media.
He said: "We are all enthusiastic, we had the pre-season we wanted, we were more organised and had good results, good performances and good preparation.
"The ball starts to roll tomorrow evening and it's completely different context against a Premier League team and we know what to expect there.
"We are with the level of energy and ambition to have a successful season and we have to show that on the pitch tomorrow night."
Arteta's squad now, is there no excuses?
The Arsenal boss was however incredibly clear when questioned if this is the first season where it feels like he has his players and his squad.
He said: "It's always been my team because they are our players and we have always had the intention to get the best out of them but it's true we have streamlined the squad and changed it massively in the last two windows," he said.
Expectation on star man Gabriel Jesus
The Gunners new number nine Gabriel Jesus is expected to start against Crystal Palace on Friday having been a regular on the scoresheet in pre season since signing from Manchester City for a reported £46.98m.
Arteta said: "When you bring top players from top clubs people will have expectation, the role that Gabi has here is going to be very different to the role that he had at his previous club, and then some adaptation and some time.
"He's done fantastically well and we're all surprised how quickly he's done it but we have to share that responsibility, he is an enormous talent and a player with a mentality that is so contagious and is going to give us a lot."
Palace a tough opposition on Friday night
As stated earlier Crystal Palace are no walkover in the Premier League, with Arsenal falling to a heavy defeat at Selhurst Park last season. Mikel Arteta vowed that his side have to learn from their mistakes there last campaign when they travel there Friday night.
"They [Palace] showed last season how tough they are to beat and how consistent they were at home.
"They got some great results, including that result against us and hopefully we learned a lot of lessons that day especially the 30 minutes in that game where we were no where near the standards that we needed and we paid the price for it."
Arsenal were unbeaten this pre season, scoring 20 goals and winning all five games in their preparation. This is a stark contrast to this time last year, when the squad was hit with a covid crisis just prior to the opening game at Brentford where Arsenal lost 2-0 on a disappointing night at the Brentford Community Stadium.
"Everything that happened before Brentford was pretty strange and unique, the preparation , the preseason that we had, different context, we are really excited and looking forward to the new season now."
Any more incomings?
The Gunners have already spent in excess of £100m this transfer window, strengthening the squad in some key areas ahead of the new campaign, Can Arsenal fans expect much more though when it comes to incomings?
Arteta said: "We are really active as you can see with incomings and outgoings, everything is still open."