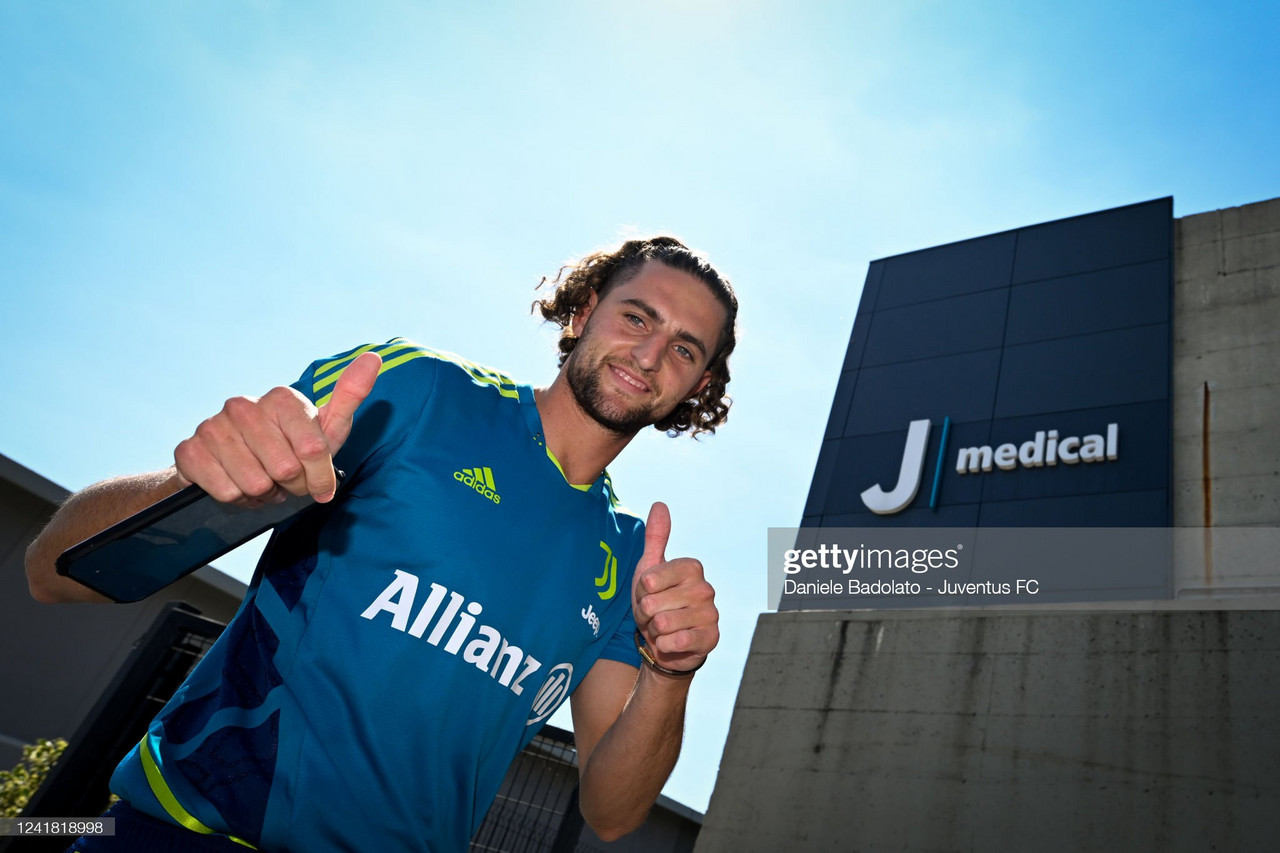 Manchester United began their new era with a humbling opening day 2-1 defeat to Brighton and Hove Albion. Erik ten Hag did not start his reign or the Premier League campaign the way he would have wanted, with the 2-1 defeat being the first time ever the south coast side have won at Old Trafford.
Less than 24 hours later, via Sky Sports, United have agreed a fee for Juventus for midfielder Adrien Rabiot. With there also being rumours of a deal for former West Ham striker Marko Arnautovic in the hours since the defeat, some United fans are unhappy with the club, claiming that yet again the hierarchy at Old Trafford are rushing into panic buys.
Is Rabiot the solution?
Rabiot will be known to those who have followed European football in recent years. The 27-year-old has become well established on the continent, making 227 appearances and winning five league titles at Paris Saint-Germain before joining Juventus in 2019, winning one league title and a Coppa Italia since then.
The Frenchman is a tall, strong, left-footed midfielder standing at 6 feet 2 inches tall, his versatility is an admirable trait given that he can play as one of two holding midfielders, out wide on either flank, or in the centre of attacking midfield.
However, his preferred position is either on the left of a midfield three as a deep-lying playmaker or as part of two creative midfielders playing ahead of one single pivot - also known as the Mezzala role, which quite literally translates to "half-winger" in Italian.
Rabiot's ability to make forward, penetrative, runs in behind the opposition means he suits this role well, whilst defensively his size and strength means he can shield the ball and cope under pressure. Interestingly, this role would fit into the midfield three that featured in what was Ten Hag's preferred system in his time at Ajax.
However, I am not totally convinced Rabiot will improve United to the standards that are required after their poor opening day display. He is undoubtably better than what the Red Devils currently have in this position - either Scott McTominay or Fred - particularly after their dire display on Sunday, with McTominay in particular receiving criticism and lucky to escape without a red card.
Rabiot will be a welcome addition to the squad, but with Juventus willing to let him go for a fee rumoured to be around just £15m it perhaps hints at the class of player United could be getting. Statistically speaking, he didn't impress last season, registering just two assists and no goals over 32 appearances in all competitions for the Old Lady.
With just 12 months left on his current deal in Italy, the contract length will play a part in a potential low transfer fee. Worryingly for the Old Trafford faithful, this is now the second time the midfielder has had a contract run down and left at the end of it, as Juventus themselves got hold of Rabiot on a free transfer after his deal expired at PSG.
Rabiot's professionalism and discipline has been questionable throughout his career. Ironically, in March 2019, he was suspended by PSG until the end of the month for going to a nightclub after a 3–1 loss to United in the Champions League by the now Chelsea boss Thomas Tuchel in his time in the French capital. He was also fined for being late or missing training multiple times near the end of his spell in Paris, on top of his refusal to be put on the standby list after not making the 2018 French World Cup squad.
Rabiot certainly seems to be a gamble, but he could add some much needed quality in the midfield if Ten Hag can control the mental side of his game.
What about Frenkie De Jong?
The interest in Rabiot has expectedly sparked rumours around the ongoing pursuit of Frenkie De Jong. The Dutchman is also a midfielder who likes to play in a some what similar role, and is undoubtably United's and Ten Hag's main summer target. So what does this new deal mean for De Jong?
United will certainly still be after the Dutchman, and have had a fee of around £63m agreed with current club Barcelona since July, but deferred wages and the players apparent lack of interest in coming to Old Trafford has stalled a deal being done.
United would be seriously letting the new manager down by not securing his primary target in his first transfer window at the club, particularly after pursuing him for three months. If they still believe there is a deal to be done then the United board need to get it done, if not, they should've walked away weeks ago and gone after other signings.
De Jong is a player who is not only younger, but one who has far higher potential and ability than Rabiot, so the imminent deal for the Frenchman must be an additional signing alongside the stalling deal for De Jong, not an alternative.
Continued midfield problems
United's need of a midfielder is certainly not a new conversation. The signing of Bruno Fernandes in January 2020 transformed the midfield going forward, but defensive midfield has been an issue for almost half a decade.
Since the retirement of midfield maestro Michael Carrick in 2018, the club have failed to come close to replacing him. The beginning of this season marks not only the fifth season without Carrick, but the fifth season in a row relying upon the faltering partnership of McTominay and Fred at the base of midfield. Two permanent, one caretaker (ironically Carrick himself) and an interim manager have now all tried and failed to get this partnership to work prior to Ten Hag's arrival.
In the midst of the pristine regime of Sir Alex Ferguson, Carrick himself came in as an eventual replacement to the legendary - but ageing - Paul Scholes, five years before Scholes even retired. But under the modern day, failing United, the board are yet to replace Carrick five years after he retired.
Money wasted
Entering their tenth season in the post-Ferguson era, the club has now spent more than an astonishing one billion pounds on player transfers. A large chunk of these fees can be attributed to the failed attempts to fix the midfield area.
Marouane Fellaini, Juan Mata, Angel Di Maria, Daley Blind, Ander Herrera, Bastian Schweinsteiger, Morgan Schneiderlin, Paul Pogba, Nemanja Matic, Fred, Bruno Fernandes, and Donny Van de Beek have all been purchased with the aim of improving the midfield. An overwhelming number of 12 players in 10 seasons, over £420m spent - only Herrera and Fernandes have ever come close to succeeding.
Other options
Aside from Rabiot and De Jong, the Red Devils do have some other options to help sort the ongoing struggles in midfield.
Napoli's Fabian Ruiz was rumoured to be a target of Ten Hag and United. Similarly to Rabiot, the Spaniard can be deployed as either a deep-lying playmaker in a pivot, or further forward where he can break the lines of midfield effectively. Intriguingly he is a similar height and build to the Frenchman, whilst also being left-footed. Ruiz however faired far better last season, scoring seven and assisting four times in 32 league appearances.
However, it is rumoured Ruiz was a back-up option if United fail to land De Jong, and they seem to have missed the boat as Fabrizio Romano has since reported he has agreed terms to join PSG.
New signing Lisandro Martinez could be an option move into midfield, either as part of a double pivot alongside a new signing, or, if capable, as a single pivot at the base of midfield with Fernandes and Eriksen ahead of him. His reading of the game and ability on the ball would suit this position, and he has played there before under Ten Hag at Ajax. This would however open up a fresh problem, as United would then have to buy a new centre-back, with Harry Maguire's continuing struggle in form and Raphael Varane's constant injury problems.
Van de Beek is the only other option in midfield, who despite having been reunited with Ten Hag, still has not got close to his potential at Old Trafford. The Dutchman has previously stated his own abilities to play as a deeper playmaker in midfield, but Ten Hag has rather said the opposite, claiming he believes Van de Beek is at his best when further forward arriving late into the opposition box.
Is Rabiot a panic buy?
It is not entirely clear where the reasoning for the sudden interest and deal for the midfielder lies. After 10 years of failure, when news of a deal breaks in such a quick fashion, with no previous speculation, it often makes supporters nervous.
United have been far to reactionary on the transfer market in recent years, and interest in Rabiot and particularly Arnautovic seem to follow that path. If those in charge at Old Trafford have decided to call it a day on any potential deal for De Jong, then Rabiot as a replacement certainly will not be anywhere near enough to solve the nagging midfield issues.
Amongst the many lessons learnt on the opening day, the sheer lack of quality and incomings required at Old Trafford were really hammered home for those at the top of the club. David Moyes in 2013 and Jose Mourinho in 2018 have both fallen victim to a lack of backing, despite the £1bn spent in the past decade, United cannot let the same happen to Ten Hag.