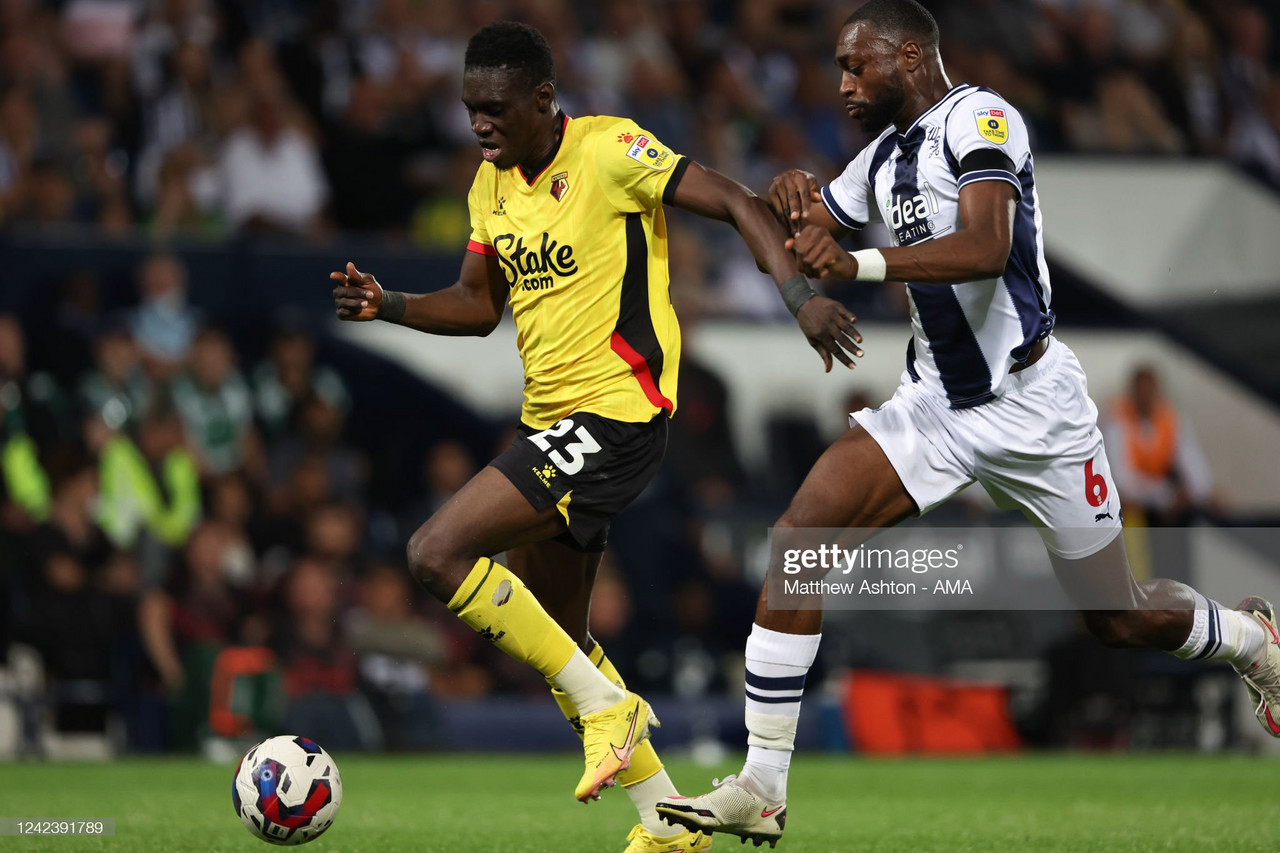 The Baggies will feel frustrated having only come away with a point following a game which they dominated. Equally though, they have goalkeeper David Button to thank after he saved Ismaila Sarr's late penalty.
It was not all smiles for Button though, after he was chipped by a piece of Sarr brilliance from 60-yards out in the first half. It was a goal that will be spoken about as one of the greatest goals in the Championship of all time.
Karlan Grant levelled the scoring on the stroke of half time, and if it was not for Daniel Bachann in goal for Watford, West Brom would have been out of sight by that point. The Austrian made a myriad of crucial saves and is justifying Rob Edwards' decision to select him over Maduka Okoye.
Both Rob Edwards and Steve Bruce will learn a lot from what they saw on Monday night, so here are five things they may have learnt from the game.
Grady Diangana a shining light
Diangana caused havoc for Watford, and was a threat throughout the entirety of the game.
His main contribution was his assist for Karlan Grant, but it was his general pace, flair and skill which caught the eye.
Having been one of West Brom's key players when the Baggies got promoted during the 2019/20 season, he will be vital if they are to threaten for a top two spot again.
Watford's midfield struggles continue
Watford looked uncomfortable in midfield throughout the game.
New club captain Tom Cleverley and Edo Kayembe were chasing shadows for the majority of the game, with a lack of bodies in the middle proving to be a difficulty again for Watord.
Against Sheffield United last week, there were similar problems however unlike The Blades, West Brom were able to capitalise on this clear weakness in the Watford side.
Rob Edwards may have to put another man into the midfield or change the personnel if things are going to get better in that department for The Hornets.
The Hawthorns atmosphere
After Karlan Grant's equaliser, there was a turn in the Hawthorns atmosphere.
It became an intimidating place for the Watford players who perhaps at times struggled due to the atmosphere generated by the home faithful. It was like the stereotypical Hawthorns of old, where many of England's giants would fall due to the raucous atmosphere.
There is no doubt that if West Brom fans continue like this, many teams will struggle away from home against them.
Sarr's inconsistencies highlighted
It is no secret that Ismaila Sarr may leave Watford this summer. The latest club to show an interest are Manchester United, according to Graham Bailey of 90Min.
After four years of inconsistencies at Vicarage Road his infrequent output could be making it more difficult for the club to find suiters this summer transfer window.
That was epitomised during this game. Fans saw how Sarr is capable of producing a moment of magic with an iconic half-way line goal in the first half, before he went onto miss a penalty late in the second half.
If he is going to go to a bigger club, the inconsistencies in his game will need to be eradicated.
Both teams will challenge for promotion this season
Despite West Brom producing the better performance, both teams displayed why they will both be contending for a promotion spot this season.
For Watford, their fight and grit along with moments of quality demonstrated their promotion credentials, while for the Baggies, their ability to take the game to teams while dominating the midfield helped them put on an impressive display.
After only two games, it is difficult to call who may get promoted, but there is a good chance that these two will be in the conversation at various points throughout this season.