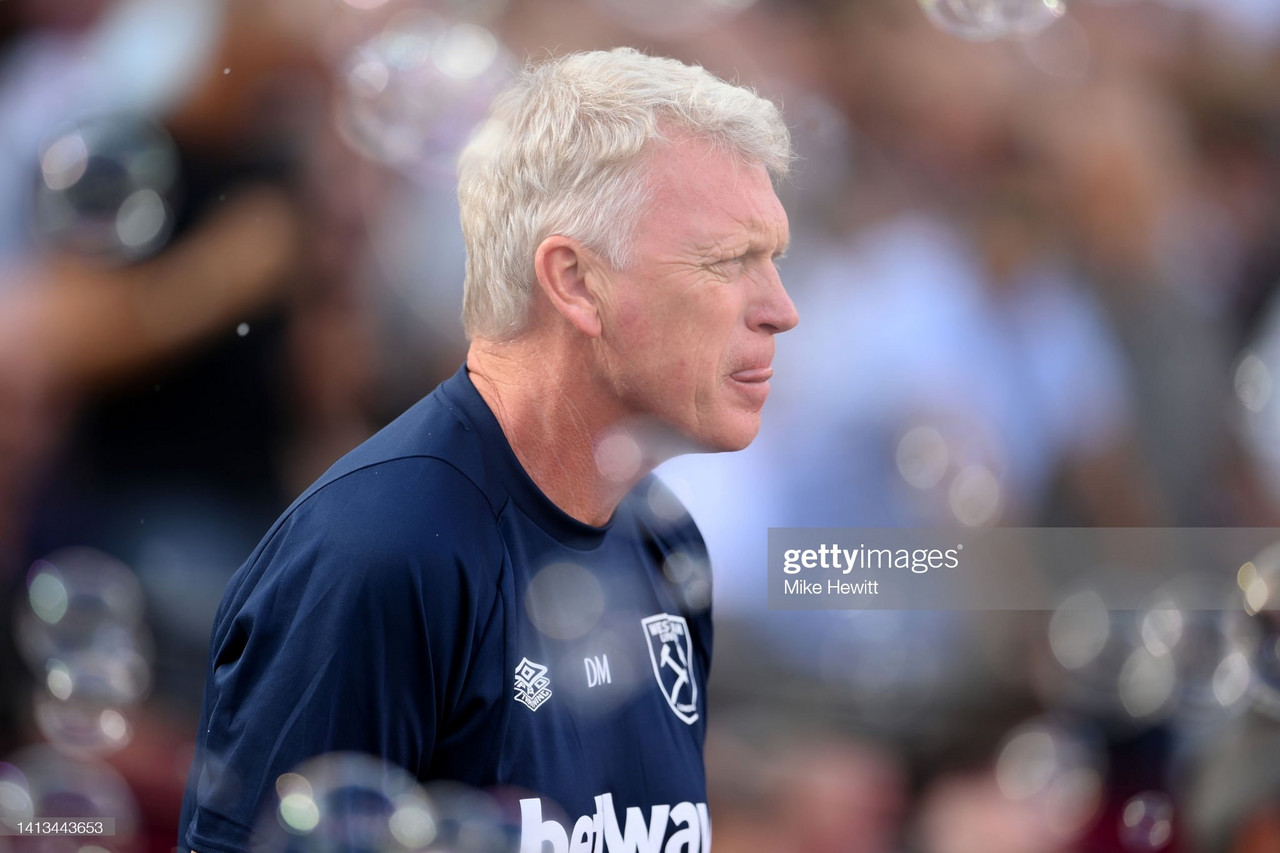 West Ham manager David Moyes spoke to the press earlier on today ahead of the Hammers' trip up north to Nottingham Forest on Saturday.
The East London side faced reigning Premier League champions Manchester City on the opening weekend, becoming the first side in the Premier League to befall Erling Haaland, who scored a brace to help his side to a 2-0 win.
Newly promoted Nottingham Forest are West Ham's next test, with Moyes hoping to be able to employ his two new men Maxwel Cornet and Gianluca Scamacca against the East Midlands side.
Ben Johnson was used as a makeshift centre-half due to the Hammers' injury woes last weekend against City, a game which also saw Polish keeper Lukasz Fabianski forced off in the first half.
When providing an update on his squads fitness, Moyes said: "It'll be a similar group to last week. Craig Dawson is doing quite well so we'll see where he is.
"We have Angelo Ogbonna working his way back from a cruciate too.
"Lukasz [Fabianski] had a knock last week and Micky Antonio had a knock too, but he's trained today."
Italian striker Scamacca made his Premier League debut off of the bench last week, whilst West Ham announced the signing of Maxwel Cornet from Championship side Burnley last Friday.
The Ivory Coast international could be in line to make his first appearance for his new side at the City Ground, while Scamacca could be set for his first start at West Ham following Antonio's knock last week.
Moyes said: "Yes I think they're ready to start. I think it's just a decision if we're ready to play them yet.
"They're getting much closer to it, that's for sure, now they've had a few weeks training."
Having won promotion back to the top flight of English football for the first time in 23 years via the play-offs, Steve Cooper's Nottingham Forest are still looking for their first points of the season.
Moyes knows just how dangerous the unknown of a newly promoted team can be, and is wary ahead of sides' trip to the City Ground.
He said: "It's a big challenge. You only need to look at what Fulham have done in their first game, what Bournemouth have done.
"They were both at home and both got positive results so we know exactly how difficult it will be going to Nottingham Forest.
"If you had your choice, you'd try not to play the newly-promoted teams in the opening games of the season, but our first away game and Nottingham Forest's first home game pits us against them."
The 59-year-old West Ham boss also heaped a huge amount praise on Forest and their manager Steve Cooper.
"I've got big respect for the manager Steve Cooper," he said. "I think he's done an incredible job to get them into the Premier League from where they were last year.
"You have to give him huge praise for what they've done.
"The history connected to Nottingham Forest has been fantastic and I don't think there will be a football fan in the UK who wouldn't know the name Brian Clough or Nottingham Forest.
"It was great that we got Leeds United back in the Premier League a couple of years ago and I think it's also great that Nottingham Forest are back in the division as well."
The East Midlands side made headlines earlier in the Summer when they beat West Ham to the signing of attacking midfielder Jesse Lingard.
The 29-year-old had offers from both clubs but decided to sign for Nottingham Forest, a decision that left a sour taste in the mouths of many West Ham fans.
Lingard captured the hearts of the Hammers' faithful when he joined the club on loan from Manchester United in January of 2021, a spell where he went on to score nine goals and contribute a further five assists in 16 games.
"I've got to say the directors and owners here made a great offer to Jesse [Lingard], but the player has his own choice to go wherever he wants," said Moyes when asked about losing out on Lingard.
"We pushed the boat out to try and get him, but we didn't get him. He chose Nottingham Forest, that's Jesse's choice and not ours.
"It's no failing on the club that we didn't get him."
West Ham will be looking for their first points of the year on Saturday in order to build upon a promising 2021/22 season, which saw them finish seventh in the Premier League and reach the Europa League semi-final.