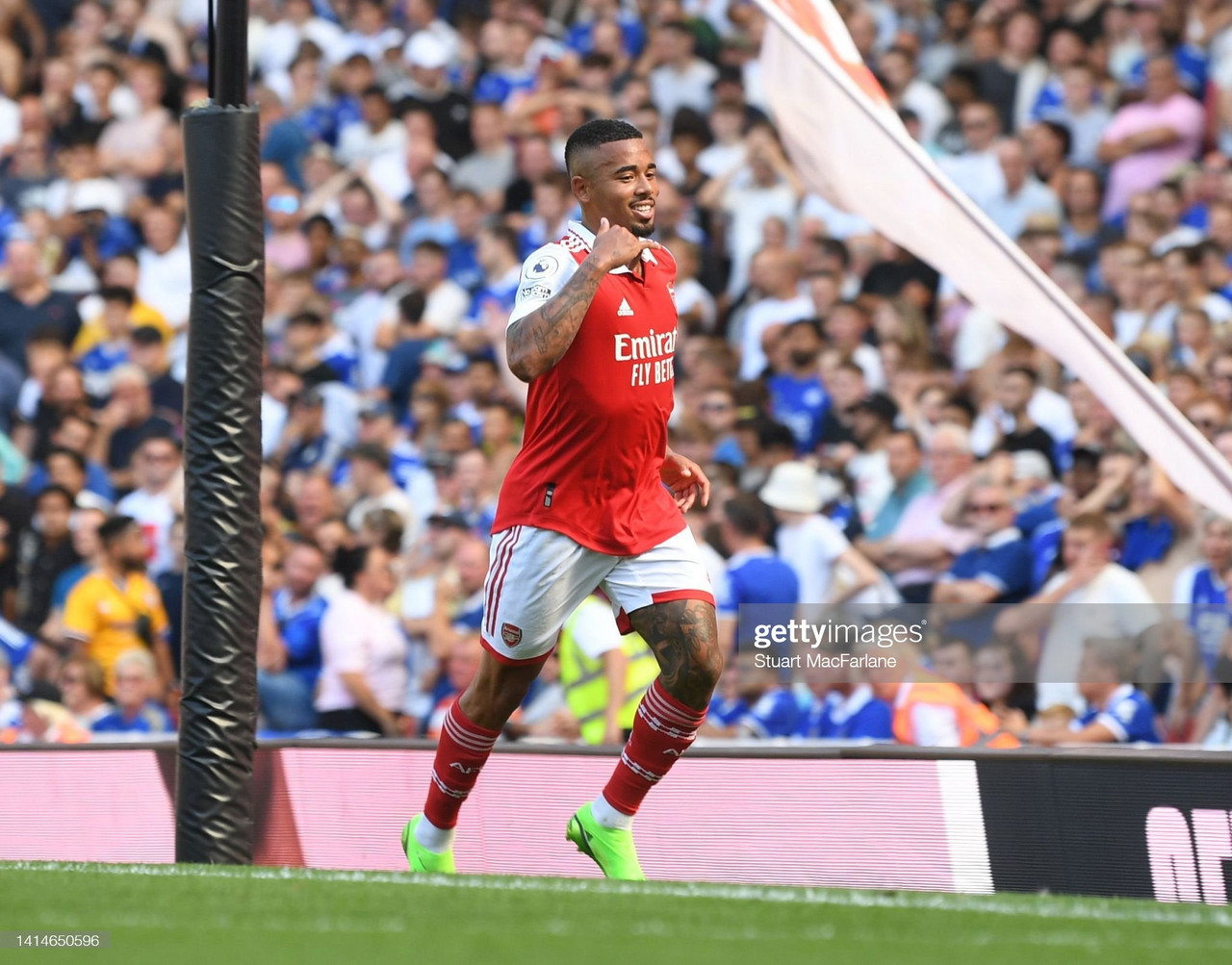 Gabriel Jesus joined Arsenal from reigning Premier League champions Manchester City earlier this summer.
Following his arrival Jesus has been in red hot form, scoring eight goals during the Gunners' pre-season campaign, as well as already having two goals in as many games in the Premier League.
After the departure of Alexandre Lacazette at the start of the transfer window, Mikel Arteta had only wanted one player to replace him, and got his man for a reported fee of just £45 million.
In a deal which was supposedly in the works for a number of months, Jesus reportedly turned down multiple clubs with Champions League football in favour of a move to the Emirates Stadium.
Although the Brazilian has only played two competitive matches for the club, the Arsenal faithful have already fallen in love with their new man, and it's no surprise to see why.
Play Style
Upon joining Arsenal, Jesus was given the opportunity to be the Gunners' main man, their star player, something which he has taken in his stride.
Despite not getting himself on the scoresheet against Crystal Palace on the opening day, Jesus was arguably Arsenal's best attacker. The 25-year-old ran himself into the ground, pressing the Palace defence at every opportunity he could.
He always looked dangerous when running at defenders, and was unlucky not to score a goal early in the first half after using some tricky feet to beat multiple men. After 83 minutes he was replaced by Eddie Nketiah, a player with the ability to push Jesus for his starting spot.
It only took 23 minutes for the Brazilian to find the back of the net in his next game against Leicester City. Jesus received the ball just inside the left hand side of the box, and was able to find the far top corner with a brilliant looping effort.
Just over 10 minutes later Jesus had secured his brace, showing why he is known as one of the best 'poachers' in the world. The striker was there to get on the end of an overhit corner with the simplest of headers, something he was able to do due to his excellent anticipation of the game.
He didn't just score twice against Leicester, he also showed another side to his game, turning provider for both Granit Xhaka and Gabriel Martinelli's goals, something he was familiar to doing during his time with City.
Last season Jesus recorded 13 goals and 12 assists in all competitions for Pep Guardiola's side, proving that he has more to his game than just scoring. He will be looking to better this numbers in red and white this season, and is certainly on track to do so.
Manchester City
Jesus signed for Guardiola's Manchester City from Palmeiras in January of 2017, where he enjoyed an immensely successful period at the club.
The striker made a total of 235 appearances for the Citizens, and in that time scored 95 goals, and contributed a further 46 assists.
With his goals came trophies, and lots of them. Upon leaving Man City, Jesus had a trophy haul of four Premier League titles, four League Cups, two Community Shields and one FA Cup.
The addition of both Jesus and his team mate Oleksander Zinchenko, who also joined Arsenal from Manchester City this summer, could prove invaluable for the Gunners' to progress to the next level, with the pair bringing a much needed winners' mentality to the club.
A winners' mentality
Following Arsenal's 4-2 win over Leicester last weekend, manager Arteta revealed after the game Jesus was "disappointed" despite scoring twice.
He said: "We know what Gabby [Jesus] can do. He scored two and he's still disappointed in the dressing room because he said he could have score four.
"That's the standard, that's the mentality that if you want to go to a different level you need that mentality.
"I wouldn't be able to play against him. I have never been a defender but I can imagine that they don't enjoy it.
"He's so mobile, so intuitive and is always sharp and proactive to play in any moment and any phase of the game and he's a real threat."
This type of mentality is something that Arsenal have lacked for a very long time, and is something that hasn't been seen in any of the Gunners' recent centre-forwards.
Comparisons
Arsenal have had some great strikers over the years. Think of Thierry Henry, and Dennis Bergkamp, or more recently Robin Van Persie and Pierre-Emerick Aubameyang. The Gunners have had some quality players, but long gone are the days of Henry, where a player in red and white could take a game by the scruff of its neck and guide Arsenal to victory.
The closest Arsenal have been to that in recent years is Alexis Sanchez, but the Chilean was still nowhere near the same level as Henry.
With having such a decorated career at just 25 years old, Jesus could present himself as Arsenal's next main man. The Brazilian has shown he can score goals, and whilst it would be outlandish to compare him to the likes of Henry after just two games, the sky is certainly the limit for Arsenal's new signing.
The new season may be only two games old, but Arsenal look like a completely new side with the addition of Jesus.
Could he be the man to lead the Gunners back to glory and Champions League football? Only time will tell.