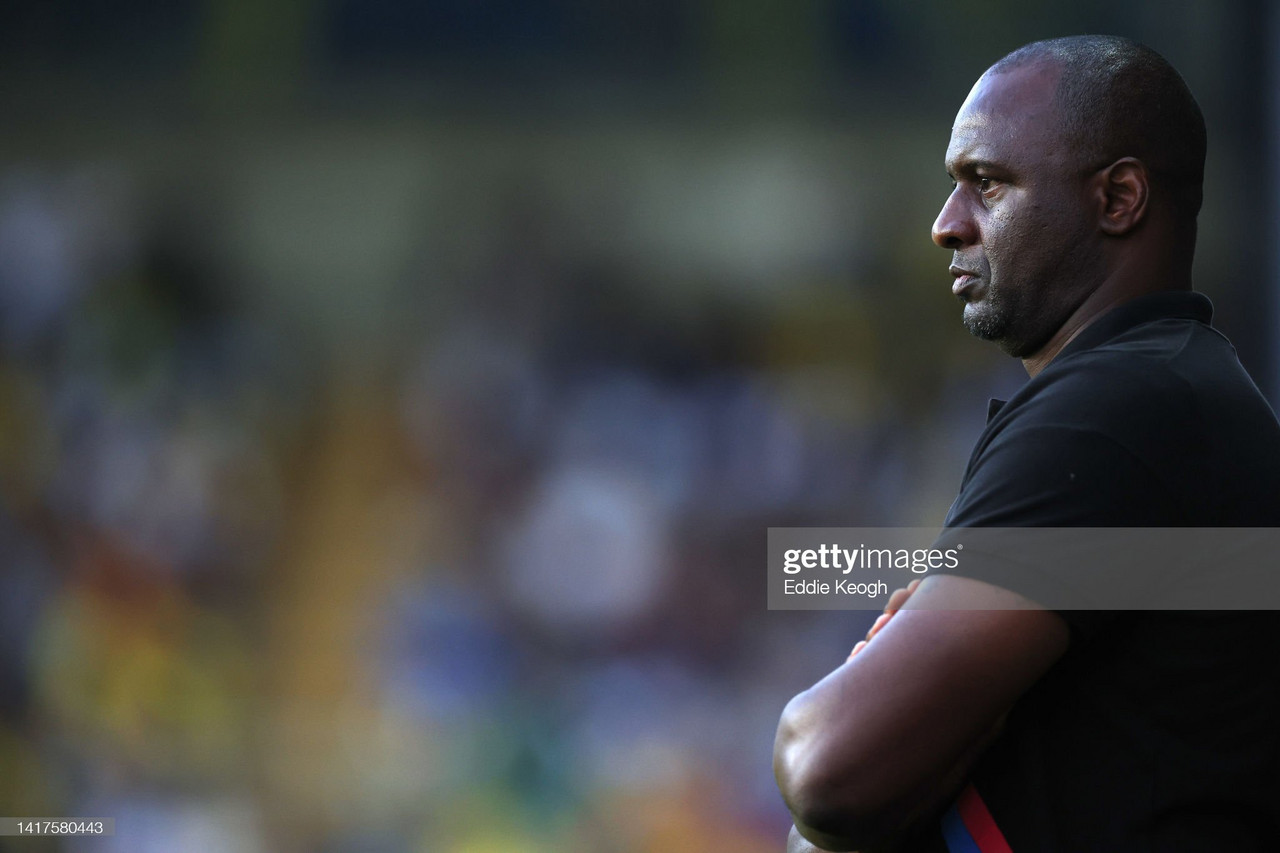 Crystal Palace boss Patrick Vieira is not underestimating his teams' next opponents Manchester City, calling the side "one of the best teams in the world".
Last season, Palace produced one of their most emphatic away performances in recent history with a 2-0 win at the Etihad Stadium, but Vieira insists that that result is the in the past and Palace must be "collectively" prepared to face the Premier League title holders.
Vieira also discusses the potential return of Manchester United full-back Aaron Wan-Bissaka, Wilfried Zaha's contract negotiations and his teams chances against Pep Guardiola's side.
Palace's Transfer Business not done?
With less than a week to go until the transfer window closes, Patrick Vieira is still excited about the prospect of new recruits to bolster his growing Crystal Palace squad.
"We are a little bit light", stated Vieira, "We need more numbers, more players, hopefully we will have a couple of players before the end of the window but we need to find them".
However, Palace's transfer business this window has been a success, so Vieira will not be disappointed if Palace's window shuts early.
"If we don't then I'm really pleased with the squad we have, players are committed and working hard".
Palace have already recruited the likes of Cheick Doucoure, Sam Johnstone, Chris Richards and Malcolm Ebiowei to improve the depth of their already strong squad.
Aaron Wan-Bissaka's Return?
Speaking of new recruits, Palace have been linked with the return of Aaron Wan-Bissaka.
The Palace Academy graduate left the club for a club-record selling fee of £50 Million. The club used this money to redevelop their academy into a world-class Category 1 facility. Now, Manchester United are reportedly willing to sell the right-back back to his old club for as little as £10 million.
Vieira, naturally, was very coy in response to questions around Wan-Bissaka's return to SE25.
"There are a lot of reports", Vieira noted, "it would be not good for me to mention any players who are not at the football club. But we will try to improve the squad until the last day of the market".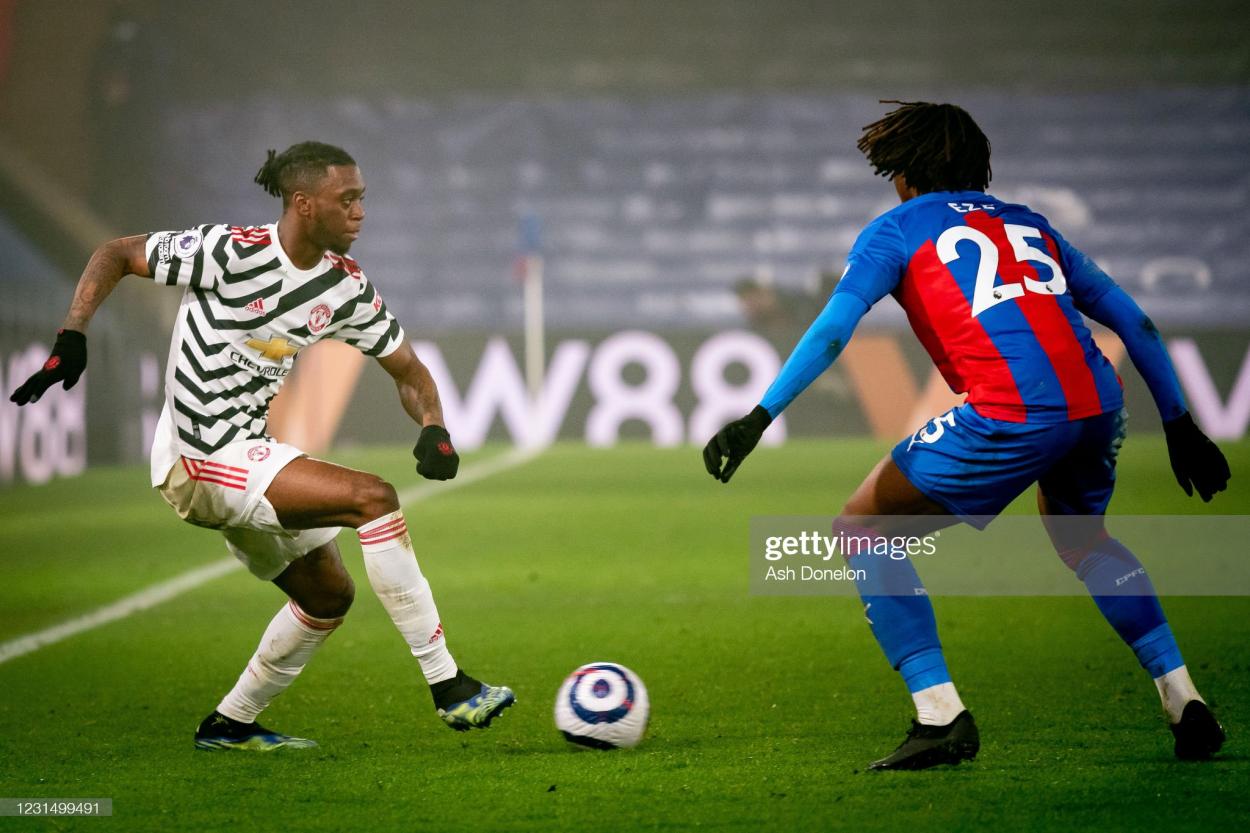 Wan-Bissaka was electric in his first full season for Crystal Palace, but has failed to replicate his form in his time in Manchester so far.
Palace are also thin on quality right-backs, with their current options Joel Ward and Nathaniel Clyne both entering the latter stages of their career. Perhaps they have finally found their Aaron Wan-Bissaka replacement in… Aaron Wan-Bissaka.
Zaha's scintillating form for the Eagles so far this season has reignited discussions on his contract, with the Ivory Coast international entering the final year of his contract.
It is looking more likely that ever that Zaha may sign a new contract with the club he began his career at aged eight, with the teams improved quality and management fitting Zaha's quality and expectations.
Vieira, however, was cagey about speculating on Zaha's future.
"[Zaha] loves playing for the club.
"We are talking about how we want to play the game and how he can improve his goalscoring and do well for the team".
Vieira is fully focused on improving Zaha's already wonderful form, but a definitive answer on his future may be a while away yet.
Crystal Palace face Manchester City,on Saturday at the Etihad. Many Palace fans will have Conor Gallagher's 88th minute goal running through their minds at they make the journey up to Manchester this weekend.
But Vieira is not as optimistic, rather very realistic in his teams chances.
"The game will be clear: they will have possession, they will have really good moments and it's about how we manage those moments", notes the Palace boss, "We'll have to defend well, there's no doubt about it. We'll have to be clear about roles and responsibilities, what we need to do.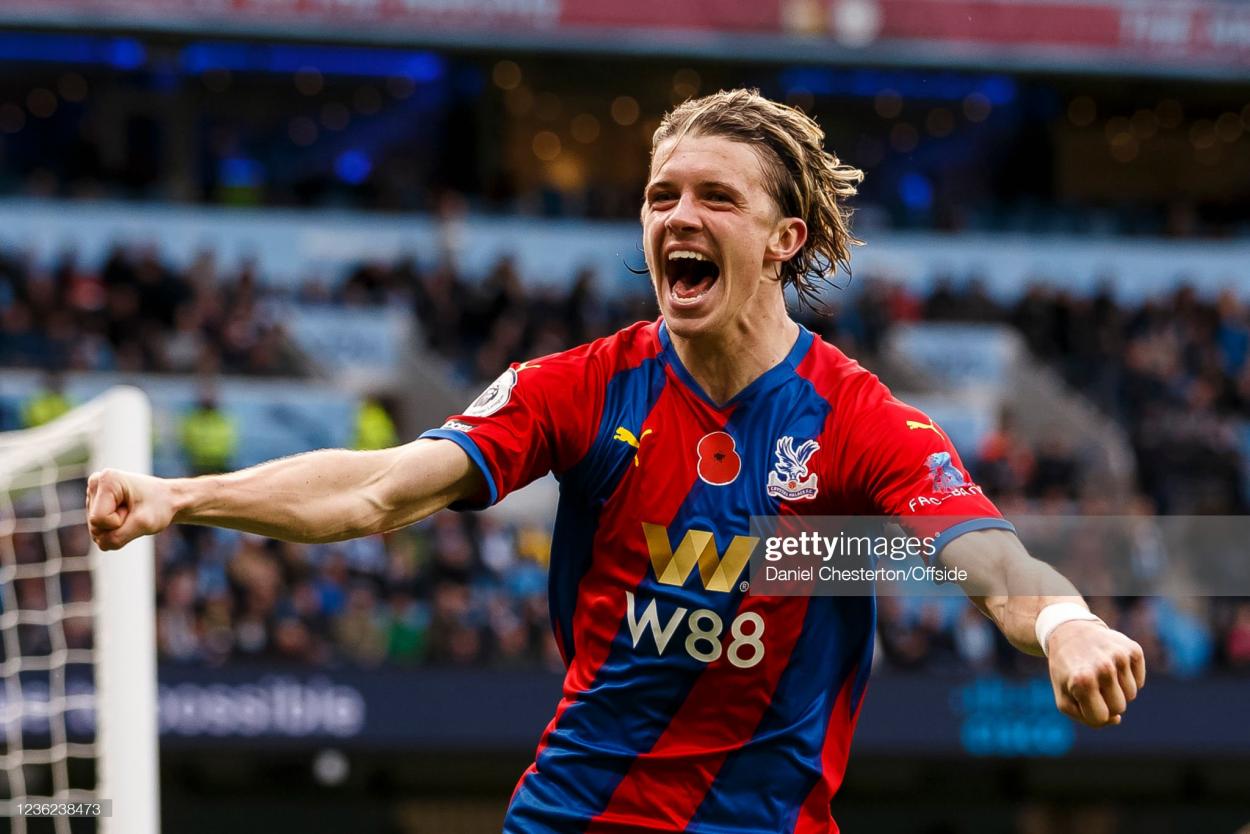 "It may not be enough but we'll go there and compete. Since the first game of the season it's been consistent to compete with the team in front of us and manage difficult periods to create moments with individual quality.
"There's no doubt about the quality individually and collectively. I believe this is one of the best teams in the world. The result will be down to how well we can play together. We will have those situations where we can break out and negotiate those moments well."
Manchester City, despite Palace's recent results against them, are naturally favourites to clinch the three points.
But if Vieira can produce a 'collective' performance against his former side, Palace could have a chance of boasting two consecutive away wins against the current Premier League champions.