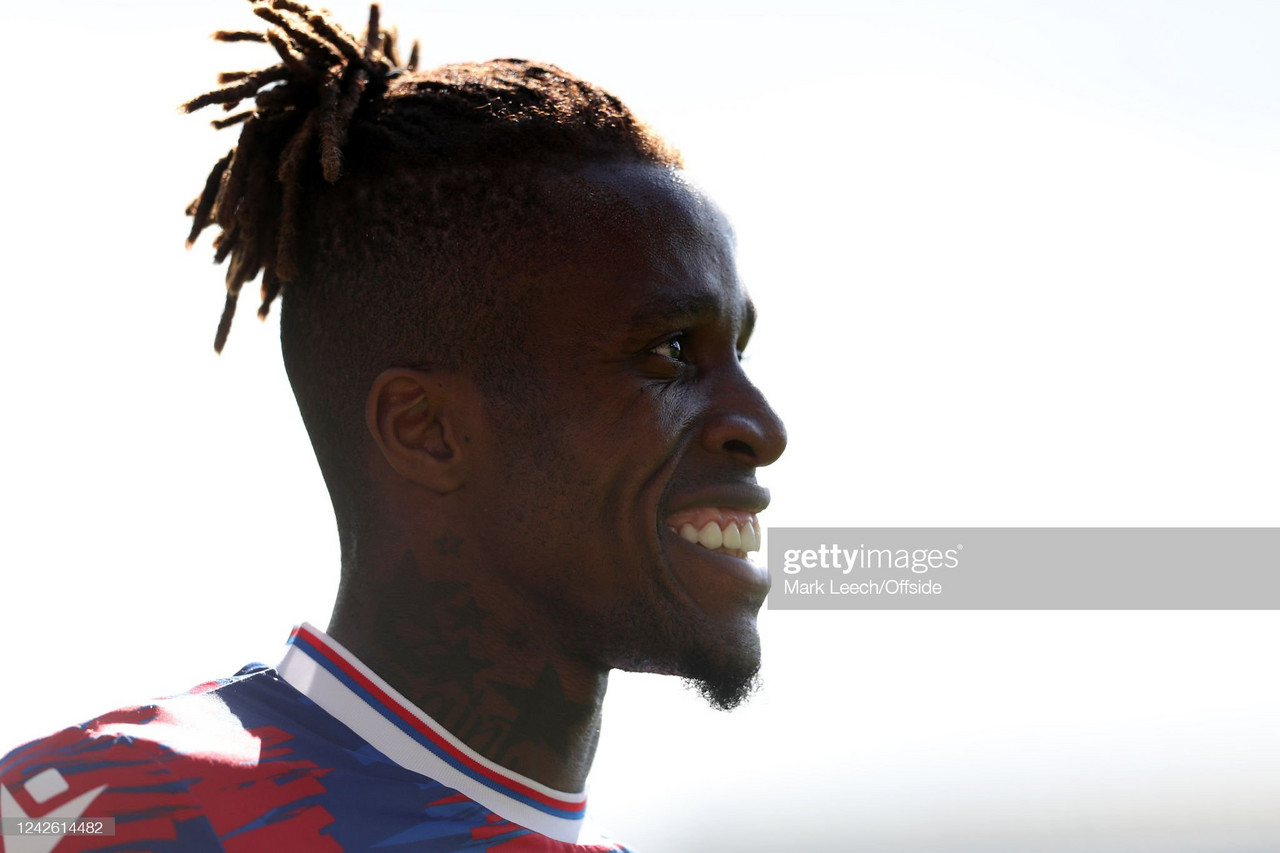 Wilfried Zaha has started this Premier League season in scintillating form. Crystal Palace's talisman silenced Anfield's Kop End with a neat and tidy finish past Allison and followed it up with an electric brace against mid-table rivals Aston Villa.
His form is not new or surprising to Palace fans, with the Ivorian international continuing his excellence from last season where he netted 14 league goals.
But something is new. While he has been the complete article for many seasons now, the stars may have aligned for him to have a legendary season in red and blue.
Palace have recruited exciting and capable players to help Zaha and to help foster in a new attacking revolution under Patrick Vieira.
Now, Zaha may finally have the tools around him to facilitate his full potential and allow him to produce elite-level performances more consistently than previous seasons.
Zaha has also adopted a position in certain games. While still frequenting the wings where he made his name, he has also shifted more centrally to play as an out-and-out striker numerous times under Vieira which has afforded Zaha unprecedented success.
So, does Zaha finally have all the ingredients to have an elite season for Crystal Palace?
Zaha's most common position is that of a winger, being one of the Premier League's best for some seasons.
He often uses his skill to beat his man and make a quick run into the box and cause mayhem for the opposition by either netting for himself or setting up one of his teammates.
Zaha thrives on the left-hand side of the opposition goalkeeper and has consistently scored in this position, including his opening goal away at Manchester City and his lightning-quick effort against Southampton last season.
Almost all of Zaha's goals are made through his own dangerous cocktail of aggressive pace, dazzling footwork to create his own space and the exceptional accuracy of his shots that beat even the league's finest 'keepers.
However, this has changed recently with Zaha often being deployed as the focal point of the attack. Against Liverpool in Palace's second match of the season, Zaha was the lonesome striker waiting patiently for his opportunities.
Zaha's position and role under Vieira has changed when Palace face tougher opponents like Liverpool and the Eagles' next opponent Manchester City.
Zaha's ability to apply his impressive skillset in a different position to influence games where otherwise he may be nullified by a world-class defence, improving his goalscoring rate and overall influence on his team.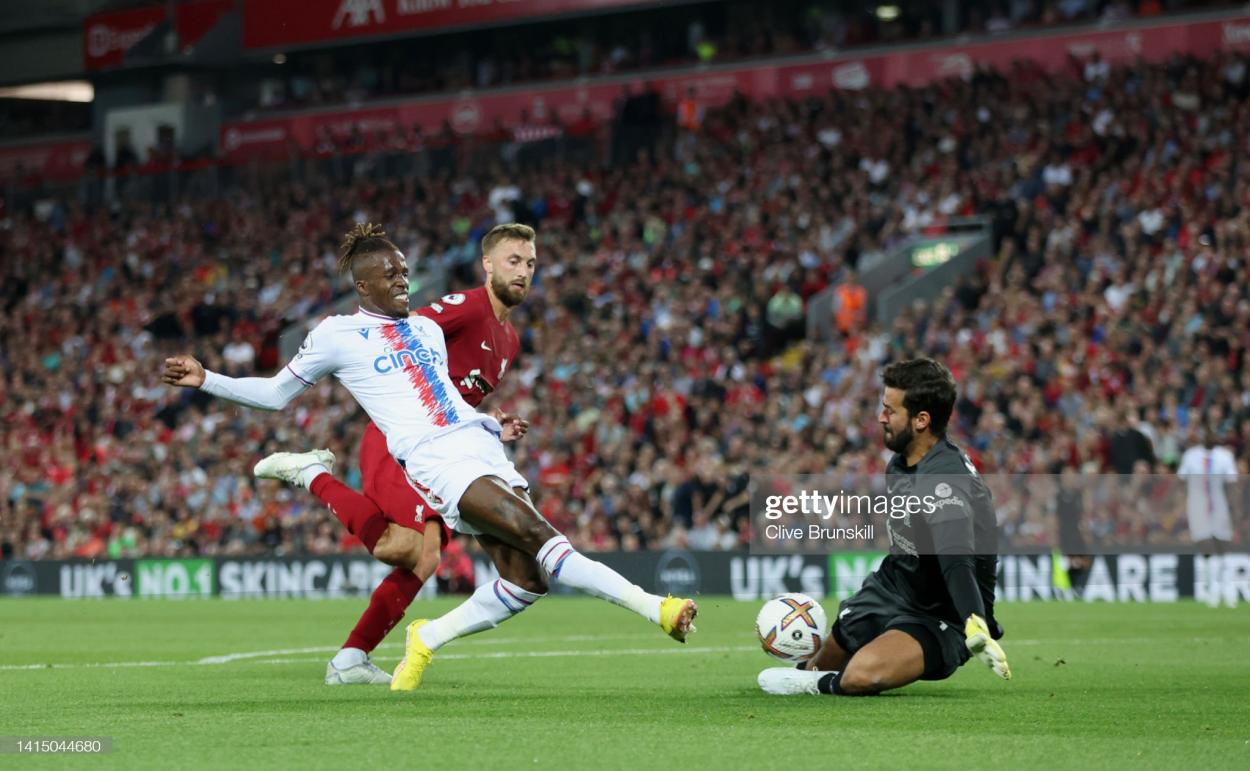 The opener at Anfield saw Zaha use his famous traits to put his team ahead: pace to beat the offside trap and escape Liverpool's high line, neat footwork to keep the ball close to his feet and finally a finish taken early and slotted perfectly to beat Allison between the sticks.
"You have to think quickly in your head how you'll solve the situation", Zaha stated to The Athletic, "If I see someone is vulnerable then I'll just do it".
This is exactly what he did against Liverpool.
Now, Zaha is taking his shots much earlier in much tougher positions. While this may seem as if he's taking shots too early, Zaha is adept at catching the opposition off guard with these unexpected shots and has his significantly improved finishing ability to thank for converting these tougher chances.
"I was between both the defenders" notes Zaha post-Liverpool, "I was just looking for the space in-behind and it only takes one chance.
"As soon as [Eze] played it through, I already had in my mind what I wanted to do. I didn't want to let the goalkeeper set himself so it took it early".
This is a dimension of Wilfried Zaha which Palace fans have not seen, and this positional rotation against tougher opposition may see Zaha reach new heights this season.
More Help All Over The Field
In seasons gone by, Zaha has relied on a much weaker team to help supply him with chances.
Things have changed at Selhurst Park now, with the south London club becoming one of the most exciting young teams in the Premier League.
Eberechi Eze and Michael Olise being the attacking standouts who both help link the play and progress the attacks much more successfully than their predecessors.
The improved creative output from these two players adds to the danger of Palace's attack, something which has only helped Zaha improve his own attacking output. The Eze-Zaha link-up play looks to be one of the most dangerous in the Premier League, especially amongst non-Top 6 sides.
Also further down the pitch, the likes of Joachim Andersen and Marc Guehi can play accurate and dangerous long balls to start attacks much quicker than before increasing the pace of Palace's play. New signing Cheick Doucouré also has the ability to swiftly stop opposition attacks and launch counter attacks.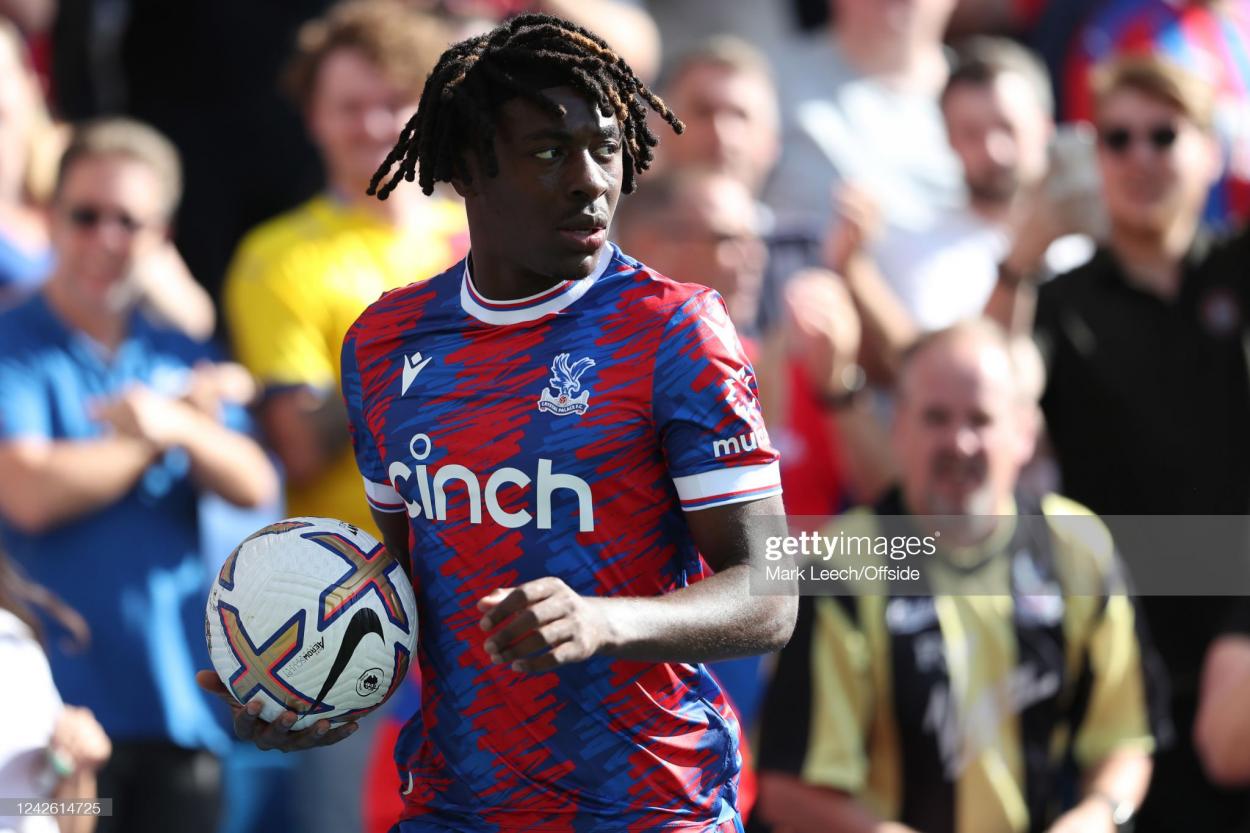 Previously, oppositions saw Zaha as Palace's only main threat. Now Palace boast some equally dangerous attackers to distract the opposition from Zaha, who now possesses more freedom afforded by having less attention on him.
Eberechi Eze specifically is a handful for opposition, highlighted by his dazzling run from his own half against Aston Villa, beating three Villa players with his immense ball control before being fouled.
Zaha was left unattended and latched onto the lost ball to create a chance following the referee's advantage.
The improvements across the field in the Palace team have assisted Zaha's improvement in whatever position he plays, whether he's in his traditional winger role or his recent centre-forward position.
The improved quality of depth throughout the Palace squad alleviates pressure from Zaha, who can now perform at an even higher level and play with the confidence that his ability deserves.
Patrick Vieira has changed the way Palace play football.
The attacking revolution in SE25 has seen Palace become a fluid attacking unit who progress the ball up the pitch much quicker, allowing them to reap the rewards of their attacking talent.
This is a sharp contrast to Roy Hodgson's brand of defensive counter-attacking football, humorously dubbed 'Royball' by Palace fans. While 'Royball' kept the club in the top flight, it failed to excite many.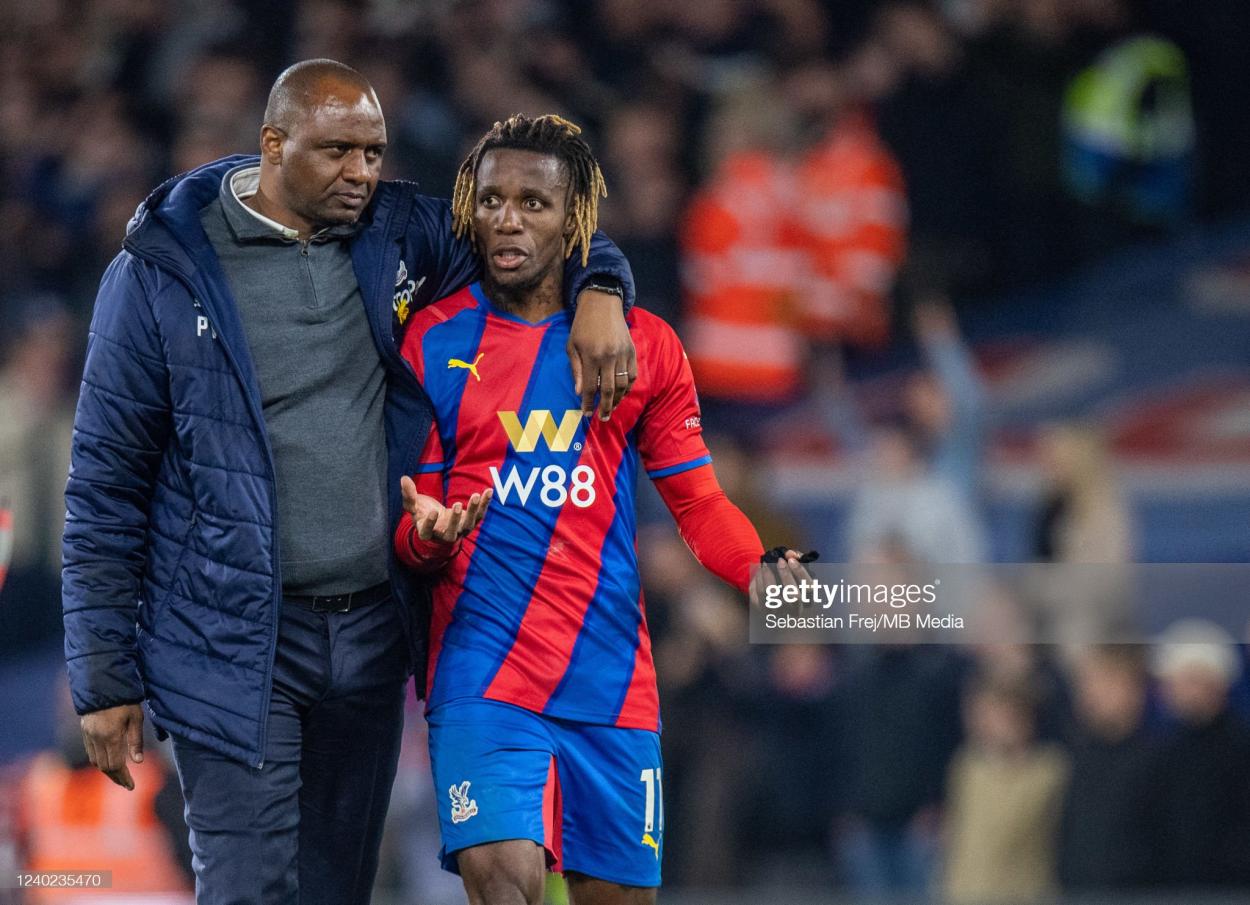 Palace now play with a much higher line, facilitating much quicker attacking transitions which plays to Zaha's strengths.
Vieira also utilises more attacking midfielders which either distract the defence to allow Zaha to shoot or gives him more options to make a dangerous pass into the box.
These tactical changes by Vieira means Zaha is given more opportunities to exploit his skillset more frequently and more effectively.
Zaha's positional change was also encouraged by Vieira himself, despite the wingers' initial reluctance, showing Vieira's influence on Zaha's improved form.
"I don't [see that as my position]", Zaha said to The Athletic, "[Vieira] has got his ideas and I have got mine, so we will see how it goes".
But Zaha committed to his manager's instructions with his often uncredited professionalism and has excelled in this new position when required.
Zaha has been able to do this due to the tactical shift ushered in by Patrick Vieira, which has in turn given Zaha the confidence and platform to reach new heights.
Zaha is entering the final year of his current Crystal Palace contract which could see him leave as a free agent at the end of the season or a reduced fee in January - neither being options what would suit the club.
However, should the worst happen, Zaha has finally been given the canvas he's deserved to paint himself a legendary final season for Crystal Palace.