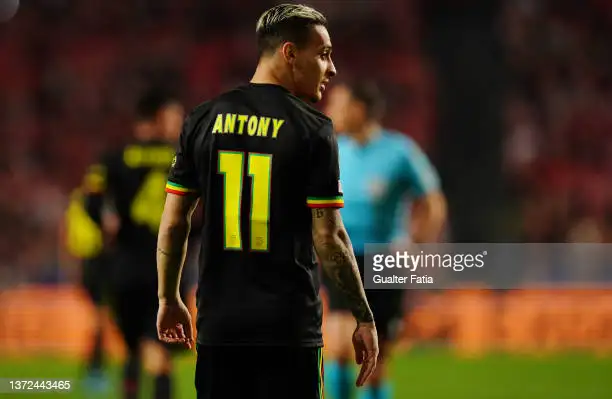 The Erik ten Hag era is well underway at Manchester United, unfortunately it hasn't been the dream start the Dutchman would've hoped for.
United kicked off the season with two terrible results, losing to Graham Potter's Brighton and getting absolutely dismantled by Brentford. Ten Hag inherited a far from perfect squad and this was clear to see in these two games. Since his reign began, the Dutchman has brought five bodies through the door; the most recent of these is former Ajax winger Antony.
Erik ten Hag knows all about the Brazilian trickster from their time in the Dutch capital, but why exactly has he been brought to United when there is so much depth in his position?
Antony is a 22-year old Brazilian winger, most comfortable off the the right of the attack. Similar to the likes of Dutch great Arjen Robben and Egyptian superstar Mohamed Salah, Antony is left-footed and prefers to cut-in.
The Brazilian joined Ajax from Sau Paulo for a little shy of £15million in 2020. He joined the five time UEFA Champions League winners touted as one of the brightest talents in South America.
During his spell with Ajax, Antony lifted the Eredivisie title twice and the Dutch Cup once. He also managed to grab himself 22 assists to go along with his 24 strikes for the club, in 82 appearances.
The new United man is also a full international with Brazil, appearing nine times and scoring twice. A winner on the global stage, he boasts an Olympic gold medal.
Antony is a winger with European pedigree, who was looking to take the next step. He is a well known name for viewers of European football, thanks to standout performances in the Eredivisie and Champions League. A player Red Devils' fans will be excited to see, Antony will most definitely be the man to get spectators out of their seats at Old Trafford this season.
Obviously, £85million is a lot of money to spend on a player with only two years of European football under his belt, there is no question about that. However, Antony is a player who has been bought for his potential, not his current ability. A player who has been touted as the 'Next Neymar', Antony has all the tools to become a world-class footballer.
Now, this by no means suggests that he is a bad player. Comparing him to other wingers in Europe, Antony ranks in the top one percent for Total Shots and Assists, as well as the top two percent for Progressive Carries and Interceptions. This is data taken from fbref.com.
As highlighted by his four shots per game and almost 12 progressive carries, Antony is a direct winger. This will provide an excellent compliment to Englishman Jadon Sancho. Sancho, who is proficient on both wings, is much more of a facilitator.
Perhaps most importantly for Ten Hag, Antony is fantastic in the press. The Brazilian ranks in the top two percent for interceptions when it comes to wingers, averaging almost two per 90; factor this in with over eight ball recoveries per match and you have the perfect Ten Hag winger. This has no doubt come from their time together at Ajax, but this should allow him to fit seamlessly into United's side.
Perhaps most exciting for fans of the Red Devils is the fact they are acquiring a real showman. A player similar to the early days of the great Cristiano Ronaldo or his compatriot Nani, Antony has a wide array of tricks he is keen to showcase. Most famously, the Brazilian will receive the ball out wide and complete a 360 degree spin to fool defenders.
The guy is a dancer on the ball man.. so much confidence!! A partnership of Sancho-Ronaldo-Antony would be fire!

Check this out👇🏼 pic.twitter.com/IE1EBJjwdE

— Sam🥀 (@Sam_miee01) June 9, 2022
Antony is an exciting addition to a fast-improving United side. It will be interesting to see how he fares with the step up to the Premier League.
But, where will he fit in?
Antony, traditionally, plays on the right flank. He prefers to cut-in on his left foot and whip early shots towards goal. Currently, United operate with the mercurial talents of Jadon Sancho down the right, a player fans will hope remains in the starting side.
It is most likely that United line up with Sancho down the left, Antony on his favoured right wing and then one of Marcus Rashford or Anthony Martial leading the line. This, of course, is assuming the Red Devils have concluded their business for the summer.
Whatever happens, Antony looks to be a fantastic signing and one Erik ten Hag has personally advocated throughout the summer. If he performs how he has been, Premier League defences ought to be scared.